Finance B.S. and M.S. Accelerated Degree Program (4+1)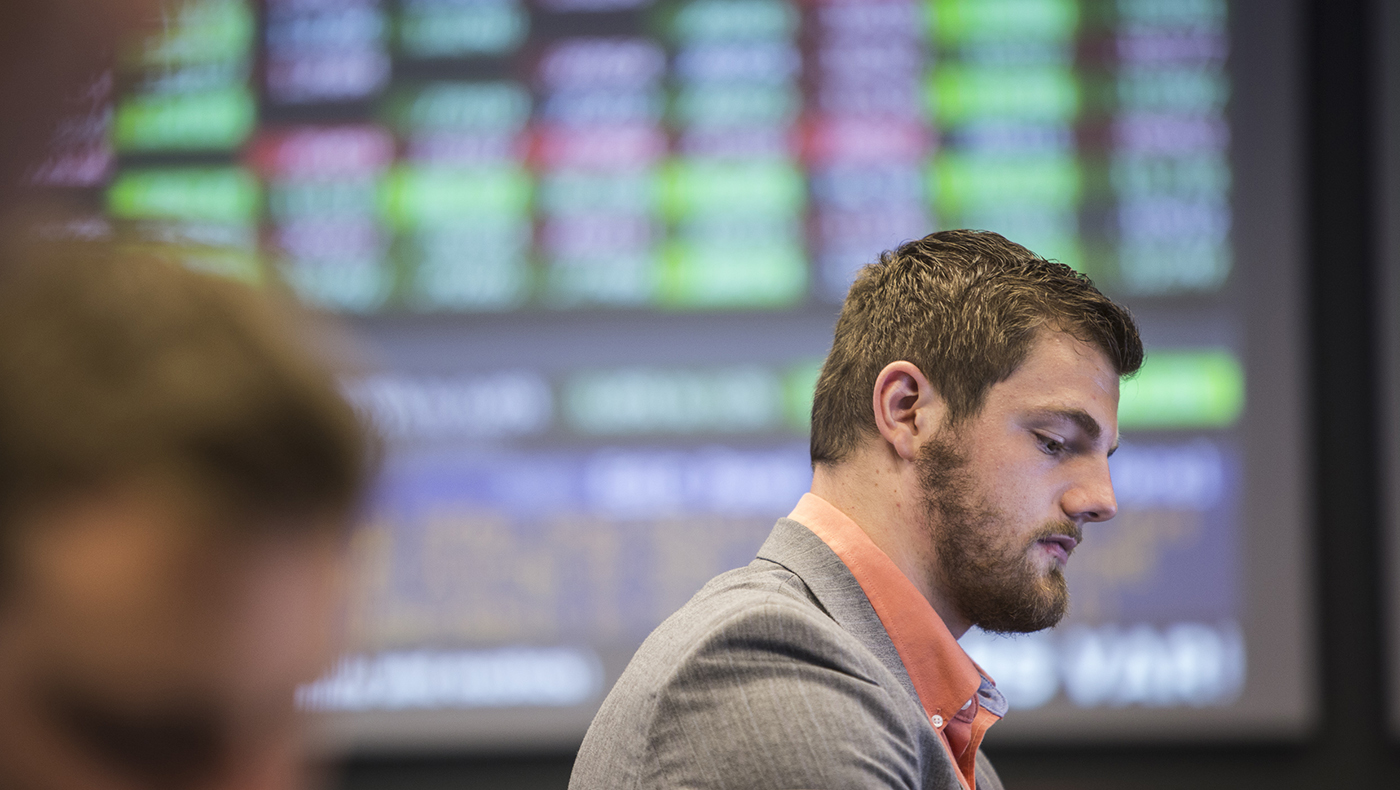 Maximize Your Educational Investment
This accelerated finance program provides you with the opportunity to complete a bachelor's degree and a master's degree in finance in less time at less cost than completing both programs individually. With a combined degree, you'll have specialized, in-depth financial knowledge and will be prepared to succeed within the increasingly complex financial services industry.
PROGRAM HIGHLIGHTS
Benefits you receive as an accelerated finance student include:
Completing both degrees in less time
Graduate credits taken in undergraduate senior year may apply toward both the bachelor's and master's degrees.
Completing a full-time master's degree without interrupting your professional career
A leg up in the job market upon graduation
Opportunities to engage in advanced study
Better preparation for advanced credentialing like the CFA exam
PROGRAM REQUIREMENTS
Requirements for the B.S. Degree
While completing the B.S. in finance, you will take any 6 credits of graduate-level courses required for the M.S. degree. These 6 credits will be in lieu of the regular undergraduate elective choices from FINC313 and FINC412-419. The 6 credits will be counted towards both degrees.
Suggested course sequence.
Freshman Year
First semester
ECON101 Microeconomics
MATH221 Calculus I
BUAD110 Basics of Business
Social & behavioral sciences breadth course
Natural science/technology breadth course
Second semester
ENGL110 Seminar in Composition
ECON103 Macroeconomics
Creative arts & humanities breadth course (CAH)
Social & behavioral sciences breadth course
Natural Sci/Tech. breadth course with lab
Sophomore Year
First semester
ACCT207 Accounting I (Financial)
MATH201 Statistics I
MISY160 Bus. Computing
CAH, HCC or foreign language
Economics elective
Second semester
ACCT208 Accounting II (Managerial)
MATH202 Statistics II
MISY261 Business Information Systems
FINC311 Principles of Finance
COMM212 Oral Communication in Business
Junior Year
First semester
BUAD301 Intro to Marketing
BUAD306 Service & Operations Management
BUAD309 Organizational Behavior
FINC312 Intermediate Financial Management
MATH230 Finite Mathematics with Applications
Second semester
ACCT352 Business Law & Social Issues
FINC314 Investments
CAH, HCC or foreign language
ECON308 Banking & Monetary Policy
History & culture change breadth course
Senior Year
First semester
Finance elective
Finance elective
English writing requirement
Free elective
Free elective
Second semester
Finance elective
BUAD441 Strategic Management
Professional elective (ACCT, BUAD, ENTR, FINC or MISY)
Free elective
Free elective
Additional Requirements for the M.S. Degree
The M.S. in finance requires a minimum of 30 credits.
M.S. in Finance Required Courses
Finance Theory Module, 9 credits
FINC870 Theory of Financial Decision Making
FINC871 Workshop in Finance: Seminar
FINC872 Workshop in Finance: Empirical Research
Finance Practice Module, 9 credits
FINC851 Corporate Financial Analysis OR FINC861 Financial Modeling and Valuation
FINC852 Investment Analysis & Portfolio Management OR FINC856 Financial Engineering and Risk Management
FINC862 Fixed Income Securities
Skills Core, 6 credits
ECON803 Applied Econometrics I
ACCT820 Financial Statement Analysis
Electives, 6 credits
Admission to the Accelerated Degree Program
You should apply to the accelerated program in the second semester of your junior year. The Graduate Record Examination (GRE) or Graduate Management Admission Test (GMAT) requirement will be waived; you must meet all other requirements for admission to the M.S. in finance.
Tuition and Fees
During your first four years in the finance program, you pay undergraduate tuition and fees. During the fifth year of study, and any additional time if it becomes necessary, applicable tuition and fees are those for graduate students. The $500 non-refundable deposit required by new admissions will be waived for those participating in the accelerated program.