Horn Program in Entrepreneurship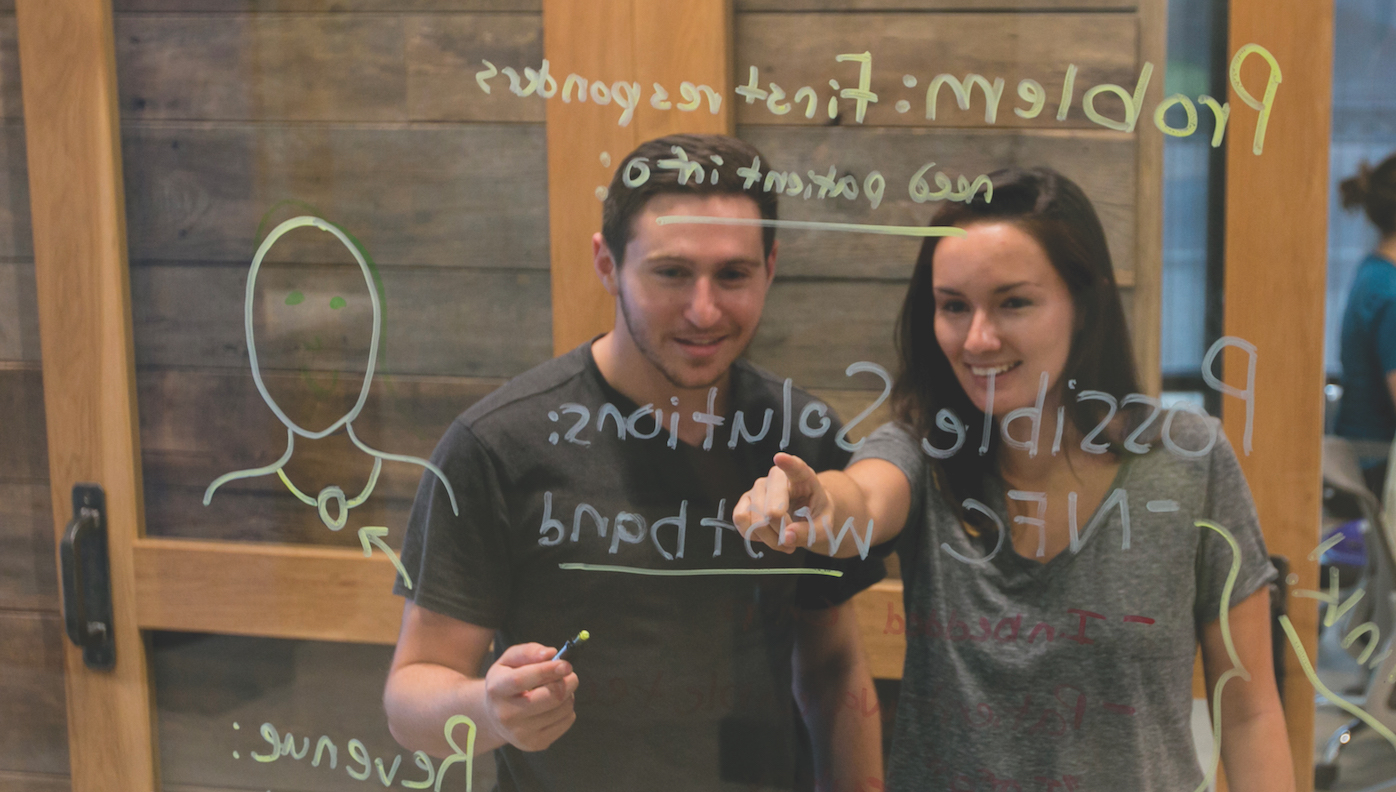 The University of Delaware Horn Program in Entrepreneurship ignites imaginations and empowers world changers through entrepreneurial education. Our offerings emphasize experiential learning, evidence-based entrepreneurship and active engagement with entrepreneurs, business leaders and others interested in entrepreneurship.
Horn Program courses and programs give students the knowledge, skills, connections and access to resources needed to successfully manifest innovation and thrive in a rapidly changing world.
Academic Programs
Our degree programs serve the needs of students who may wish to launch a startup, develop sustainable solutions to important social problems or foster innovation for an established company. Our students learn how to recognize opportunity, generate ideas, validate innovative business models, gain buy in from others, bring new technologies to market and launch new ventures.
Want to learn more about our academic programs? Please email Tricia Monnig, Academic Advisor, at tmonnig@udel.edu or call 302-831-4619. If you would like to schedule an appointment, be sure to include at least 3 dates & times that work with your schedule.
Venture Development Center (VDC)
The Horn Program's Venture Development Center (VDC) serves as the home for entrepreneurial community on campus and an applied learning laboratory for students. The VDC provides resources and support to help hatch and grow student businesses. In addition, the VDC hosts activities and events that forge connections among university students, faculty, staff and the broader entrepreneurial community.
---
Recent News
---
Signature Programs, Offerings and Workshops
Delaware Innovation Fellows
UD's Delaware Innovation Fellows Program offers unique learning and enrichment opportunities to select students from any major who are passionate, creative, bold and entrepreneurial. Participating students will benefit from project funding as well as specialized courses, internships, mentorship and professional development. The University of Delaware has a long history of igniting imaginations and empowering world changers. From Robert Gore, inventor of Gore-Tex, to Wayne Westerman, creator of the revolutionary touch technology used in Apple's iPhone – UD students, faculty and alumni are creating new programs, policies and products to solve important societal, environmental and business challenges. To learn more about this unique opportunity, visit 
www.udel.edu/DIF
.
Summer Founders
Summer Founders is a 12-week pre-accelerator program in which students receive a stipend while working on their ventures. The program includes weekly mentoring and education sessions in addition to progress meetings with an advisor.
VentureOn Program
All UD students who are actively pursuing the launch and growth of a business are eligible to apply to become participants in VentureOn. Participants receive 24-hour access to the VDC, business advisory and other services as well as in-kind support. They also receive scheduling priority and invitations to special events as well as automatic enrollment into the flexible benefits program for copying & printing, media production, promotional, and supply needs.
Apply online
to the spring VentureOn Program. Applications will be accepted August 29, 2017 to September 12, 2017.
Hen Hatch
Hen Hatch is the University of Delaware's premier startup funding competition. It provides entrepreneurial students, alumni, faculty and staff with opportunities to make connections and collect feedback on their ideas while competing for startup cash and prizes totaling $100,000.
Full details on Hen Hatch 2017 will be available soon. Learn more about Hen Hatch.
First Step Grand Challenges
Undergraduate students from all colleges and majors identify important societal and environmental challenges and develop novel solutions to address the challenges. Interdisciplinary student teams are invited to submit applications to participate in the year-long mentored challenge. Up to 30 teams will be selected to participate and will receive $500 grants to develop their solutions.
For detailed information, please visit: www.udel.edu/firststep
National Science Foundation (NSF) I-Corps Program
Make a real-world impact with our scientific invention by turning it into an innovation that provides value to the world.
The National Science Foundation (NSF) I-Corps Sites Program provides specialized training and mini grants of $3,000 to teams interested in exploring the commercial viability of their ideas for products and businesses that are based on their own inventions, University intellectual property, or any STEM-related technology.
Blue Hen Proof-of-Concept Fund
The Horn Program in Entrepreneurship is pioneering an innovative model for the new
Blue Hen Proof-of-Concept Fund
that will allow University of Delaware technologists, including students, faculty, post-docs and staff, to build their prototypes based on meeting customer's needs and wants.
Startup eXperience
Learning how to bring new ideas into the marketplace by actually doing it. The Startup eXperience is the Horn Program's premier educational opportunity. It is comprised of two courses in which student teams attempt to conceive, validate, and launch high growth potential businesses. Faculty will guide students as they search for viable business models using customer development and lean startup principles. Investors, seasoned entrepreneurs, and technical experts will also provide guidance.
Through participation in the Startup eXperience, students will acquire valuable knowledge and skills pertinent to launching a startup, working for an emerging technology company, or fostering innovation for a large enterprise. They will learn how to recognize and ideate around opportunity, conduct proof of concept testing, bootstrap resources, develop viable business models, bring new technologies to market, and launch and grow new ventures. They may also succeed in making a job for themselves by creating a viable startup.
All students – undergraduate and graduate – from all colleges and majors, can apply for admission. New this year, students can apply as an individual or as a team.
Startup Advising
Sponsored by the Horn Program in Entrepreneurship, startup advisors will be available on select days throughout academic year. Sessions are 45 minutes and available at no cost to students, alumni, faculty or staff working on startup or entrepreneurial projects.
Free Lunch Fridays & Workshop Wednesdays
Each Friday, the Entrepreneurship Club provides lunch and the opportunity to feed your brain with entrepreneurial knowledge. Free Lunch Friday features a series of interesting entrepreneurs to share their wisdom and experiences with a brief talk and a question-and-answer session. Free Lunch Friday is held at the Venture Development Center located at 132 E. Delaware Ave. from 11 – 12:30 p.m. every Friday.
On Workshop Wednesdays, an expert leads a how-to workshop on a practical topic about starting your business. Fifteen-minute one-on-one meetings with the presenter will follow the workshop.
The Challenge Locator
The Challenge Locator, developed by the Horn Program, helps to ensure the problems that inventors and entrepreneurs work on are real problems they can pursue. Challenge Locator provides a curated, searchable directory of entrepreneurial opportunities. Its listings, which range from large-scale, social impact challenges to profit-motivated technical challenges, draw from open innovation platforms, corporate websites and government portals.
---
Youth Programs
Since 2012, more than 3,500 young people have participated in our youth programs, sponsored by the Paul and Linda McConnell Youth Entrepreneurship Initiative. These initiatives empower young people by helping them to recognize that everything in life was made by people and can be changed.
Diamond Challenge for High School Entrepreneurs
The Diamond Challenge
 is a real world venture concept competition with an educational purpose. Participating students gain access to an online curriculum focused on putting ideas into action by building a business or social venture. The primary purpose is to expose high school students to entrepreneurship as a viable career path while also giving them valuable knowledge and skills, along with an outlet for their ideas. The curriculum addresses key topics like opportunity recognition, creativity & ideation and business modelling to guide students while they work in teams of 2-4 to prepare and submit a written concept. The curriculum also offers guidance to help students prepare and deliver a 5-minute pitch and answer questions about their concept. Panels of entrepreneurs and business executives evaluate the written submissions, pitches and responses to questions in three rounds – a preliminary, semi-final, and final round.
Youth Entrepreneurship Summit (YES!)
The
Youth Entrepreneurship Summit (YES!)
brings together the Diamond Challenge's local and international participants as well as other area students and educators interested in innovation and entrepreneurship. The event features interactive workshops and engaging speakers, as a well as the final round of the Diamond Challenge competition. The result is a full-day event catalyzing a culture that celebrates the entrepreneurial spirit and forges life-long connections. These skills, connections and resources empower students to consider entrepreneurship as a viable career path, and to be entrepreneurial in all that they do.
IdeaU Workshops
IdeaU introduces teachers and students to entrepreneurship. These workshops are held seasonally and by request. To learn more, view a video about our most recent workshop.
For more information about these opportunities, please contact Julie Frieswyk by phone at 302-831-1527 or by email at julief@udel.edu.
---
 Partners
Community Partners
---
How You Can Help
Fulfilling the promise of entrepreneurial education requires active engagement and support from successful entrepreneurs and business leaders to serve as mentors, speakers, board members, judges, service providers or through sponsorship or corporate partnership. If you would like to join us, email us at hornprogram@udel.edu.
Giving
The Horn Program receives full support for our administrative and instructional expenses from the Lerner College of Business & Economics. This enables us to utilize 100% of all gifts, grants, sponsorships and revenues generated by our own entrepreneurial activities to fund signature programs, new initiatives and other activities that make a positive impact.
Visit http://www.udel.edu/makeagift and designate Horn Program as the recipient of your support.
---
Contact Information
Venture Development Center (VDC)
132 East Delaware Avenue, Suite 100
Newark, DE 19711
Hours:
9 a.m. – 5 p.m.
9 a.m. – 4 p.m. Summer/Winter sessions