Charles M. Elson
Photograph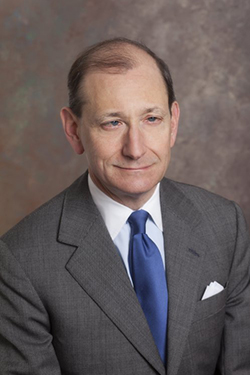 Title Edgar S. Woolard Jr. Chair in Corporate Governance, Professor of Finance
Email
elson@

nospam5f334d1e3e85a.

udel.edu
Office 104 Alfred Lerner Hall
Biography
Biography
Charles M. Elson is the Edgar S. Woolard, Jr., Chair in Corporate Governance and the director of the John L. Weinberg Center for Corporate Governance at the University of Delaware. He is also consultant to the law firm of Holland & Knight.
He formerly served as a professor of law at Stetson University College of Law in St. Petersburg, Florida from 1990 until 2001. His fields of expertise include corporations, securities regulation and corporate governance. He is a graduate of Harvard College and the University of Virginia Law School, and has served as a law clerk to Judges J. Harvie Wilkinson III and Elbert P. Tuttle of the United States Court of Appeals for the Fourth and Eleventh Circuits. He has been a visiting professor at the University of Illinois College of Law, the Cornell Law School and the University of Maryland School of Law, was a Salvatori Fellow at the Heritage Foundation in Washington, D.C. and is a member of the American Law Institute.
Professor Elson has written extensively on the subject of boards of directors. He is a frequent contributor on corporate governance issues to various scholarly and popular publications. He served on the National Association of Corporate Directors' Commissions on Director Compensation, Director Professionalism, CEO Succession, Audit Committees, Strategic Planning, Director Evaluation, Risk Governance, Effective Lead Director, Board Diversity, Talent Development, Strategy Development, the Compensation Committee and Long-Term Value Creation, and was a member of its Best Practices Council on Coping With Fraud and Other Illegal Activity. He served as well on that organization's Advisory Council. He is vice chairman of the ABA Business Law Section's Committee on Corporate Governance and was a member of its Committee on Corporate Laws. He is also a member of the Standing Advisory Group of the Public Company Accounting Oversight Board.
Additionally, Professor Elson served as an adviser and consultant to Towers Perrin, the international human resource management consultants. He also served on the board of directors of Sunbeam Corporation, the consumer products manufacturer; Nuevo Energy Company, an independent oil and natural gas producer; the Investor Responsibility Research Center, a non-profit corporate governance research organization; Alderwoods Group, an international death care services provider, AutoZone, Inc., the national automobile parts retailer, Circon Corporation, a medical products maker, and Bob Evans Farms Inc., a restaurant and food products company.
He is presently a member of the board of directors of HealthSouth Corporation, a healthcare services provider. He has served as trustee of the Big Apple Circus, the Museum of American Finance, Talledega College, the Tampa Museum of Art, the Tampa Bay Performing Arts Center and the Delaware Museum of Natural History. He is presently a trustee of the Hagley Museum and Library, the Delaware Art Museum and Tower Hill School. He has been included in the list of the "100 most influential players in corporate governance" of Directorship, the "100 most influential people in finance" of Treasury & Risk Management, the list of top 10 governance "stars" of Global Proxy Watch, and Ethisphere's "100 Most Influential People in Business Ethics" in 2014.
Education
J.D., University of Virginia
A.B., Harvard University