Erwin Saniga
Photograph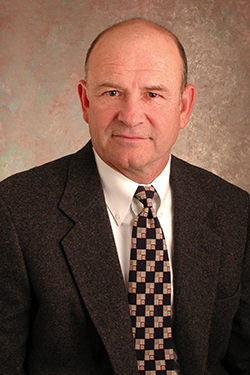 Title Dana J. Johnson Professor of Business
Email
saniga@

nospam62c463c6e4918.

udel.edu
Office 215 Alfred Lerner Hall
Biography
Biography
Erwin Saniga is the Dana Johnson Professor of Information Technology and professor of operations management in the Department of Business Administration at the University of Delaware. Professor Saniga has published over 50 papers in statistics or mathematical modeling in business, statistics, engineering or medical journals. A recent paper in IIE Transactions won the best paper award for 2008 in the area of quality and reliability engineering.
Professor Saniga has also presented a number of papers at conferences of The American Statistical Association, The Institute for Management Sciences and The Operations Research Society, The American Accounting Association, The Western Finance Association, The Decision Sciences Institute, The Irish Mathematical Society World Congress on Computation and Applied Mathematics and various university seminar series including those at Drexel University, Hollins College, George Washington University, Indiana University, Penn State and the Jerusalem Studio School. He has been an invitee for the triennial International Workshop on Intelligent Statistical Quality Control since 1980.
He has consulted for many organizations in the areas of statistics, process improvement, technology and operations management and has won awards for teaching and research at the University of Delaware.
His recent teaching has been on technology project management where teams of students actually design and implement information technology solutions or process improvement solutions for local organizations.
Education
Ph.D. in management science with mathematical statistics supporting, Penn State, 1975
MBA, Penn State, 1971
B.S. in industrial engineering, Penn State, 1969
Select Publications
"The Optimal Design of the VSI T2 Control Chart" Faraz, A. R. ,Kazemzadeh, R. B. Heuchenne, C. , and E. Saniga, Journal of the Iranian Statistical Society, Vol. 9,  No.1, pp 1-19
"A modified economic-statistical design of the T2 control chart with variable sample sizes and control limits," (2011). Asghar Seif, Alireza Faraz, Cedric Heuchenne, Erwin Saniga, and M.B. Moghadam, 38(2011) 2459-2469.  DOI:10.1080/02664763.2011.559 205. Journal of Applied Statistics
"Optimal T2 control chart with a double sampling scheme – an alternative to the MEWMA chart" (2012). Alireza Faraz,  C. Heuchenne, and Erwin Saniga (November 2012), DOI: 10.1002/qre.1268.Quality and Reliability Engineering International,Volume 28, Issue 7, pages 751–760,
 "Economic Control Chart Policies for  Monitoring Variables when there are Two Components of Variance" (2012) Erwin Saniga, James Lucas , Darwin Davis, Thomas McWilliams, Frontiers in Statistical Quality Control, eds. Lenz, Wilrich and Schmid, Volume 10, pp. 85-95
"Multiobjective Genetic Algorithm Approach to the Economic Statistical Design of Control Charts with an Application to X¯bar and S2 Charts", (2013) Alireza Faraz and Erwin Saniga, Quality and Reliability Engineering International, Vol 29:3 DOI : 10.1002/qre.1390, pp. 407-415
"Monitoring Delivery Chains using Multivariate Control Charts" (2013). Alireza Faraz, Cedric Heuchenne, Erwin Saniga Earnest Foster,  European Journal of Operations Research, Vol 228, Issue I, pp. 282-289
Double Objective Economic Statistical Design of the VP T2 Control Chart: Wald's identity approach, (2014) Alireza Faraz, Cedric Heuchenne, Erwin Saniga and Antonio F.B. Costa, Journal of Statistical  Computation and Simulation, Vol. 84, 10, pp 2123-2137
"Control Charts Monitoring Product's Loss to Society, (2014). G. Celano, A. Faraz, E. Saniga, Quality Reliability Engineering International, DOI: 10.1002/qre.1562, Vol. 30, 8, pp 1393-1407
"A Statistically Adaptive Sampling Policy to the Hotelling's T2 Control Chart: Markov Chain Approach." Alireza Faraz, Erwin Saniga and Cedric Heuchenne, Communications in Statistics – Theory and Methods, DOI:10:1080/03610926.2104.911910
"Shewhart Control Charts for Monitoring Reliability with Weibull Lifetimes, Alireza Faraz, Wrwin Saniga and Cedric Heuchenne, Quality and Reliability Engineering International, forthcoming, DOI: 10,1002/qre.1692
Awards & Honors
Distinguished Senior Faculty Research Award at the University of Delaware, Department of Business Administration
Outstanding Undergraduate Teaching Award at the College of Business and Economics, University of Delaware
Mortar Board Outstanding Professor Award of Distinction