Lillie Wilson
Photograph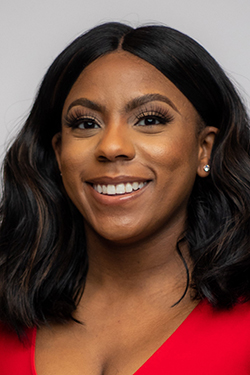 Title Program Coordinator
Email
ldwilson@

nospam65181d3706865.

udel.edu
Office Purnell Hall 102
Biography
Biography
Lillie Wilson earned her master's in higher education administration at Florida International University and is currently the program coordinator of the Women's Leadership Initiative (WLI).
Lillie brings nearly a decade of experience in student development and programming. Lillie began her career in higher ed as a residence hall coordinator at the University of Delaware, where she spent seven years cultivating her skills in crisis (risk) management, mentorship and coaching, and curriculum (program) design. She is a passionate educator dedicated to creating equitable, holistic learning environments and experiences, as well as an avid well-being advocate.
Lillie earned her bachelor's in political science from Florida International University.
Education
M.S. in higher education administration, Florida International University
B.A. in political science, Florida International University