Skip to main content
University of Delaware - Alfred Lerner College of Business & Economics
Michela Taufer
Photograph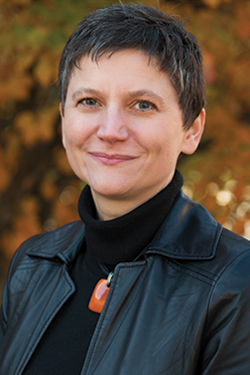 Title Professor of Computer and Information Sciences
Email
taufer@

nospam5b5041ce2af1a.

udel.edu
Office Smith Hall 406
Biography
Biography
Michela Taufer is an associate professor in Computer and Information Sciences and a JPMC Scholar at the Institute for Financial Services Analytics at the University of Delaware. Her research interests are in high performance computing (HPC) with focus on scientific applications; performance analysis, modeling, and optimization of multi-scale applications on heterogeneous computing, cloud computing, and volunteer computing; numerical reproducibility and stability of large-scale simulations on multi-core platforms; data analytics and MapReduce.
Education
Ph.D. in computer science, Swiss Federal Institute of Technology Zurich (ETH), Switzerland, 2002
M.S. (laurea) in computer engineering, University of Padua, Italy, 1996
Select Publications
T. Johnston, B. Zhang, A. Liwo, S. Crivelli, and M. Taufer. In-Situ Data Analytics and Indexing of Protein Trajectories. Journal of Computational Chemistry (JCC), 2017. (Article accepted on 26 October, 2016).
T. Gao, Y. Guo, B. Zhang, P. Cicotti, Y. Lu, P. Balaji, and M. Taufer. Mimir: Memory-Efficient and Scalable MapReduce for Large Supercomputing Systems. In Proceedings of the IEEE/ACM International Parallel and Distributed Processing Symposium (IPDPS). Orlando, Florida, USA. May 29 – Jun 2, 2017.
V. Stodden, M. McNutt, D. H. Bailey, E. Deelman, Y. Gil, B. Hanson, M. A. Heroux, J. P.A. Ioannidis, and M. Taufer. Enhancing Reproducibility for Computational Methods – Data, code and workflows should be available and cited. Science, 354(6317), December 9, 2016.
S. Herbein, S. McDaniel, N. Podhorszki, S. Klasky, and M. Taufer. Performance Characterization of Irregular I/O at the Extreme Scale. Journal of Parallel Computing, 51: 17 – 36, 2016. (Correspondent author).
M. Wyatt, T. Johnston, M. Papas, and M. Taufer. Development of a Scalable Method for Creating Food Groups Using the NHANES Dataset and MapReduce. In Proceedings of the ACM Bioinformatics and Computational Biology Conference (BCB), pp. 1 – 10. Seattle, WA, USA. October 2 – 4, 2016.
S. Herbein, D. H. Ahn, D. Lipari, T. R.W. Scogland, M. Stearman, M. Grondona, J. Garlick, B. Springmeyer, and M. Taufer. Scalable I/O-Aware Job Scheduling for Burst Buffer Enabled HPC Clusters. In Proceedings of the ACM International Symposium on High-Performance Parallel and Distributed Computing (HPDC), pp. 1 – 10. Kyoto, Japan. May 30 – Jun 4, 2016.
T. Johnston, M. Alsulmi, P. Cicotti and M. Taufer. Performance Tuning of MapReduce Jobs Using Surrogate-Based Modeling. In Proceedings of the International Conference on Computational Science (ICCS), pp. 49 – 59. Reykjavik, Iceland. June 1 – 3, 2015.
B. Zhang, T. Estrada, P. Cicotti, P. Balaji, and M. Taufer. Accurate Scoring of Drug Conformations at the Extreme Scale. In Proceedings of 8th IEEE International Scalable Computing Challenge – Co-located with IEEE/ACM CCGrid, pp. 817 – 822. Shenzhen, China. 4 – 7 May 2015.
Awards & Honors
Keynote at the IEEE Cluster Conference, Taipei, Taiwan, 2016
Keynote at the 7th Workshop on Scientific Cloud Computing (ScienceCloud), Kyoto, Japan, 2016
ACM (Association for Computing Machinery) Distinguished Scientist, 2015
Keynote at the Fifth International Workshop on Accelerators and Hybrid Exascale Systems (AsHES), Hyderabad, India, 2015
Winner of the 8th IEEE International Scalable Computing Challenge – Co-located with the IEEE/ACM CCGrid Conference, 2015
Curriculum Vitae
Download Michela Taufer's CV (PDF)
Website