The University of Delaware's Hen Hatch provides opportunities for UD students, faculty, staff and alumni to showcase their creativity, innovation and entrepreneurship.
Three teams from each track – student track and alumni, faculty and staff track – advance to the final round. These teams will pitch their business concepts and compete for a $100,000-plus prize pool on April 25 at World Café Live at the Queen in Wilmington, Delaware. This year, all three student teams have members from the Lerner College of Business and Economics.
Geoswap, a social networking app that lets users tap into the pulse of their city and provides business with real engagement with their customers, includes Jordan Gonzalez, a finance major and two students from the College of Engineering, Jason Bamford and Keith Doggett.
Influencia, an influencer marketing platform that brings businesses and influencers together, was created by economics and entrepreneurial studies student Danilo Vicioso.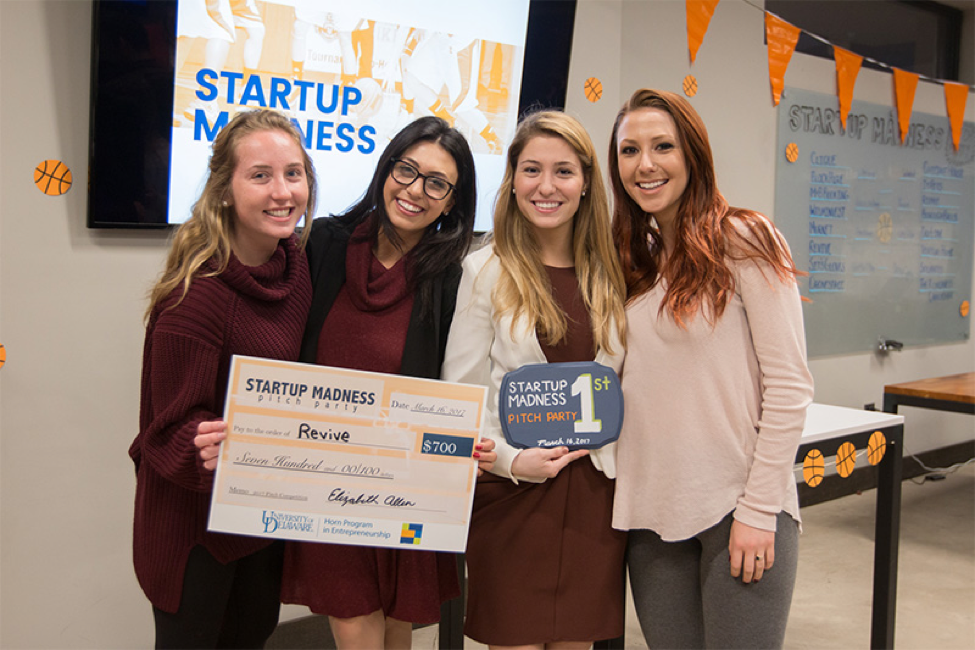 Revive, an app that helps women find a purpose for clothing they no longer wear, is comprised of entrepreneurship and technology innovation and marketing major Avalon Greene, senior accounting major and entrepreneurial studies minor Palina Ivanova, sophomore entrepreneurship and technology innovation major Emma Lynch and Master of Science in Entrepreneurship & Design student Rachel Weinberger
Dan Freeman, founding director of UD's Horn Program in Entrepreneurship, said the program is proud to host Hen Hatch and to offer guidance, visibility, startup funding and in-kind services to help UD entrepreneurs pursue and improve their business concepts.
"There are a lot of people at UD and Horn Program in Entrepreneurship who want to see you succeed," said Vicioso. "I credit Vincent DiFelice, Ted Foltyn and former Hen Hatch finalist Farhad Baqi for helping me prepare for Hen Hatch."
The Revive group is using Hen Hatch as an opportunity to challenge themselves, Greene explained:
"We have put so much time and effort into customer discovery, solution testing and event planning, that we felt as though our next step should be to take on a challenge like Hen Hatch. No matter what the outcome of the competition is, this will be a great opportunity for us to learn and further develop Revive."
Revive teammate Weinberger added, "We hope to expand our network and grow the connections necessary to make our business idea a reality."
The student teams face off on Tuesday, April 25, at World Café Live at the Queen in Wilmington, Delaware. The evening begins at 5 p.m. and includes networking, a showcase of students' entrepreneurial ventures, the final round of Hen Hatch and hors d'oeuvres and refreshments. Early bird tickets are $10 for students and $25 for community members, and available until April 8. Advance registration is required.