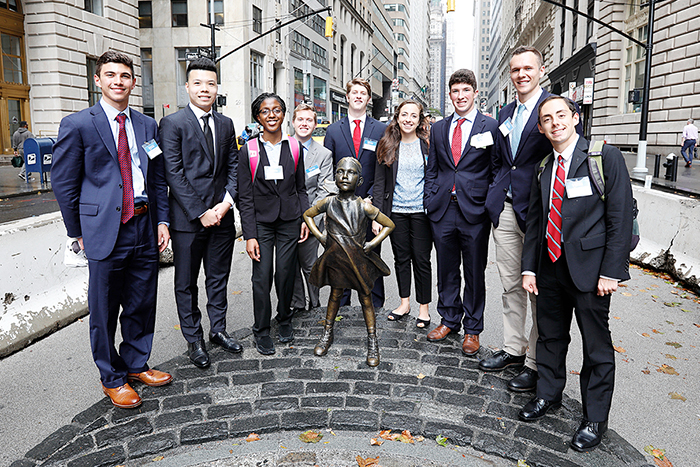 Wall Street, NASDAQ, the New York Stock Exchange – New York City has been called the most economically powerful city and the leading financial center of the world, and many University of Delaware business students aim to find a career in there.
Recognizing the need to provide Blue Hens a more direct pathway to these opportunities, the Lerner Career Services Center at UD's Alfred Lerner College of Business and Economics created the Wall Street/Finance in NYC Prep & Referral Program, with support from Lerner College Dean Bruce Weber, in early 2016.
In September 2016, seven students began the yearlong pilot program.
"The goal of the Lerner Wall Street/Finance in NYC Prep & Referral Program is to assist students in their summer internship search," said Jill Gugino Pante, director of the Lerner Career Services Center.
For the first year's group of students, Pante said, the program had a 100 percent success rate.
"As a result of these unique opportunities provided by Lerner and the support of our alumni, all seven students completed Wall Street/finance internships this past summer," she said. "We are excited to be welcoming our second cohort of students this fall."
The Wall Street/Finance in NYC Prep & Referral Program aims to provide qualified students interested in working on Wall Street and/or finance in New York with:
Training on technical and qualitative finance interview prep online courses
Networking opportunities with members of the Lerner NYC Dean's Council and UD alumni working in Wall Street/finance in NYC
Company tours in the city
Referrals to alumni and HR connections in Wall Street/finance in NYC
One such student, UD senior finance and economics double major Sarah Safer, said that she applied to be in the first group of participants in August 2016 because it was "one of the best opportunities I had come across at the University."
The program begins with an application period for rising juniors in any major. Applicants complete an application and submit their resume along with a video of themselves summarizing their background, strengths and interest in the program. Through input from several members of the Lerner NYC Dean's Council, students are accepted into the yearlong program.
Safer and her six fellow program members had a full day on Wall Street last October, meeting with high-level executives and alumni working at Morgan Stanley and networking with members of the NYC Dean's Council. Throughout the school year, several executive alumni who work on Wall Street/finance in NYC offered their time to the students to hold exclusive one-on-one mock interviewing sessions and to discuss internship and job search advice.
"These opportunities, such as private networking with alumni and trips to NYC with top management at top firms, are truly one of a kind," Safer said.
This year, the Wall Street/Finance in NYC Prep and Referral Program has almost doubled in size, accepting 12 students for the 2017-2018 school year. This group recently visited New York for their own Wall Street experience.
Current participant Randy Short, a junior in economics and international relations, said that the visit "is extremely productive and insightful, allows us to see the many options available for us in our future career paths, and builds a bridge between what was learned in the classroom and what is expected in the workforce."
For more on Lerner's new internship program, read the full article on UDaily.