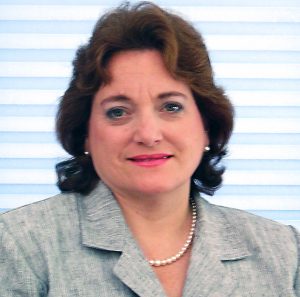 As both the former director of innovation processes at DuPont and the former CEO of the Product Development Management Association (PDMA), Robin Karol-Eng's extensive industry expertise makes her a helpful resource for students in her current role as an adjunct faculty member at the Lerner College.
Karol-Eng teaches in the entrepreneurship program. She created these two courses, which she teaches: Application Development of New Technology (how to take a new technology and make it something commercial) and Leading a Corporate Innovation Process (how to manage a creative/innovative organization).
Of her time at DuPont, Karol-Eng said she oversaw a team and worked with them to implement innovation processes with partner businesses.
"I had a team of internal business consultants, and we were responsible for putting the innovation process into the company, 'installing' the innovation process," Karol-Eng said. "We went business by business and put that process into the company, trained people on how to do it, created metrics and worked with leadership on decision making."
For the PDMA — a professional organization for people who work in the fields of innovation and product development — Karol-Eng was its first-ever CEO. PDMA is a society that enables people to stay current on their profession by offering certifications, training programs, journals, books and online training. PDMA can also help professionals network, which was increased when Karol-Eng grew the organization's membership by about 50 percent.
"I came into PDMA to professionalize it more and to grow it more," Karol-Eng said. "I took the organization from about 90 percent U.S.-based to about 50 percent non-U.S.-based… We created a global organization and then put in a governance structure so that the global organization had a voice in the running of the entire organization."
Karol-Eng attributes some of her value as a student resource to having contacts in the field from her time with DuPont and PDMA. She said she has connected people to other experts in innovation to show them different ways of gathering information, different ways of generating ideas and different perspectives on their fields.
"I've been able to connect students with people that can help them, people that have experience in various aspects of innovation and business," Karol-Eng said. "I had a student working on a project that involved materials that were going to be used for therapeutic garments, and I was able to connect her to someone who had started a business using similar materials so that she could understand what kinds of different manufacturing methods there were."
"I've been able to connect people who were working in food science, people who were starting non-profits, all to people who were working in those fields so they could understand what it's like. I've brought an author who was an expert on governance in companies to speak to students who were working in big companies to understand how to navigate them."
Karol-Eng is also able to help students by drawing on her own professional experiences at DuPont and PDMA.
"Being able to see things from a global perspective lets students look at something from a different way," Karol-Eng said. "When you've had a lot of vast experience, it's always beneficial to students — to hear what you've done, how you've done it, and to connect people to other people."