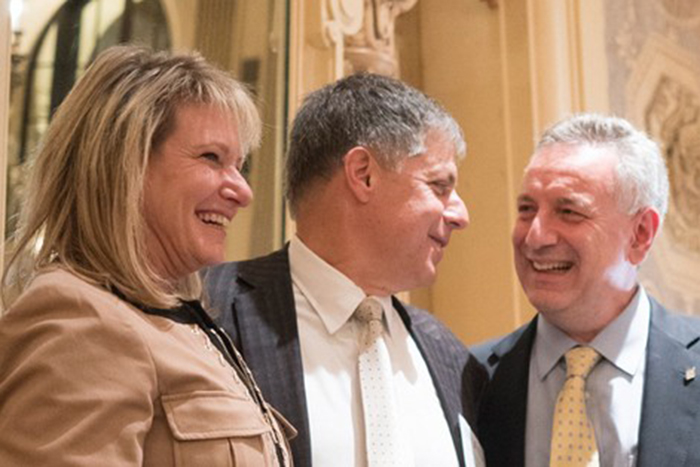 UD alumni Robert L. Siegfried, Jr. '81 and Kathleen Marie (Horgan) Siegfried '85, and The Siegfried Group, LLP established the Siegfried Initiative for Entrepreneurship Leadership with a $1.5 million gift. The Initiative, which is part of the Delaware First campaign, will elevate the stature of leadership studies at the University and will include elements designed especially for youth, current students, alumni, faculty and community members.
Rob Siegfried, who is a certified public accountant, graduated from the Alfred Lerner College of Business and Economics in 1981. As the chief executive officer and founder of The Siegfried Group, a national leadership advisory and talent delivery firm, Siegfried has made it his life's work to help people transform themselves to become better leaders.
"I am really moved to inspire transformation within myself and others," he said.
This personal conviction led Siegfried, with his wife, Kathleen (College of Arts and Sciences, '85) and their firm, The Siegfried Group, to make this gift to the University of Delaware. It provides the financial support needed to create a leadership certification program. The initiative will be facilitated by Horn Entrepreneurship and the Center for Economic Education and Entrepreneurship. Siegfried has been actively working with key professors at UD, especially Dan Freeman, Horn Entrepreneurship Director, to help develop and shape the core curriculum for the leadership courses within the certificate program.
President Dennis Assanis expressed his admiration for the Siegfrieds at a dinner held on Wednesday, Nov. 1.
"At UD, we want to make exponential change in the world, and the Siegfrieds understand and share this same vision," Assanis said. Assanis, along with Bruce Weber, dean of the Lerner College, thanked the Siegfrieds for their continued support of UD.
"Impacting lots of students and lots of lives is what the University is all about," Weber said. "Bringing people into this University and setting them up to do fantastic things is our mission and our passion. Rob and Kathy, you are doing these in a huge way. Thank you."
In addition to creating this fund, the Siegfrieds previously established the Siegfried Award for Entrepreneurial Leadership, which annually recognizes a person or group for their remarkable contributions to advancing entrepreneurial leadership, knowledge and practice.  From 2012 – 2017, Rob also served as chair of the Lerner College Advisory Board.
This article is excerpted from the original that appeared in UDaily. Read the full article here.