Adam Fleischhacker
Photograph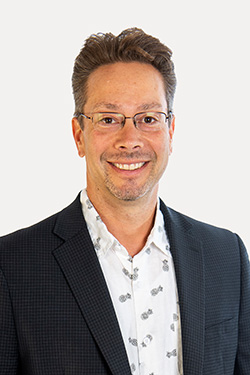 Title Associate Professor of Operations Management
Email
ajf@

nospam650f253f0bd3d.

udel.edu
Office 352 Purnell Hall
Biography
Biography
Adam Fleischhacker is an associate professor of operations management at the Alfred Lerner College of Business and Economics at the University of Delaware and a JPMorgan Chase Faculty Fellow at UD's Institute for Financial Services Analytics. He holds a Ph.D. in supply chain management from Rutgers University, an MBA from the University of Rochester and a bachelor's degree in mechanical engineering from the University of Buffalo. Prior to becoming a professor, Fleischhacker's corporate career focused on designing software-enabled supply chain solutions for Fortune 500 companies. His current research focuses on accelerating the business analytics process: increasing the rate at which professionals generate, communicate and act upon data-driven business insights. The four key inter-connected components that support a general framework for Fleischhacker's research are 1) problem representation with graphical models, 2) causal thinking, 3) Bayesian inference, and 4) outcome and uncertainty visualization. His soon to be self-published book "A Business Analyst's Introduction To Business Analytics" and the accompanying software package for creating a visual interface into universal probabilistic programming languages are glimpses into applications of his scholarly work.
Follow Adam Fleishhacker on Twitter @preposterior.
Education
Ph.D. in supply chain management, Rutgers University, 2009
M.B.A., University of Rochester, 1998
B.S. in mechanical engineering, State University of New York at Buffalo, 1996
Select Publications
Fleischhacker, A., O. Ghonima, T. Schumacher. Bayesian Survival Analysis for US Concrete Highway Bridge Decks. Forthcoming in ASCE Journal of Infrastructure Systems.
Ji, X., Y-L. Tsai, A. Fleischhacker (2019). A uniqueness-driven similarity measure for automated competitor identification. International Journal of Applied Decision Sciences, 12(2) pp.179-204.
Fleischhacker, A., P. Fok. (2015) An Entropy Based Methodology for Valuation of Demand Uncertainty Reduction. Decision Sciences, 46(6) pp. 1165-1198.
Fleischhacker, A., Ninh, A., Y. Zhao. (2015) Inventory Positioning in Global Clinical Trial Supply Chains. Production & Operations Management, 24(6) pp. 991-1011.
Chen, W., A. Fleischhacker, M. Katehakis. Dynamic Pricing and Channel Preference in a Dual Channel Environment. Naval Research Logistics, 62(7) pp. 531-549.
Fleischhacker, A., B. Chen, H. Kher, M. Mazal, B. Pfender. (2015) Capacity Planning in the Presence of Sequence Dependent Setups at Astra Zeneca Pharmaceuticals.Interfaces, 45(3).
Fleischhacker, A., P. Fok. (2015) On the Relationship Between Entropy, Demand Uncertainty, and Expected Loss. European Journal of Operational Research, 245(2) pp. 623-628.
Fleischhacker, A., Y. Zhao. (2013). Contract Development and Manufacturing Costs During Clinical Development of a New Drug. Applied Clinical Trials Online, August 5, 2013.[1]
Fleischhacker, A., Y. Zhao. (2013). Balancing Learning and Economies of Scale for Adaptive Clinical Trials. Operations Research for Health Care, 2(3) pp. 42-51.
Fleischhacker, A., Y. Zhao. (2011). Planning for Demand Failure: A Dynamic Lot Size Model for Clinical Trial Supply Chains. European Journal of Operational Research 211(3) pp. 496 – 506.
Awards & Honors
MBA Teaching Award Co-Recipient (based on votes of MBA class) – 2017 & 2019.
JP Morgan Chase Faculty Fellow – Institute for Financial Services Analytics (2017 – present).
Secured collaboration agreement between University of Delaware and Agilent Technologies. Topic: "Analytics and Visualization for Coordinating the Supply Chain," 2014-15.
Lerner College – Dept. of Business Administration – Outstanding Scholar Award, 2015
Secured collaboration agreement between University of Delaware and AstraZeneca. Topic: "Formulation Capacity Modeling," 2013
Secured research collaboration agreement between University of Delaware and JP Morgan Chase. Topic: "Using Metrics for Continuous Improvement in Application Delivery Processes," 2012
Curriculum Vitae