Charles R. Link
Photograph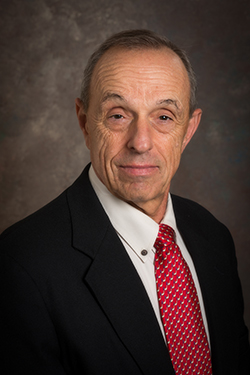 Title Bank of America Professor of Business, Professor of Economics
Email
clink@

nospam65736a52b44e3.

udel.edu
Office 408 Purnell Hall
Biography
Education
Ph.D. in economics, University of Wisconsin, 1971
M.A. in economics, University of Wisconsin, 1968
B.A. in economics, University of Missouri, 1966
Select Publications
With David Hunt, "Better Outcomes at Lower Costs? The Effect of Public Health Expenditures on Hospital Efficiency,' With David Hunt, Applied Economics, vol. 52, issue 4, 2020, pp. 400-415.
"Factors Affecting the Labor Supply Decisions of Registered Nurses," With Simon Condliffe and Sezin Zengin, Contemporary Economic Policy, vol. 38 no. 1, Jan. 2020,  pp. 400-415.
"Classmates' Effects on Black Student Achievement in Public School Classrooms," with J. Mulligan. Economics of Education Review, 1991, pp. 297-311.
"A Panel Analysis of Student Mathematics Achievement in the U.S. in the 1990s:  Does Increasing the Amount of Time in Learning Activities Affect Math Achievement?" with Tevik Aksoy. Economics of Education Review, July, 2000.
"The Shortage of Registered Nurses and Some New Estimates of the Effects of Wages on RN Labor Supply:  A Look at the Past and a Preview of the 21st Century," with Yvana Chiha. Health Policy, vol. 64, 2003, pp. 349-375.
"The Relationship between Economic Status and Child Health:  Evidence from the U.S.," with Simon Condliffe. American Economic Review, vol. 98, 2008 pp. 1605-1618.
"Population and Bandwagon Effects on Local Team Revenues in Major League Baseball," with Daniel Brown. Journal of Sports Economics, Vol. 9, 2008, number 5, pp. 470-487.
"Contract Length and Salaries:  Compensating Wage Differentials," with Martin Yosifov. Journal of Sports Economics, February 2012, Vol. 13, number 1, pp. 3-19.
"The Success and Failure of Counseling Agency Debt Repayment Plans," with Dan Brown and Mike Staten. Eastern Economic Journal, January 2012, pp. 99-117.
"Cumulative Effects on Weight Due to an Initial Occupational Choice as a Blue Collar Worker," with Bogdan Nedanov. Eastern Economic Journal, vol. 4, pp. 430-442.
"Moneyball After 10 Years:  How Have Major League Baseball Salaries Adjusted?" with Dan Brown and Seth Rubin. Journal of Sports Economics, October 2015.
"Does Option Theory Hold for Major League Baseball Contracts?" with Alex Gross. 

Economic Inquiry

, January 2017.
Awards & Honors
Named The Bank of America Professor of Business in 2002
Outstanding Teacher Award in 1995 in the Department of Economics
University of Delaware Faculty Excellence in Teaching Award in 2000
Outstanding Teacher Award in 2014 for the Alfred Lerner College of Business and Economics
Grants received from: Unidel Foundation, University of Delaware; University of Delaware Research Foundation, State of Delaware; U.S. Department of Labor; U.S.
PI or investigator – externally funded research grants.
PI – grants from UD and affiliated sources.
Curriculum Vitae