Evangelos Falaris
Photograph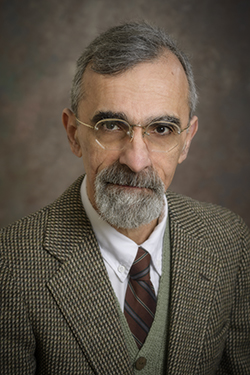 Title Professor of Economics
Email
falaris@

nospam651c9b1c55229.

udel.edu
Office 458 Purnell Hall
Biography
Education
Ph.D. in economics, University of Minnesota, 1979
M.A. in economics, University of Minnesota, 1975
B.A. in economics, University of Chicago with General Honors, 1973
Select Publications
"Labor Supply and Rainfall Shocks in Rural Ethiopia," Journal of Developing Areas, (forthcoming).
"Children's School Attendance, Work, Health and Rainfall Shocks in Ethiopia" Applied Economics, 50, 40 (2023), pp. 4609-4624.
"Hours by Type of Work and Schooling in Ethiopia: Nonparametric and Parametric Estimates," Asian Development Perspectives, 13, 1 (June 2022), pp. 70-84.
"Schooling and Cohort Size: Evidence from Vietnam, Thailand, Iran and Cambodia," with Thuan Q. Thai, The B.E. Journal of Economic Analysis and Policy 18, 4 (October 2018).
"Diffusion of Steam-Powered Firefighting Equipment in the United States: Innovation Adoption at the Municipal Level," with James G. Mulligan and Burton A. Abrams, Economics of Innovation and New Technology, 27, 7 (2018), pp. 652-669.
"Financial System Development and Economic Growth in Transition Economies: New Empirical Evidence from the CEE and CIS Countries," with Laura Cojocaru, Saul D. Hoffman and Jeffrey B. Miller, Emerging Markets Finance and Trade, 52, 1 (2016), pp. 223-236.
"Child Schooling, Child Health and Rainfall Shocks: Evidence from Rural Vietnam," with Thuan Q. Thai, Journal of Development Studies, 50, 7 (July 2014), pp. 1025-1037.
"Misclassification of the Dependent Variable in Binary Choice Models: Evidence from Five Latin American Countries," Applied Economics, 43, 11 (2011), pp. 1315-1327.
"Vintage Effects and the Diffusion of Time-Saving Technological Innovations," with Nilotpal Das and James G. Mulligan, The B.E. Journal of Economic Analysis and Policy, 9, 1 (Advances), Article 23, (2009).
"A Quantile Regression Analysis of Wages in Panama," Review of Development Economics, 12, 3 (August 2008), pp. 498-514.
"Private and Public Sector Wages in Bulgaria," Journal of Comparative Economics, 32, 1 (March 2004), pp. 56-72.
"The Effect of Survey Attrition in Longitudinal Surveys: Evidence from Peru, Côte d'Ivoire and Vietnam," Journal of Development Economics, 70, 1 (February 2003), pp. 133-157.
Curriculum Vitae