Francis Kwansa
Photograph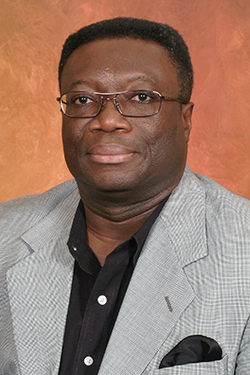 Title Associate Professor of Hospitality Business Management
Email
kwansa@

nospam6513ecb897fe5.

udel.edu
Office 116 Raub Hall
Biography
Biography
Francis Kwansa is an associate professor in the Department of Hospitality and Sport Business Management, with previous positions including associate chair, interim chair, director of graduate studies and coordinator of the MBA/HRIM 4+1 program. He teaches courses in financial management, managerial accounting and strategic management. He has been on the faculty of the Hospitality and Tourism Management Department at Virginia Tech and the School of Hotel Administration at Cornell University, where he taught graduate and undergraduate courses in hospitality financial management and managerial accounting.
His industry experience includes managerial positions with Pizza Hut and the U.S. Army Reserves as a food service specialist for eight years. He has published widely in both academic and trade journals, and is listed in the Who's Who of the Lodging Industry. He is the past president of the Association of Hospitality Financial Management Educators, associate editor of the Journal of Hospitality Financial Management, and past member of the Financial Management Committee of the AH&LA. He also serves on the editorial boards of the Global Business and Finance Review, Consortium Journal, Journal of Quality Assurance in Hospitality and Tourism, and the Journal of Hospitality, Tourism and Leisure Science.
His honors include the Alumni Excellence in Teaching Award and the Affirmative Action Award both from Virginia Tech. Dr. Kwansa has a Ph.D. from Virginia Tech in hospitality and tourism management (specializing in finance and statistics), masters degree from Virginia State University in economics, and a bachelors in economics and psychology from the University of Ghana.