Jing He
Photograph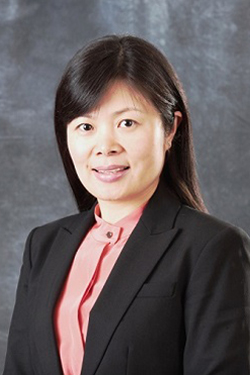 Title Assistant Professor of Accounting
Email
jinghe@

nospam633e7f6388031.

udel.edu
Office 220 Purnell Hall
Biography
Biography
Jing He is an assistant professor of accounting at the Alfred Lerner College of Business and Economics at the University of Delaware. Dr. He's research focuses primarily on financial reporting and corporate disclosure, and her most recent research develops novel disclosure measures, examines the influence of managerial incentives on financial reporting and investigates capital market consequences of corporate reporting and disclosure. She teaches financial reporting and analysis in the University of Delaware Lerner MBA program. She received her doctorate in accounting from the University of Utah.
Education
Ph.D. in accounting, University of Utah
Select Publications
Zhao, X., X. Fang, J. He, and L. Huang. 2022. "Exploiting Expert Knowledge for Assigning Firms to Industries: A Novel Deep Learning Method." Accepted for publication, MIS Quarterly.
He, J. 2022. "Executive Network Centrality and Corporate Reporting." Management Science, 68(2), 1512-1536.
He, J. and M. Plumlee. 2020. "Measuring Disclosure Using 8-K Filings." Review of Accounting Studies, 25(3): 903-962.
He, J., M. Plumlee, and H. Wen. 2019. "Voluntary Disclosure, Mandatory Disclosure, and Cost of Capital." Journal of Business Finance & Accounting, 46: 307-335.
Awards & Honors
Department of Accounting and MIS Excellence in Research Award, 2022
Best Reviewer Award for Hawaii Accounting Research Conference, 2020
Best Paper Award, INFORMS Workshop on Data Science, 2019
Graduate Research Fellowship, David Eccles School of Business, 2010-2015
School of Accounting Doctoral Student Teaching Excellence Award, University of Utah, 2014
AAA/ Deloitte/ J. Michael Cook Doctoral Consortium Fellow, 2014
Graduate Travel Assistance Award, University of Utah, 2014
Curriculum Vitae
Website