Jorge Soares
Photograph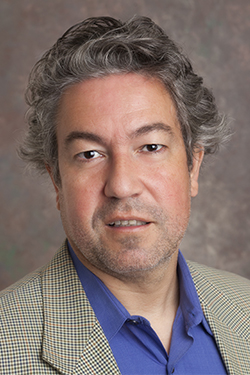 Title Associate Professor of Economics
Email
jsoares@

nospam650f18d83e2ce.

udel.edu
Office 453 Purnell Hall
Biography
Biography
Born in Lisbon, Portugal, in 1965, I attended Universidade Católica Portuguesa in Lisbon from 1983 to 1988, majoring in Economics. I was an instructor at Universidade Católica Portuguesa before going to graduate school in the US at the University of Rochester where I earned a Masters in Economics in 1994 and a Ph.D. in Economics in 1996. I have since been at the Innocenzo Gasparini Institute for Economic Research of the Bocconi University in Milan and at the Department of Economics of The George Washington University. I have joined the Department of Economics of the Alfred Lerner College of Business and Economics at the University of Delaware in August 2005.
My research and teaching interests are in the areas of macroeconomics, public finance and political economics. In particular, my research focuses on analyzing different aspects of fiscal policies with particular focus given to optimal fiscal policy, the political economy of public funding of education and the implementation, sustainability and reform of social security systems. Recently, I have also been working on issues related to child labor and the impact of borrowing constraints on children's education and well-being.
Education
Ph.D. in economics, University of Rochester, 1996
Master of science in economics, University of Rochester, 1994
Bachelor of science in economics, Portuguese Catholic University, 1988
Select Publications
"Borrowing Constraints, Parental Altruism and Welfare," Journal of Macroeconomics, Vol. 45, pages 1-20 (leading article), September 2015.
"Social Security: Universal Versus Earnings-dependent Benefits," Economica, Vol. 79 (316), pages 611-640 (leading article), October 2012.
"Welfare Impact of a Ban on Child Labor," Economic Inquiry, Vol. 48, Issue 4, Pages 1048–1064, October 2010.
"Distortionary Taxes and Public Investment when Government Promises are not Enforceable" with  Marina Azzimonti-Renzo and Pierre-Daniel Sarte, September 2009, Journal of Economic Dynamics and Control, Vol. 33, Issue 9, Pages 1662–1681.
"The Politics of Public Education: A Dynamic General Equilibrium Analysis," Journal of Population Economics, 2006 Vol. 19, Pages 367–389.
"Public Education Reform: Community or National Funding of Education?" April 2005, Journal of Monetary Economics, Volume 52, Issue 3 , Pages 669-697.
"Social security evaluation: a critique," February 2005, Macroeconomic Dynamics, Vol. 9, No. 1, Pages 57-97.
"Self-interest and Public Funding of Education," 2003, Journal of Public Economics, Vol. 87/3-4, Pages 703 – 727.
"Privatizing Social Security" with Thomas Cooley, 1999, Review of Economic Dynamics, Vol. 2, Pages 713-755.
"A Positive Theory of Social Security Based on Reputation" with Thomas Cooley, 1999, Journal of Political Economy, Volume 107, Number 1, 135-160.
Awards & Honors
Associate professor of economics, University of Delaware, 2009-
Assistant professor of economics, University of Delaware, 2005-2009
Assistant professor of economics, George Washington University, 1998-2005
Visiting scholar, Institute of Empirical Macroeconomics, Federal Reserve Bank of Minneapolis, July 2001
Curriculum Vitae
Download Jorge Soares's CV (PDF)
Website