Sheryl F. Kline
Photograph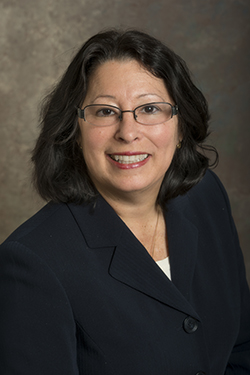 Title Deputy Dean and Aramark Chaired Professor
Email
skline@

nospam6513d99eef957.

udel.edu
Office Lerner Hall Room 303F
Biography
Biography
Sheryl F. Kline is the deputy dean of Alfred Lerner College of Business and Economics and the Aramark Chaired Professor in the Department of Hospitality and Sport Business Management at the University of Delaware. Before joining UD, she served as interim dean and associate dean in the College of Hospitality, Retail, and Sport Management at the University of South Carolina in Columbia, South Carolina. Dr. Kline developed her research interests while at Purdue University where she held the position of C. B. Smith Professor in the School of Hospitality and Tourism Management and was the director for the Center for the Study of Lodging Operations. Her research focuses on organizational behavior and training in the hospitality, meeting and event industry.
Dr. Kline is ranked in the top 25 most productive scholars in the field of hospitality management (Way et al., 2012). She began her academic career at Widener University's School of Hospitality Management. Before joining academia, she had a successful career as a manager in the casino, hotel and resort industry and has over a decade of hospitality industry experience.
Dr. Kline teaches courses in hospitality management at both the graduate and undergraduate levels and enjoys mentoring graduate students and doing research. She is an active member of industry associations, including the International Council of Hotel, Restaurant, and Institutional Education (I-CHRIE), the American Hotel and Lodging Association and the Delaware Restaurant Association and has served on their boards.
Dr. Kline is a recipient of several teaching and research awards including the I-CHRIE John Wiley and Sons Award for Innovation in Teaching and the McCool Breakthrough Award in Hospitality Education. While at USC, she was selected as an Academic Leadership Fellow for the South Eastern Conference. Most recently, she was recognized as one of 40 women in the state of Delaware as Delaware Business Women of the Year by Delaware Today Magazine.
Education
Ph.D., in organizational psychology, Temple University, Philadelphia, PA
M.S. Hospitality Administration, University of Nevada, Las Vegas
B.A., Economics and English, Rutgers College, Rutgers University, New Brunswick, N. J.
Select Publications
Park, H., Kline, S.F., Kim, J., Almanza, B., & Ma, J. (2020). Does hotel cleanliness correlate with surfaces guests contact? International Journal of Contemporary Hospitality Management, 31(7) 2933- 2950.
Malek, K., Kline, S. F. & DiPietro, R.  (2018). The impact of manager training on employee turnover.   Journal of Hospitality and Tourism Insights, 1 (3), 203-219.
Kline, S.F. Almanza, B and Neal, J., In Almanza, B., Ghiselli, R. and Mahmood, K. (2014) (Eds.) Guest room cleaning: A systematic approach. In Food safety: Researching the hazard in hazardous foods London, UK, CRC Press Taylor and Francis Co.
Torres, E., & Kline, S.F. (2013). From customer satisfaction to customer delight: Creating a new standard of service for the hotel. International Journal of Contemporary Hospitality Management.
Smith, S. L., & Kline, S. F. (2010). Crisis preparedness and meeting planner perceptions. Journal of Convention and Event Tourism 11(1), 62-78.
Kline, S. F., Adler, H., Ghiselli, R., & Huang, S. (2008). General Managers in mid-scale hotels: Are they plateaued? Florida International University (FIU) Hospitality Review. 26 (1), 21-31.
Kline, S. F., & Harris, K. (2008). ROI is MIA: Why are hoteliers failing to demand the ROI of training. International Journal of Contemporary Hospitality Management. 20 (1), 45-59.
Kline, S. F., & Hsieh, Y. C. (2007). Wage differentials in the lodging industry: A Case study. Journal of Human Resources in Hospitality and Tourism. 6 (1) 69-84.
Kline, S. F., & Sullivan, W. (2002). Hotel front office simulation. New York, NY: John Wiley and Sons.
Hashimoto, K., Kline, S. F., & Fenich, G. (1997). Casino management: Past present and future. 2nd ed. Dubuque, IA: Kendall/Hunt Publishing Co.
Awards & Honors
Delaware Business Women of the Year by Delaware Today Magazine, 2015
Academic Leadership Development Fellow for the South Eastern Conference (SEC), University of South Carolina, 2008
John Wiley and Sons Award for Innovation in Teaching, International Council of Hotel Restaurant, Institutional Education, 2007
Mary L. Mathews Teaching Excellence, Award College of Consumer & Family Science (CFS), Purdue University, 2007
C. B. Smith Endowed Professorship of Hotel Management, Purdue University, 2001-2007
McCool Breakthrough Award for Noteworthy Innovation in Hospitality Education, International Council of Hotel, Restaurant, & Institutional Education, 2006
Arnold I Cohen Faculty Development Endowed Award for Faculty Commitment to Develop Research, Department of Hospitality and Tourism Management, Purdue University, 2005
Bruce Lazarus Award for Teaching Excellence, Department of Hospitality and Tourism Management, Purdue University, 2005