Stephanie Elizabeth Raible
Photograph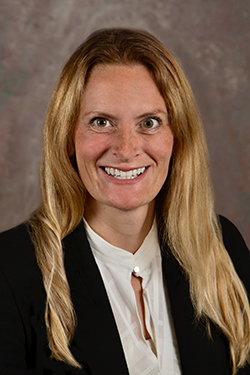 Title Assistant Professor of Entrepreneurship, Faculty Director - Social Entrepreneurship Initiative
Email
sraible@

nospam6425961c9f93b.

udel.edu
Office 117A Purnell hall
Biography
Biography
Stephanie Raible is an assistant professor of social innovation and entrepreneurship at the Alfred Lerner College of Business and Economics' Department of Business Administration and Horn Entrepreneurship at the University of Delaware. She also serves as UD's faculty director of the Social Entrepreneurship Initiative, which provides students with curricular and co-curricular opportunities to explore the area of social entrepreneurship.
Prior to her position with the Lerner College, she held a joint appointment between University of Delaware's Department of Human Development and Family Sciences and Horn Entrepreneurship (2018-21) and another role as an instructor of cultural entrepreneurship with the University of Minnesota Duluth (2016-18). In addition to these academic roles, Dr. Raible has served in national leadership roles as a board member of the Social Enterprise Alliance (2020-22) and as a leader of the U.S. Association of Small Business and Entrepreneurship's social entrepreneurship social interest group (2019-21).
Her research interests are in the areas of entrepreneurial identity, entrepreneurial transitions, entrepreneurship education and social entrepreneurship. In addition to her research in entrepreneurship education topics, her leadership developing an educational program, exercise and case in entrepreneurship areas have all individually received national recognition, and her work has reached thousands of learners through writing curricula and teaching with international organizations, including through the Social Entrepreneurship Akademie, Global Entrepreneurship Summer School and Critical Commons program.
Education
Ed.D. in organizational leadership, Northeastern University, 2018
M.A. in lifelong learning policy and management, UCL Institute of Education and University of Deusto, 2012
M.S.Ed. in higher education management, University of Pennsylvania, 2007
B.A. in Italian studies, University of Delaware, 2005
Select Publications
Kucher, J., & Raible, S. E. (2022). Social entrepreneurship: A practice-based approach to social innovation. Northampton, MA: Edward Elgar Publishing, in press.
Raible, S. E., & Ballesteros-Sola, M. (Forthcoming). Go Baby Go: Scaling a social movement around mobility. Case Research Journal.
Raible, S. E., & Williams Middleton, K. (2021). The relatable entrepreneur: Combating stereotypes in entrepreneurship education. Industry and Higher Education.
Raible, S. E. (2018). Universal ethics. In R. M. McManus, S. J. Ward, & A. Perry (Eds.), Ethical leadership: A primer. Northampton, MA: Edward Elgar Publishing.
Awards & Honors
Case Research Foundation Paul R. Lawrence Fellow, 2021
United States Association for Small Business and Entrepreneurship (USASBE) Model Emerging Program National Finalist for the UD Social Entrepreneurship Initiative, 2021
University of Delaware WE Hatch Honors Circle Honoree, 2021
State of Delaware Compassionate Champion Award Nominee, 2021
Social Enterprise Alliance (SEA) National Board Member, 2020-22
North American Case Research Association (NACRA) Best Ethics Paper Awardee, 2020
USASBE Competitive Experiential Learning Exercise Third Place Award, 2020
USASBE Social Entrepreneurship Social Interest Group Leader, 2019-21
Algernon Sydney Sullivan Foundation Faculty Fellow, 2019-20
University of Delaware Excellence in Teaching Award Nominee, 2019-20
USASBE Teaching and Learning Scholar, 2018-19
BMW Foundation Responsible Leader, 2016-Current
Robert Bosch Foundation Fellow, 2015-16
Curriculum Vitae
Download Stephanie Raible's CV (PDF)
Website