Stephanie Elizabeth Raible
Photograph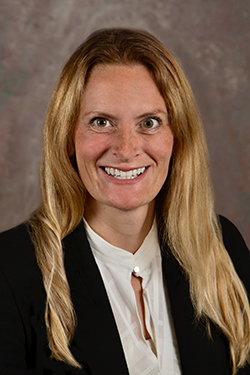 Title Assistant Professor of Entrepreneurship
Email
sraible@

nospam651ca693b078e.

udel.edu
Office 117A Purnell hall
Biography
Biography
Stephanie Raible is an assistant professor of social innovation and entrepreneurship at the Alfred Lerner College of Business and Economics' Department of Business Administration and Horn Entrepreneurship at the University of Delaware. She also serves as UD's faculty director of the Social Entrepreneurship Initiative, which provides students with curricular and co-curricular opportunities to explore the area of social entrepreneurship.
She has been an entrepreneurship educator since 2012 and has taught and developed curricula across nine academic institutions and non-profits in the United States and Europe. For her high impact contributions to the field and at UD, she has received local, national, and international recognitions, and her work has reached thousands of learners through her recent textbook and her curriculum development and teaching efforts. Her research interests are in the areas of entrepreneurial identity, women's entrepreneurship, social entrepreneurship, and entrepreneurship education.
Education
Ed.D. in organizational leadership, Northeastern University, 2018
M.A. in lifelong learning policy and management, UCL Institute of Education and University of Deusto, 2012
M.S.Ed. in higher education management, University of Pennsylvania, 2007
B.A. in Italian studies, University of Delaware, 2005
Select Publications
Raible, S. E., & Perry, A. K. (Forthcoming). "Universal ethics." In R. M. McManus, S. J. Ward, & A. Perry (Eds.), Ethical Leadership: A Primer (Second edition). Northampton, MA: Edward Elgar Publishing.
Kucher, J., & Raible, S. E. (2022). Social Entrepreneurship: A Practice-based Approach to Social Innovation. Northampton, MA: Edward Elgar Publishing.
Raible, S. E. (2022). "Critical Concrete: Pivot Possibilities for a Sustainable Architecture Social Enterprise." Case Research Journal, 42(3).
Raible, S. E., Adeyinka, O., Holtzen, S., & Douglas, M. (2022). "Stakeholder Power Play: Delta Airlines, Voter Rights, and Georgia Senate Bill 202." The CASE Journal, 18(3), pp. 463-483.
Raible, S. E. (2022). "Saskia Bruysten: Advocacy, Perseverance, and Vision for Social Business During Challenging Times." In P. Goodman Hayward, S. Rehman, & Z. Yan (Eds.), Women Community Leaders and their Impact as Global Changemakers. IGI Global.
Raible, S. E., & Williams Middleton, K. (2021). "The Relatable Entrepreneur: Combating Stereotypes in Entrepreneurship Education." Industry and Higher Education.
Raible, S. E., & Ballesteros-Sola, M. (2021). "Go Baby Go: Scaling a Social Movement Around Mobility." Case Research Journal, 41(3).
Awards & Honors
International Council for Small Business (ICSB), Excellence in Social Entrepreneurship Award, 2023
Delaware Business Times, 40 under 40 ("DBT40"), 2022
Campus Compact-Up to Us, Teaching for a Future of Shared Prosperity, Faculty Participant Awardee, 2021
Case Research Foundation Paul R. Lawrence Fellow, 2021
U.S. Association for Small Business and Entrepreneurship (USASBE) Model Emerging Program National Finalist for the UD Social Entrepreneurship Initiative, 2021
University of Delaware Women's Entrepreneurship ("WE") Hatch Honors Circle Honoree, 2021
State of Delaware Compassionate Champion Award Nominee, 2021
North American Case Research Association (NACRA) Best Ethics Paper Awardee, 2020
U.S. Association for Small Business and Entrepreneurship (USASBE) Competitive Experiential Learning Exercise Third Place Award, 2020
Algernon Sydney Sullivan Foundation Faculty Fellow, 2019-20
U.S. Association for Small Business and Entrepreneurship (USASBE) Teaching and Learning Scholar, 2018-19
BMW Foundation Responsible Leader, 2016-Current
Robert Bosch Foundation Program Fellow, 2015-16
Curriculum Vitae
Download Stephanie Raible's CV (PDF)
Website