Suresh Sundaram
Photograph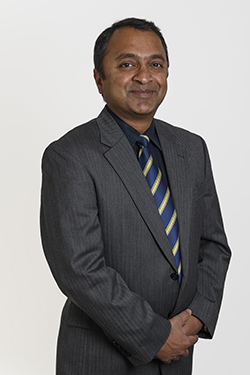 Title Assistant Professor of Marketing
Email
ssuresh@

nospam6513f086326e6.

udel.edu
Office 214 Alfred Lerner Hall
Biography
Biography
Suresh joined Lerner College in fall 2007 as an assistant professor of marketing. Suresh also serves as faculty director for the professional selling and sales management minor and faculty director for study abroad semester and internship programs. Suresh has taught several undergraduate and graduate marketing courses at UD. Suresh has over 24 years of experience teaching Marketing. He started his teaching career as a graduate student at the University of Houston in 1998 and later at Loyola University of Maryland. At Loyola, in addition to teaching in the undergraduate and graduate program, Suresh also taught in the executive MBA and executive education program.
Suresh is a highly experienced researcher who brings over 20 years of experience in designing and conducting marketing global research projects across multiple industry sectors including consumer durables, consumer packaged goods and pharmaceuticals. His areas of expertise include marketing research, marketing strategy, advanced multivariate analysis, conjoint analysis, segmentation, survey design and execution.
Suresh has an active interest in academic research focused largely on the area of the impact of technology on marketing and consumer decision-making. He has been published in leading peer-reviewed marketing journals like the Journal of the Academy of Marketing Sciences and the Journal of Personal Selling and Sales Management. His co-authored paper in the Journal of Personal Selling and Sales Management won the journal's Best Paper Award.
Suresh holds a Ph.D. in business administration from the University of Houston. He also holds a bachelor's in instrumentation engineering from the University of Bangalore, India.
Education
Ph.D. in business administration, University of Houston
B.E. in instrumentation engineering, University of Bangalore
Select Publications
Satid Thammasitboon, Moushumi Sur, Joseph J. Rencic, Gurpreet Dhaliwal, Shelley Kumar, Suresh Sundaram & Parthasarathy Krishnamurthy (2020) "Psychometric validation of the reconstructed version of the assessment of reasoning tool, Medical Teacher." Journal Impact Factor, 2.610. DOI: 10.1080/0142159X.2020.1830960.
Steven Posavac, Michal Herzenstein, Frank Kardes, and Suresh Sundaram (2010), "Profits and Halos: The role of firm profitability information in consumer inference," Journal of Consumer Psychology, 20, 327-337.
Suresh Sundaram, Andrew Schwarz, Eli Jones, and Wynne W. Chin (2007), "Technology Use on the Front Line: A Panel Data Analysis of How Technology Enhances Individual Performance," Journal of the Academy of Marketing Science, 35 (1), 101-112.
Eli Jones, Suresh Sundaram and Wynne Chin (2002), "Factors Leading to Sales Force Automation Adoption by the Sales Force: A Longitudinal Analysis," Journal of Personal Selling and Sales Management, 22 (Summer), 145-156.
Betsy D. Gelb and Suresh Sundaram (2002), "Adapting to "Word of Mouse"," Business Horizons, 45 (July-August), 21-25.
Awards & Honors
State Farm Foundation Grant, January 2022
CTAL Travel Grant, University of Delaware, Spring 2018
Outstanding Faculty Award, Department of Business Administration, University of Delaware, Spring 2018
Nominee, Excellence in Teaching Award, University of Delaware, Spring 2016
Nominee, MBA Teaching Award, Alfred Lerner College of Business & Economics, Spring 2016
Summer Grant for BUAD880 Course Redesign, UD Online MBA, 2016
Nominee, MBA Teaching Award, Alfred Lerner College of Business & Economics, Spring 2015
Summer Grant for Development of Capstone Strategy Course, UD Online MBA, 2014
Sellinger School of Business, Marketing Department Award for Best Article of the Year, 2004
The Journal of Personal Selling and Sales Management's Marvin Jolson Award for Best Contribution to Selling and Sales Management Practice, 2003
Dean's Award for Academic Excellence, C. T. Bauer College of Business, University of Houston, May 2003
Curriculum Vitae