Lerner Executive Mentoring Program
The Lerner Executive Mentoring Program matches Lerner students with executives whose professional backgrounds are complementary to the students' career objectives.
Mentors come with 10 or more years of progressive career experience and passion to help our students succeed.
Mentorships have resulted in an increase in student confidence in entering the workforce, expansion of networks and overall professional growth.
To join the program as a mentee or mentor, follow the steps below:
Register online through the UD Career Acceleration Network (UD CAN). Click on the green "join program" button to begin registration.
Mentors can set up an account using a current LinkedIn user ID or other email address.
To complete the registration, follow the prompts to answer the registration questions; this should only take a few minutes to complete.
After you register and successfully complete the registration questions, you will receive the following message: "Your profile is pending approval." You will receive an email once your registration is confirmed.
If you need more information about the program, we've put together some frequently asked questions.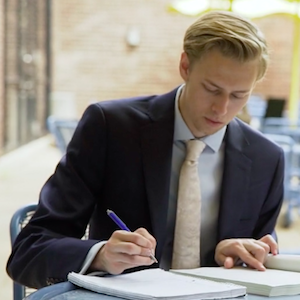 News
A Blue Hen's Tips for Landing the Job
-
UD alum Alina Serbina recently secured a position with NBCUniversal after an extensive job search. Serbina shared what she learned and advice for Blue Hens starting their own job search.
The Top Five Ways to Kickstart Your Career
-
In recognition of Women's Equality Day, the University of Delaware's Lerner College shares the top five career lessons participants learn at the Lerner Women's Leadership Forum.
Blue Hen Lands a Job at Goldman Sachs
-
Finance student Kerry Schwartz has an internal drive to leave an impact that has propelled her to seek resources to accomplish personal and professional goals at UD.
Student and Mentor Testimonials
"Without the mentoring program, I wouldn't feel as confident as I do now networking with others and going into interviews."
– Megan McAloon, Operations Management major, UD Class of '20
"My mentor has helped me with everything from resume help, networking skills and interview prep to advice for life post-graduation, for my first job and applications to scholarships. Her help has been so valuable to me and her support has meant just as much."
– Amanda Flores, Finance & Chinese major, UD Class of '19
"The program is excellent – a huge benefit to the students, and personally satisfying to me."
– Peter Saitis, CFO, Ecore International Inc.
"I get a real kick out of working with these incredibly talented young men and women.  It gives me a great hope that the future is very positive"
– Mary Ellen Payne, VP of Marketing & Sales – Mid-Atlantic Region (Retired), Verizon
---
Contact
Libby Cusack, program coordinator
302-831-4739
lcusack@udel.edu