An Interview with Charles Link, Lerner's Longest-Standing Faculty Member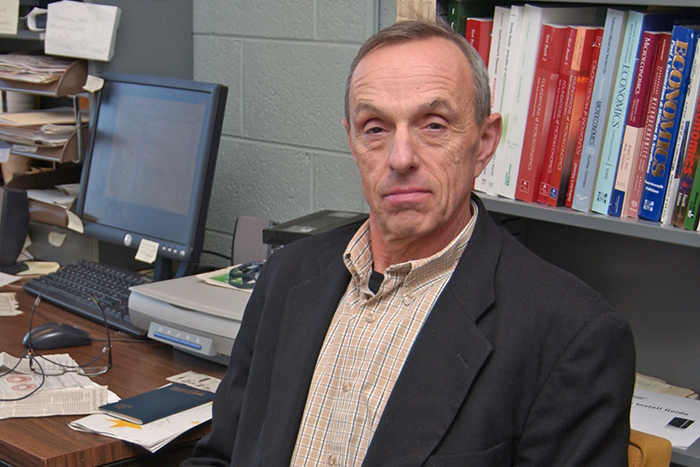 25,000 students.
That's an estimate of how many students Charles Link, the longest-standing faculty member at the University of Delaware's Alfred Lerner College of Business and Economics, has taught during his 47 years.
Link, who is Bank of America Professor of Business and a professor of economics, says that the fulfillment of working with thousands of bright UD students makes it difficult to retire. This includes being the major advisor for 13 Ph.D. dissertations, more than 50 masters papers and 14 degree with distinction and Honors theses.
One such former student, Tevfik Aksoy, also the first-ever student to graduate with a doctorate from UD's economics department, described Link as a mentor who supported him through each step of his UD academic career.
"Working with Charlie has been a fantastic experience," said Aksoy, who now works as managing director of Morgan Stanley's fixed income division. Aksoy said that Link taught him "how to teach effectively," and that emulating Link in the classroom gave him a "significant head start."
"I continued applying the things I learned from Charlie during my Ph.D. in my banking career and I owe a lot to him," Aksoy said.
Fellow former student Simon Condliffe, who now serves as an associate professor in the Department of Economics and Finance at West Chester University, described Link as "a tremendous influence on my career."
Condliffe has collaborated with Link on six published papers, including one in the top journal American Economic Review. The two have also presented their research at national and international conferences.
"Professor Link's longevity at UD is a testament to his passion for economics both in teaching and in research," Condliffe said. "It has been a joy and privilege to work with Charlie these past 15 years. I cannot think of a better colleague."
Former student Alex Gross, now a doctoral student in economics at the University of Virginia, said, "I wouldn't be on this path without Charlie's help."
Gross first worked with Link as an undergraduate research assistant, Gross' first-ever research-related job. Gross then parlayed this work into his senior thesis, which was eventually published in the journal Economic Inquiry last year.
"Charlie was a great adviser when I was an undergrad, and he's a great colleague now that I'm in grad school," Gross said. "While working on my senior thesis, he provided much guidance on how to frame an interesting research question, but he also gave me control over the research question and methodology. His trust in my ability to do research ultimately inspired me to apply to grad school."
"Charlie taught me the skills necessary to be a good researcher, and I know he does the same for many other undergrad research assistants," Gross said.
A distinguished career
During his 47 years at the Lerner College, Link said, he has seen tremendous growth and change both in his own career and in the college and UD.
For example, when Link arrived at UD in 1970, having just earned his doctoral degree from the University of Wisconsin in Madison, the building that houses his current office in Purnell Hall was still being built. Link and his colleagues worked in Robinson Hall until moving into Purnell in the spring of 1971.
Purnell was "brand new," Link said. "We literally opened it up." Since then, he estimates that he's been in his current office for 30 years.
Link added that he has seen even bigger changes in the number of students and faculty at the Lerner College. When he came to UD in 1970, for example, he estimated that the college was home to 25 faculty members, compared to 150 today.
"There's been a huge growth. The people in my generation have grown up in the era of great expansions in universities," Link said, attributing much of this growth to the Baby Boomer generation coming to college. He added that the quality of his students has only continued to improve over the years, especially in the last two decades.
Link has maintained a strong research program that includes 50 articles published in leading economics journals, and is coauthor of two books.
Link has also seen the department of economics, the Lerner College and UD develop stronger research orientation over the years, he said, while still maintaining excellence in teaching.
This maintained interest in teaching can be seen in some of the awards Link has received, including the Department of Economics' Outstanding Teacher Award in 1995, the UD Excellence in Teaching Award in 2000 and the Lerner College's Outstanding Teacher Award in 2014. In 2002, Link was named the Bank of America Professor of Business.
Other highlights of Link's career so far include his experience leading 15 UD winter study abroad programs. Ten of these programs were in Europe and five were in Australia and New Zealand.
"Those are high points to me, because these students got to meet really the crème de la crème," Link said. "They met CEOs, they met CFOs, they met… top government officials and academics in Italy, in Spain, in England, Ireland, and in Australia."
"They were meeting people that were so outstanding," he said.
Link has also presented papers and represented UD all over the world, from Spain, Hungary, Denmark and England to New York, Portland, Seattle, San Diego, Los Angeles and Toronto.
Add to this Link's own personal travel with family (in the past two years alone visiting Hawaii, Colorado, Vermont, Boston, Vancouver and more), and he can check every continent off the list except Antarctica.
His Purnell Hall office is a reflection of some of these travels, full of items like a wooden plaque from Bulgaria, a pearly-finished box from Lebanon, a wood round painted with a Rocky Mountain National Park nature scene, and photos of the columns at the University of Missouri and the original Link House in Germany.
In terms of his plans for after retirement, Link said, "It's funny, people tell me, 'You could travel.' I've had my share of travel."