Maybe this has happened to you: When traveling, you attempt to make a purchase, but your card is declined. Your credit card company has marked your purchase attempt as potentially fraudulent, and you may have to contact your bank and verify your identity before you can do anything else. This leaves you feeling very inconvenienced and probably unsettled.
In order to reduce the likelihood of these situations, leaders in banking are working with big data to better predict when transactions are truly fraudulent. The ultimate goal is to "identify more, decline less and find more fraud."
These were the words shared by one panelist at the University of Delaware's Fraud Detection & Cyber Security in Financial Services Conference panel discussion, where banking experts discussed the future of technology in credit card fraud detection.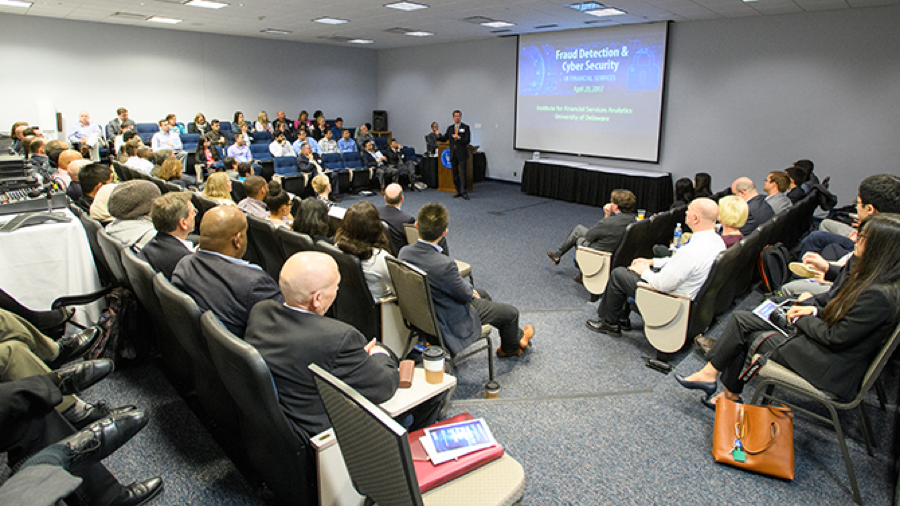 Sponsored by UD's Institute for Financial Services Analytics (IFSA), the conference included multiple presentations as well as the panel discussion, which featured professionals from Barclay's, Citibank, JPMorgan Chase, Bank of America and Capital One.
Co-moderating the panel were Jimmy Li, business director of Capital One, and Bintong Chen, director of IFSA.
On the subject of the aforementioned mistaken declines, one panelist said that working with big data can help banking systems to "intuitively arrive at the conclusion that [your transaction] is not so odd."
Other panelists discussed solutions that stress communication with customers – for example, a text message alert that gives customers the opportunity to easily confirm or deny the legitimacy of a purchase.
The panel also discussed challenges facing financial services analytics, like the need for bank card issuers to work with merchants to access more data.
"The question is always 'Do we have enough data?' and the answer is always 'No,'" said another panelist. "You always want more data. I would love to have more participation from merchants sharing their data.
"Whatever business solutions we come up with, we have to figure out how to get the merchants to come along."
"That's a phenomenal point," agreed another panelist. "From a banking perspective, we know the amount, and that's about it." The panelist discussed the need for "bridging between what issuers have and what merchants have."
Complex issues like this, a panelist said, are why, "If I'm not investing, I'm losing. And I'm losing because the criminals are investing, but also because my competitors are investing."
Despite the competition between the companies, however, the panelists stressed the importance of working together against the common threat of credit card fraud.
"What we've all found is that if one of us is being targeted, the others probably are as well," a panelist said. The panelist discussed one solution of using third party firms to help different companies pull their data together.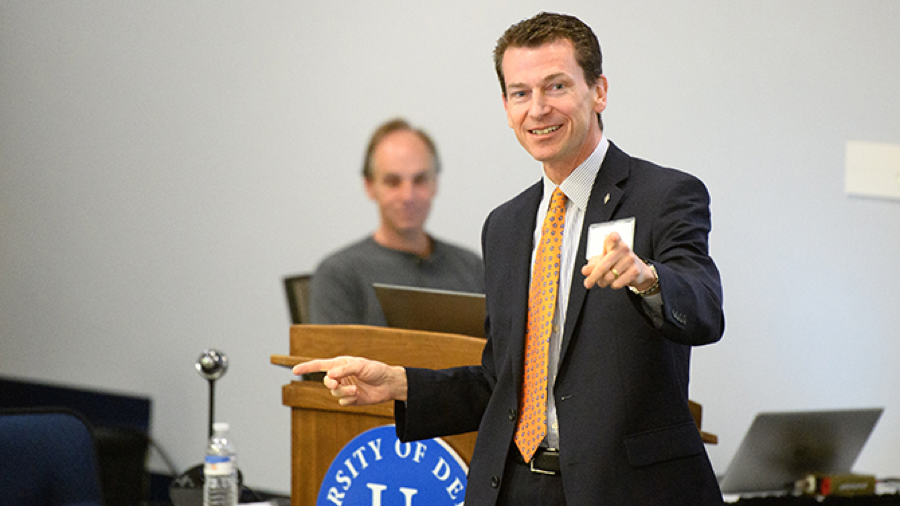 Alfred Lerner College of Business and Economics, also discussed the importance of collaborative fraud prevention in his remarks at the conference. Specifically, Weber talked about technology that can help professionals "move in the direction of collective intelligence."
"If each team relies just on its perception of the threat, we're not going to get to the place we need to be on this problem," Weber said. "We need to pool the 'wisdom of the crowd' to fully enable us to deal with financial fraud in the digital era."
Contributing to this effort, Weber continued, is UD's unique doctorate in financial services analytics program, which combines data science, computer science and financial services operations.
These are the areas, Weber contested, that are the drivers of performance and risk at today's financial services institutions.
Lerner also offers other finance programs, such as the master of science in finance program. Students in this program graduate ready to meet a growing demand for principled financial experts capable of practical, hands-on business problem solving.