In this guest post, Naomi Wakiaga (pictured below), UD Lerner master's of international business student, shares her experiences about participating in this year's Carol A. Ammon Case Competition.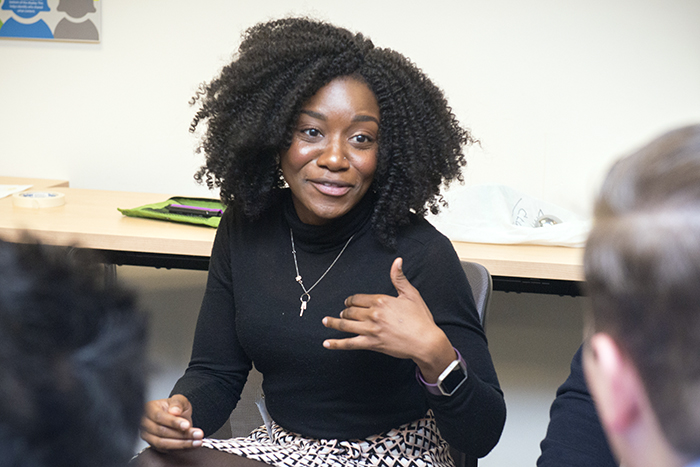 On Friday, March 16 at 10:10 a.m., my group members and I stood in front of our three judges, ready to present our solution for the competition. The day of the 19th annual Carol A. Ammon Case Competition had finally arrived, after three weeks of preparation. This year's case, titled Danger on the Horizon: Blue Horizon Dive Center, tasked competitors with finding an ideal software solution for the technological issues facing Blue Horizons, a dive center in Glen Mills, Pa. that provides diving certifications and merchandise for its customers.
"In this year's case, the main objective was to identify an integrated point of sale (POS) – customer relationship management (CRM) system that fit the parameters the company provided," said faculty director of MBA and Graduate Programs at the Lerner College, professor Kati Takacs-Haynes, who wrote this year's case and served as faculty advisor to the competition. "A secondary task was to analyze Blue Horizons' target market."
The case competition, hosted by the University of Delaware's Alfred Lerner College of Business and Economics, is a yearly event open to graduate students at the University. The competition involves management issues across a variety of business functions (marketing, finance, operations, etc.) and teams must solve a problem affecting a specific organization.
"Over the last several years, students have provided strategic recommendations to statewide non-profit organizations or local businesses," said Amy Becker (pictured below), MBA program manager and case competition coordinator.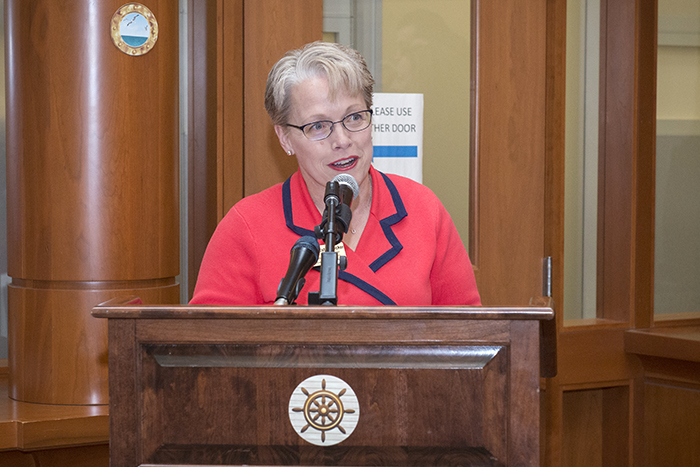 Each team consists of three or four members, who are currently enrolled in a graduate degree program at UD; half or more of the team must be Lerner College graduate students. In the end, competitors present their recommendations to their organization for them to apply moving forward in expanding their business.
Over the course of two weeks, my group members, Nadia Ceciliano, James Collier, Elena Starovoitova (all current MBA students) and I worked on finding a solution to Blue Horizon's business problem. As a first year student in Lerner's master of science in international business program, this was my first time participating in a case competition.
My team members and I tapped into our strengths when deciding our roles, utilizing both our acquired knowledge and skills from graduate and MBA programs and our professional experiences. Since teams were not allowed to contact Blue Horizon employees for questions, we conducted research in the public domain, such as at Morris Library and on the internet.
Through late nights, brainstorming sessions at One South Main, and dead-ends in the creative process, we created a solution. Our final recommendation was an affordable, integrated software suite that offered flexible business solutions for Blue Horizon, which they could optimize to maintain growth into the future.
When competition day arrived, all the competitors had the preliminary round. Our team gave a 25-minute presentation of our recommendations, followed by a 12-minute Q&A from the three judges, who provided us with constructive comments at the end of each round. The panel of judges consisted of Lerner MBA alumni as preliminary judges and upper-level management from Blue Horizons as final round judges.
"Teams were judged on their grasp of the business situation faced by the focal company, the quality/clarity/creativity of their recommendations and implementation plan, the quality of the presentation, and how well they handled the judges' questions," Becker said.
This year's case attracted 13 teams including 47 students. While the majority of students were MBA students, nearly every Lerner graduate program was represented.The teams who made the final round had 25 minutes to present followed by 15 minutes of Q&A. The top three final teams were Pied Piper Consulting, Trilogy One and Upgrade That POS! In the end, the Upgrade That POS! team, consisting of students Will Cottell, Tim Huffman and Bruce Wayne, won.
Despite not making it to the final round, I gained many lessons from participating in the competition. The competition gave me and my fellow students an opportunity to collaborate with other graduate students in Lerner in a real-world case environment while gaining consulting experience.
My team member, first semester MBA student James Collier said that he liked the "department camaraderie in the case competition." I personally enjoyed getting to collaborate with students outside of the usual classroom setting.
I would highly recommend students at UD participate in the competition. It pushed me out of my comfort zone, not only working on a business issue with which I was unfamiliar, but also collaborating with students who I had not met prior to our first meeting as a group. I also had the opportunity to network with fellow graduate students, who I now remain in contact with even after the competition.
Lerner encourages its students to gain real-world experience, and this case competition provides us with the opportunity to do so. The experience is a great addition to your resume for those entering the business environment post graduation.
"Students who participate in this event remember it vividly, even years later, " Becker said. "We're fortunate that a number of local MBA alums remember the value of this experience and come back to judge the first round every year. They'll reminisce about their teammates, the focal company they studied, all of it, just like it was yesterday. You really see what a lasting impact this event has on the students who participate."