This guest post is written by Dr. Laura Field, Chair and Donald J. Puglisi Professor of Finance
When it comes to your career, you may find yourself asking, "What's next?" If you have a passion for finance, there are many opportunities to explore.
Whether you're looking to specialize in corporate finance, you have aspirations of managing a team of financial analysts or you aim to grow your own firm, there are many professional development pathways to choose from. And if your interest is to change careers or move up within your current company, an accredited MBA or master's degree in finance is a qualified springboard to help you move forward.
The University of Delaware's Alfred Lerner College of Business and Economics offers both an MBA with a major or concentration in finance and a master's of science degree in finance, depending on students' preferences. While the degrees are different, this article will answer some key questions about how these programs can help augment your career goals.
What is the main difference between the degrees?
If you are looking to advance in your current job and have a few years of work experience, an MBA might be the right choice for you. You'll focus on all areas of business and be able to dive deeper in focused study of areas such as finance.
If you have limited work experience or are looking to change careers and are interested in a career in the financial industry, the master's program would be appropriate. You'll also need to be interested in obtaining a strong quantitative background, as your coursework will typically focus on corporate finance, investments, asset pricing, valuation, mathematics and statistics.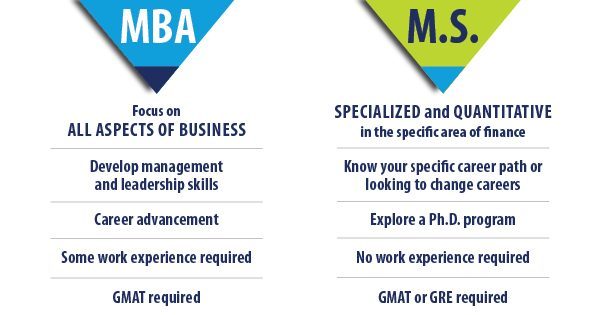 How else are Lerner's MBA and master's programs in finance different?
 Lerner MBA students have the choice of earning either a major or concentration in finance. The MBA itself is 44 credits and allows you to build a degree that fits your career goals. The core courses provide a rock-solid foundation in business management knowledge. Building on that, the major in finance includes five pre-selected electives in areas such as financial analysis, portfolio management, financial engineering and fixed income securities. Or you can choose the concentration, which provides three pre-selected electives for focused study in corporate, quantitative or general finance.
The Lerner master's degree in finance program requires a minimum of 30 credits. Students can choose from four paths through the master's in finance program:
An accelerated MS program, which is a one-year program ideal for someone with a BS in finance, who has excellent quantitative skills and can attend full-time
Full-time program for students without a strong background in finance, usually takes 18 months
Limited part-time program for students who have the ability to take some of their courses during the day
Dual MBA/MS in finance program which combines the strategic business skills of the MBA with the in-depth study of finance
As a Lerner master's student in finance, you will participate in academic learning in class, learn to program in SAS and have opportunities to use the data available in the Geltzeiler Trading Center.
All Lerner students have access to the Geltzeiler Trading Center, which offers Bloomberg, FactSet, TraderEx, MATLAB, WRDS, @Risk and Eviews. You'll also be able to complete training in FactSet and Bloomberg. The Trading Center and our finance programming course offer experiential learning opportunities to learn several databases which are valued in the field of finance.
For students who are interested in getting a Ph.D. in finance (which will prepare you for a position as a finance professor or a more quantitative position on Wall Street), the master's in finance can be particularly useful. Opportunities for Ph.D.'s in finance can be lucrative, but admission to Ph.D. programs is very competitive. For many students, a master's degree can provide the training and background needed for admittance to a doctoral program in finance. In fact, three alumni from the Lerner master's in finance program are currently completing their Ph.D. degrees in finance at other institutions.
What career opportunities are available for graduates?
The career prospects in the graduate financial field are plentiful. Once earning a MBA or master's degree, you'll be qualified to be employed by banks in positions such as financial analyst, credit risk analyst, commercial credit analyst, risk analyst, quant modeling analyst, business analyst or settlement associate. Or, you could work for Big Four accounting firms in finance positions like audit associate, forensic advisory associate or assurance associate; or at a consulting group or investment advisor in a finance-related position.
Students from our 2015-16 class took positions at JPMorgan Chase, Bank of America, KPMG, Bank of the Orient, BlackRock, Bloomberg, BNY Mellon, Grant Thorton, Morgan Stanley, PwC and WSFS Bank, among others. Our students took positions as financial analysts, business analysts, financial specialists, credit risk analysts, investment data analysts and more.