Carol A. Ammon Case Competition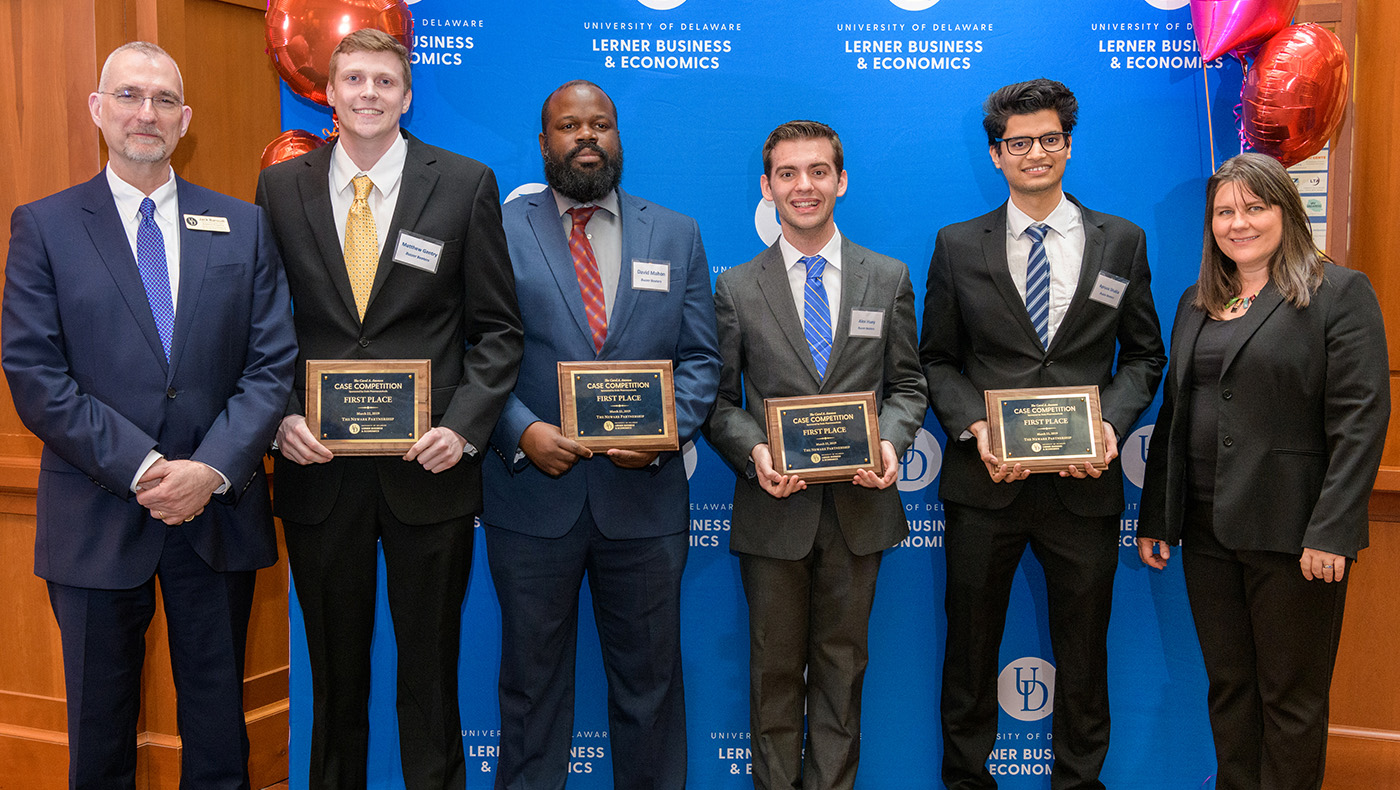 The Carol A. Ammon Case Competition gives University of Delaware graduate student teams the opportunity to create and present recommendations for a local company. In the preliminary round, teams present their recommendations to judges who are alumni of the UD Lerner MBA program.  The top three teams move on to the final round and present to the leadership team of the focal organization.The competition enhances students' analytical and presentation skills, expands students' business vocabulary and exposes them to a vital audience of regional corporate leaders.
The Carol A. Ammon Case Competition is made possible by the generous support of Endo Pharmaceuticals and named for the company's founder, Carol A. Ammon.
Prior Case Competitions have focused on the following organizations:
Endo Pharmaceuticals
Rent the Runway
Dogfish Head Brewery
B Lab
Cancer Care Connection
Downs Syndrome Association of Delaware
Blue Horizon Dive Center
The Newark Partnership
Past Competition Winners
2020
On behalf of Rosewood Farms
Team Rare Affairs: Manasi Desai, Bhoomi Gada, Abhi Katta, Richa Kumari

2019
On behalf of Newark Partnership
Team Buzzer Beaters: Matthew Gentry, Alex Huey, David Mahon, Apruva Shukla

2018
On behalf of Blue Horizon Dive Center
Team Upgrade that POS: Will Cottell, Tim Huffman, Bruce Wayne

2017
For Cannabusiness in Washington, D.C.
Team High-Flying Consultants: Shyamala Athaide, Alex Brooks, Dan McCaffery, Sarah Meadows

2016
On behalf of Down Syndrome Association of Delaware
Team Down but not Out: Shyamala Athaide, Alex Brooks, Dan McCaffery, Sarah Meadows

2015
On behalf of Cancer Care Connection
Team Stepfinity: Kristen Carr, Arpita Ghandi, Eric Hoober, Nathan Snodgrass

2014
On behalf of Food Bank of Delaware
Team Sigma Consulting: Shitong Cao, Christopher Giacomucci, Chenfeng Lai, Tyler Szarko

2013
On behalf of Rent the Runway
Team Kaminski Consulting: Calleigh Chen, Michael Gross, Stephen Huff, Gil Kaminski

2012
On behalf of Dogfish Head
Team AKME Consultants: Edwin Brown, Adrian Farrar, Matt Gore, Kevin Prendergast
Recent News
Lifelong Lerner: Sarah Meadows
-
Sarah Meadows, a member of UD's Lerner Class of 2020, shared her favorite UD memories, how she has changed during her time at UD and her plans following graduation.
Will You Be Our Business Partner?
-
At the 2020 Carol A. Ammon Case Competition, graduate students from the Lerner College formu-lated viable business plans for Rosewood Farms, a family-owned wedding venue.
A Case for Newark
-
The 20th Anniversary of the Carol A. Ammon Case Competition asked graduate students to make a business plan for the Newark Partnership, a community coalition for Newark, DE.