Two alumnae of the University of Delaware's doctorate in economic education program, first-ever graduate Erin Yetter and most recent graduate Amanda Jennings, received awards at the recent 56th annual Financial Literacy & Economic Education Conference in Brooklyn, N.Y.
Carlos Asarta, director of UD's Center for Economic Education and Entrepreneurship (CEEE), said that the continued success of students like Yetter and Jennings is "a reflection of the vision of founding program director Saul Hoffman, our students' talent and hard work, and the support of our administration, faculty and staff."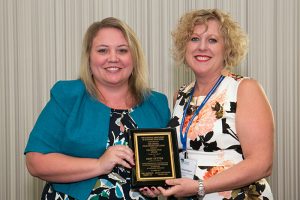 Yetter (pictured, on the left, with Selena Swartzfager, NAEE president)  won the Rising Star Award from the Council of Economic Education and the National Association of Economic Educators (NAEE), an annual award that honors new NAEE members "who have hit the ground running." This is certainly an apt description for Yetter, who is senior economic education specialist of the St. Louis Federal Reserve's Louisville Branch.
Yetter joined the Federal Reserve in December 2012, and her short tenure has already resulted in a long list of honors—particularly for projects that help educate young children. She has received two Gold Curriculum Awards from the NAEE, including honors for the Kiddynomics program that introduces basic personal finance and economics concepts at early childhood centers.
Yetter also received the 2016 Best Paper Award from the Journal of Economics Teaching for her paper, "Using the Berenstain Bears to Teach Economics in the Elementary Classroom."
"Erin is an engaging and enthusiastic presenter who uses creative ideas to draw teachers into teaching economics and personal finance," a representative who nominated her wrote on the awards page of the organization's website, noting that Yetter "has trained over 3,000 teachers" in her Fed tenure so far.
"In a short time, Erin has used her 'toolbox' of competencies and talents to make an impressive impact advancing economic and personal finance education."
At this same conference, most recent program graduate Jennings (pictured below with Carlos Asarta) received the Phil Saunders Best Paper Award.
This award recognizes a NAEE member who authored an economic education paper judged the best of the year. This award recognizes the contribution of Philip Saunders to economic education.
This special honor is given at the discretion of the NAEE Research Committee to a NAEE member who exhibits Saunders' commitment to improving our knowledge of the teaching and learning of economics.
The CEEE recently hired Jennings to work on multiple projects including the development of a second-grade economics curriculum for Delaware students and an evaluation of the CEEE's Master of Arts in Economics and Entrepreneurship for Educators (MAEEE) program.
Jennings' hiring was supported by the Fontana Financial Literacy Fund, which was created as a result of a recent gift from finance and economics alumna Donna M. Fontana.
In May, Jennings won UD's Interdisciplinary Research Prize for her dissertation, "Exploring the Autonomous Economic World of Children."