Women's Leadership Initiative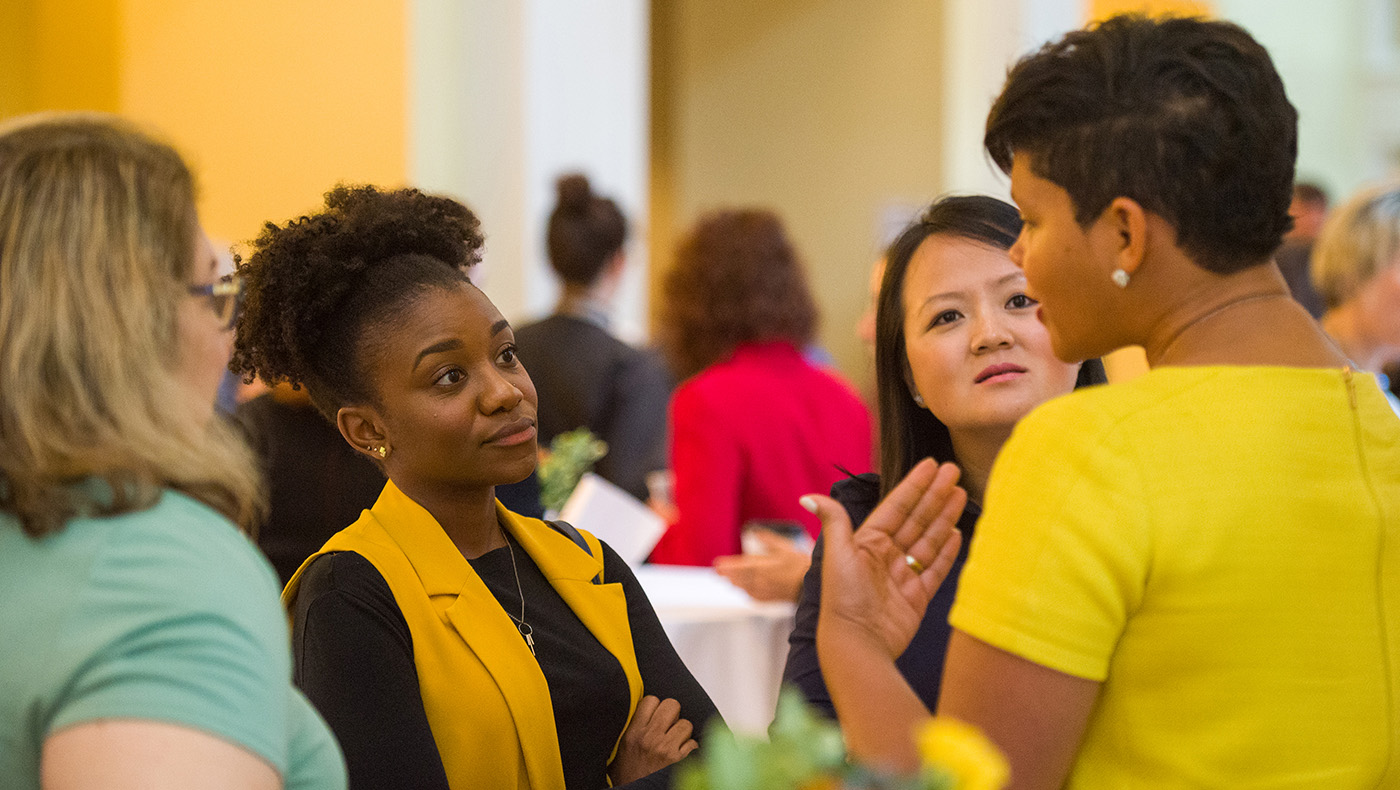 The Women's Leadership Initiative envisions a world where gender equity advances opportunities for all.
Diversity matters. Different perspectives, thoughts and ideas lead to more sustainable, creative and powerful groups and institutions. Women's influence can make a difference in the world, yet we still face discrimination, pay inequities, and remain a minority in leadership roles. In fact, at the rate we are going, it will take 170 years to reach global gender equality in health, education, economic and politics. However, companies with 50% of women in senior operating roles show a 19% higher return on equity.
The Women's Leadership Initiative works with students, faculty, alumni and the executive community to address these issues by creating conditions for people to become gender savvy, enabling women to have more confidence and competence in achieving their goals and men to have greater understanding of how and why to support women.
Programs
See our calendar listings for additional programs and opportunities.
Upside: Achieving Gender Equity in the Next Decade
Join us for our signature event, Upside: Achieving Gender Equity in the Next Decade, where we will convene thought leaders from academia, government and industry to examine how we can make progress in the efforts to bring gender equity to the workforce over the next ten years. Our day-long conference, aimed at professional women and men, will include a variety of programs ranging from TED talk style presentations to interactive panel discussions. Hosted at the state-of-the-art Audion on the University of Delaware STAR campus, the event will provide a platform to further the critical dialogue around topics such as: what the data shows with respect to gender equity, what public policy initiatives contribute to the issue and how men play a key role as allies. Our goal is to further understanding and spark the action that is needed to advance women in the workplace while also providing an opportunity to network.
Our event previously scheduled for October 19, 2020, has been postponed. Please check back for updates or follow us on
Twitter
and
Linkedin
for news.
RISE UP: UD's Leadership Forum for Women
Ready to advance your leadership to the next level?
RISE UP
, our executive education program, advances mid-career women in their leadership journey. We draw on our 3C Model of Leadership to help women build clarity of vision for where they want to go, competencies and skills to implement their visions, and communities of peers and mentors to support them along the way. To date, over 30% of the women who have attended the Forum have changed roles or assumed new responsibilities within a year of the program.
Leadership In Times of Crisis: A Webinar Series
We are facing unprecedented times as the recent coronavirus spurs tremendous chaos and uncertainty in our workplaces. Join us for a curated webinar conversation with leading experts around the world about how you can meet these challenges where they are and be able to effectively and successfully lead in these times of crisis. Visit
Leadership in Times of Crisis
for more information and to register for any of the webinars.
Ascend: Empowering Female Students for Success
While students gain tremendous insights in the classroom, we know that they are often unprepared for the day-to-day work challenges that face them in the real world. In particular, female students often lack the awareness and skills to navigate implicit biases that prevent them from being as successful as possible. The one-hour online sessions in the Ascend: Empowering Female Students for Success series equip female students with tools to be more effective in the workplace. Students are introduced to successful female executives who serve as advisors and role models, and who teach critical leadership skills. Each of these online sessions will include a 15-minute talk from a successful female executive and a facilitated breakout discussion so students can meet one another and deepen their learning and connection.
Female Faculty Connections: Lerner's female faculty networking group
The Lerner Female Faculty Connections group meets six times a year, creating opportunities for female faculty to learn from and connect with one another. For more information and dates for our meetings, see our
calendar page
.
News: Women's Leadership Initiative
Advisory Board
Thank you to the WLI Advisory Board for providing governance, advice and support for all of our activities.
Advisory Board Members
Tamara Ganc '94
Sr. Learning Solutions Expert
McKinsey & Co.

Arlene Hogan '76
SVP (retired)
State Farm

Charlie Horn '75
Founder and Chairman
5Lights Group

Terri Kelly '83
CEO (retired)
W.L. Gore & Associates, Inc.

Mary Ellen Payne '78
SVP, Sales & Marketing (retired)
Verizon

Susan Sears '78
Global VP, Diversity & Inclusion (retired)
Kimberly-Clark Corp.

Mary Schreiber Swenson
Founder and CEO
Mymedchoices

Kristen Clark
Founder & President
Bouquet Garni Consulting, LLC

---
Contact
For more information about the initiative or any of its programs, contact: