After saying farewell to the University of Delaware Class of 2017 this May, you may be wondering where our recent graduates are now.
Jill Pante, the Lerner College's director of career services, had this information to share on how the Lerner graduate Class of 2017 has spent the months since graduation:
Class of 2017 graduate students in the Lerner College saw much success in their career and professional outcomes, as 90 percent of our students* were employed at day of graduation. This includes positions at top Fortune 500 companies, including JPMorgan Chase, Bank of America, Capital One and Deloitte. This number is up by 8 percentage points from last year.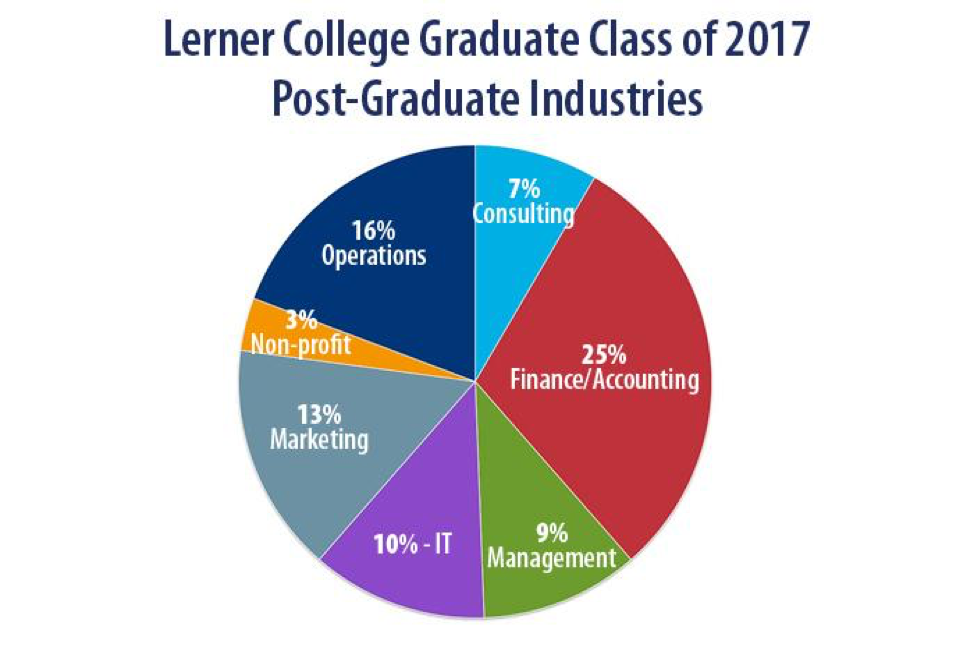 The average salary of our students was over $90,000, with an average signing bonus of $7,400. For graduates of the MBA program specifically, the average salary was over $97,000 with an average bonus of $8,100, giving our students the earning potential of over $105,000 by graduation.
In addition to careers and earning potential, 92 percent of all graduates rated their overall educational experience within Lerner Graduate and MBA programs and UD as excellent or good.
This means that not only do our students find success outside the classroom, but also that they find rewarding experiences inside the classroom and on campus. And the number of these opportunities has continued to grow.
For example, in this past year, the Lerner Career Services Center added several opportunities for students to network with organizations and alumni on and off campus, meaning that students had the opportunity to take part in 50 different events throughout the year. This increase in activity saw several Lerner graduate business students earn multiple internships and full-time job offers.
In addition to the standard networking and recruitment events, Lerner also offers students a chance to enhance their experience while studying.
Two programs that make us unique include the Graduate Internship Program (GIP) and the Graduate Mentoring Program. Both of these programs allow students to gain experience, build networks and learn from professionals and alumni in related fields.
In this program, graduates from previous classes often come back as active alumni to assist our current students. The combined team effort among our faculty, staff, students, employers and alumni contribute to the overall success of our graduates in achieving their professional goals upon graduation.
*Eligible to work in the U.S.