When both the Delaware and US economies fell off a cliff following the global financial crisis of 2008, it took a great act of faith to pursue an MBA — especially after employers reported record low levels of hiring in the two years that followed.
Fast forward through to 2017, and you face much different prospects if you're considering an MBA. The latest (summer 2016) survey from the Graduate Management Admission Council (GMAC) finds a much rosier employment picture for new MBA graduates.
Companies working directly with business schools plan to hire more MBAs this year than they hired in 2015. Some 88 percent of corporate recruiters who work directly with graduate business schools plan to hire recent MBA graduates.
Not only is hiring up, but projected salaries for graduates look robust. Of the employers with plans to hire recent MBA graduates in 2017, 58 percent plan to increase their starting annual base salaries either at or above the rate of inflation. Some 40 percent will maintain salaries at 2016 levels.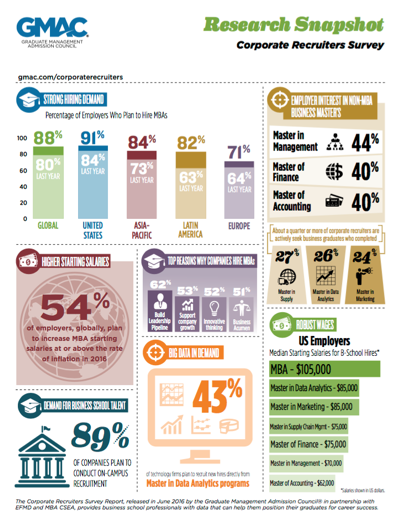 Drill into the numbers and you will find that demand for MBAs points up in every industry category measured by GMAC. In consulting, the percentage of companies hiring MBAs worldwide rose to 92 from 83 percent. In finance and accounting, it went to 84 from 76 percent, while in products and services, demand rose 10 percentage points, to 86 from 76 percent.
And one more bit of good news from the employer survey — of the respondents who have internships available, 66 percent plan to offer internships for MBA candidates in 2017. Eighty-two percent of those companies will maintain (23 percent) or increase (59 percent) the number of internships offered to these candidates.
To learn more about opportunities for MBA students, and to find a program and a career path that fits your goals, attend a free Lerner MBA and Master's Programs Information Session on Thursday, March 23 from 6:00 — 8:00 PM. (Clayton Hall, 100 David Hollowell Drive, Newark, DE 19716).
Registration will be held in the Clayton Hall Conference Center Lobby. Complimentary parking is available in upper parking lot #7.
Interested students can register for the event here: goo.gl/jxWtcK