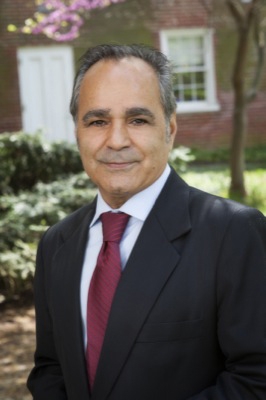 In a day in the life of a healthcare management professional, certain key skills will always come into play.
According to Lerner College hospitality professor Ali Poorani, while managing administrators have very different responsibilities, some specific skills remain the most important for healthcare administrators and for anyone hoping to enter this multidimensional and rewarding field.
Poorani developed the University of Delaware's Patient Experience Academy, in conjunction with Christiana Care Health System, and has published several scholarly articles on bridging hospitality and healthcare. His experiences with this work, Poorani said, suggest that the most critical skills for healthcare management professionals include:
Knowing your job and your employees' jobs
Managers need to utilize a range of tools to help clinicians, administrative assistants, and other staff to improve care; as well as motivate and incentivize associates to deliver a passionate and empathetic service.
Poorani explained that it is crucial for healthcare managers to fully understand both their own responsibilities and those of their employees. Healthcare encompasses many aspects of service industry, primarily where providers and patients and their families interact face-to-face, and at the moment, at many touchpoints. Therefore, providing consistency and coordination in day-to-day operations is critical.
 "You might not be a nurse assistant, for example, but you have to know what a nurse assistant does," Poorani said. "You may not be a medical assistant; you probably wouldn't have to be trained in that, but you need to be familiar with that to help to achieve coordination and consistency."
Poorani recommended that all healthcare management professionals learn as much as possible about the business by rounding or scouting reports, and learn how healthcare works at every level in order to gain a full understanding of the field.  One way to do this is to pursue a degree like UD's MBA in healthcare management, which offers opportunities for professionals in healthcare to develop their business and leadership skills, as well as opportunities for professionals interested in entering the rapidly growing healthcare industry.
"It's very complicated to learn the business until you get to know what every individual does," Poorani said. "It makes you a better manager once you know the process."
 Building interpersonal skills
"Dealing with patients, a lot of whom are already stressed, already emotional, is very taxing for employees and management," Poorani said. "Empathy, connecting to patient's feelings, what's in people's minds, and their behaviors, is so important in relating to others. As a manager, you have to interact with patients and employees and solve a lot of problems daily."
At this point, Poorani said, how you communicate verbally and nonverbally with patients and employees becomes a very important skill.
Producing results
He explained that strong interpersonal skills mean that patients feel respected, supported and heard, which will be reflected in customer evaluations of healthcare providers. Managers must assure that their operations get better each day by analyzing and sharing the results with staff. They need to pay close attention to data and measurements available for them like the Clinician and Group Consumer Assessment of Healthcare Providers and Systems (CG CAHPS) survey, a form dedicated to tracking the treatment of patients in office settings.
These measurements, Poorani said, have become an important way to evaluate your operations.
 Setting goals, providing feedback and coaching your employees, and rewarding achievements
According to Poorani, goal setting, providing feedback, coaching and rewarding employees are the most crucial responsibilities for healthcare performance management. These are the tools how you create trust and keep employees accountable.
"How you coach them, how you nourish them," Poorani said. "Those are must-have skills."
Developing manager visibility
Of course, you can't provide consistent feedback, coaching and rewards, if you are missing in action. Every day in the life of a healthcare manager is different and everyone is motivated differently. The visibility of healthcare managers is very important to how well they model a culture of engagement, Poorani said.
With employees who are often understaffed, very busy and responsible for complicated tasks, if a healthcare manager is needed to assist with basic office tasks, it is important they do so until the office is properly staffed. This not only ensures an appropriate workload for the office, but also shows employees that the manager is willing to roll up his or her sleeves and work, if needed.
"Achieving consistency," Poorani said. "We really want to encourage managers to be visible."