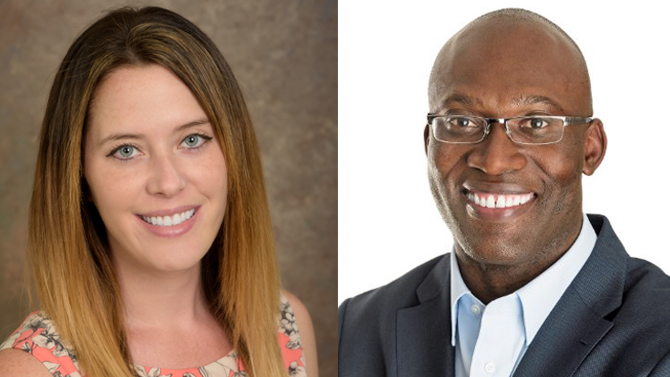 Lerner College MBA students Gervan Williams and Kristen Abernethy are both members of teams that have made it to the finalist phase of the X-Culture Project.
The X-Culture Project is an initiative that connects students and professionals all over the world, placing individuals in international virtual teams and challenging them to complete business projects.
Some 4,780 participants on 902 global virtual teams from 125 universities in 40 countries completed this semester's X-Culture Project, and Abernethy's and Williams' teams are both in the top 12, or the top 1.3 percent.
Abernethy and Williams will receive finalist certificates and be invited to the X-Culture Symposium this year in Miami. The students participated as a requirement for UD business course BUAD 878, Leading Across Boundaries.
Course leader and UD assistant professor of management Amanda Bullough called the X-Culture Project a "very worthwhile learning experience" that pushes students to develop their global leadership skills.
Williams agreed: "Though frustrating, I learned a lot from the X-Culture project experience; Notably, my perception going into the project was a complete contrast to the actual experience, and limitations or naivety on having a global mindset became obvious right from the start.
"I've walked away with a newfound respect for the importance of GMI to international team success and an even higher level of respect for the teams that had to work with profound language barriers that often impede the most basic of team dynamic… I will not soon forget this," Williams continued.
Williams described Bullough's course as "a meaningful test of my entire MBA experience at UD." 
"Even though I've taken courses aimed at facilitating good group dynamics and coordination, including Organizational Behavior, Advanced Topics in Leadership and even an emotional intelligence course, it was not clear what to expect with this global team exercise, except to try and incorporate everything I've learned up until now, along with my experiences in the professional work environment to succeed," he said. "It is my belief that all of the professional development courses have contributed to and prepared me for succeeding in this activity, and I am very pleased with the outcome."
Abernethy said, "X-Culture was a unique opportunity in which the development of my global leadership and intercultural skills were tested. Challenges included establishing relationships and coordinating responsibilities with global teammates whom I had never met. Additionally, my team spread across different time zones, making it more difficult to accommodate comprehensive group communication.
"Although the end result was a successful paper, the milestones tested my ability to leverage strengths and motivations from each person on our team and provided me with insight as to where I can further develop my global leadership skills and abilities," she continued. "In hindsight, I appreciate the X-Culture experience and plan to move forward with my education and growth to advance my global mindset."
Visit the X-Culture Project website for more information about the winning teams and to review Williams' and Abernethy's reports.