A team of University of Delaware students triumphed over 14 other student teams to win first place at Drexel University's inaugural Diversity and Inclusion Case Competition.
"I am excited and exhilarated," said UD team member Tony Liu of the Alfred Lerner College of Business and Economics. "All of our hard work is recognized and rewarded."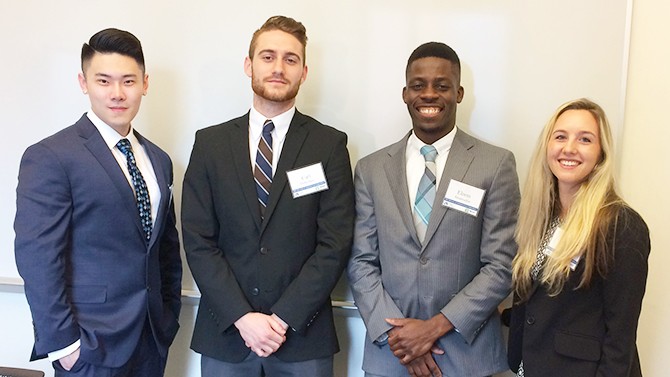 Liu's teammates included fellow management information systems (MIS) students Carl DiStefano, Elorm Ahiamadjie and Nina Mallis (pictured). The team was tasked with developing a strategic framework for how competition sponsor TD Bank can continue to grow its commitment to diversity and inclusion.
The team's important first step, Liu said: understanding the difference between diversity and inclusion.
"Based on our research, we realized that diversity and inclusion are actually two different entities," he said. "They are highly correlated, so people easily misconstrue that they are the same thing. The majority of current strategies only tackle diversity, but rarely address inclusion issues."
Since inclusion is about creating company values, Liu said, the team considered this a key part of their strategy. He thinks this was part of what set the UD team apart as the winners.
"Our research lead us to form a very different view on this topic," Liu said. "Most groups were still focusing on diversity instead of inclusion."
In addition, he said that TD Bank seemed impressed by the team's in-depth understanding of their organization structure and current diversity and inclusion strategies. The team also created a 40-page user manual that details their ideas.
These ideas include ways to encourage self-identification among employees, since this a key element of inclusion. The manual also digs deeper into the bank's current strategies and compared them with industrial best practices and those of their competitors.
Finally, the manual introduces strategies that TD Bank is currently not implementing, including the formation of a diversity office to actively monitor their strategies and increasing promotion and awareness of their diversity and inclusion efforts.
Liu said that another contributing factor to the team's success was that each member brought complimentary skillsets to the group: Liu lent his strength at researching and simplifying abstract ideas; Mallis was an excellent executor, developing ideas and turning them into reality with impressive results; Ahiamadjie catalyzed the team, bringing ideas together to resolve conflicts and promote cohesion; and DiStefano utilized his public speaking skills to nail their final presentation.
"It is great to have this chance to work with my outstanding teammates and future leaders," Liu said.
In the weeks leading up the competition, the team worked with MIS faculty members Barbara Cullis and Andrea Everard to prepare their concept and presentation.
Everard agreed with Liu's comment on the success of the team's dynamic.
"We went into this competition with a winning attitude – and each student put forward an incredible amount of initiative and hard work," Everard said. "Different perspectives were respected and the strengths and skills of each student were taken full advantage of; especially given the limited timeframe, the team had to be very efficient."
This tight schedule also meant that the students and advisors spent a number of evenings burning the midnight oil to create a winning presentation.
"We worked many late nights to accommodate busy schedules, but you don't mind putting in the hours to support a winning team," Cullis said. "When you have a highly motivated team, it's simply a matter of setting them up for success and letting them run with it. It was a privilege to work with such talented students and accomplished faculty."
Everard and Cullis also discussed the importance of students learning and succeeding in a case that focused on the critical issues of diversity and inclusion.
"The students immersed themselves into this challenging topic and established themselves as leaders," Cullis said. "They personify excellence and UD's commitment to diversity and inclusion. Winning this competition made an important statement about commitment to diversity and inclusion – the commitment of UD, Lerner, faculty and the team."
Everard agreed, saying, "Diversity and Inclusion is not a fad or a trend – it's a very real issue that firms need to work towards increasing. Research shows that it's not a question of just doing 'the right thing.' The benefits to the firm are plentiful, from improved work environment and work culture to increased revenues and an overall heightened perception of the organization.
"It's important for students to be exposed to these issues and aware of their impact on organizations," she said. "Once they enter the workforce, since they will already have been exposed to these very important issues, they will be able to better address the efforts of the firms they work for surrounding these matters.
"As a faculty member, I know how talented UD students are. It's especially rewarding when that is validated through an event such as this one."