Department of Hospitality Business Management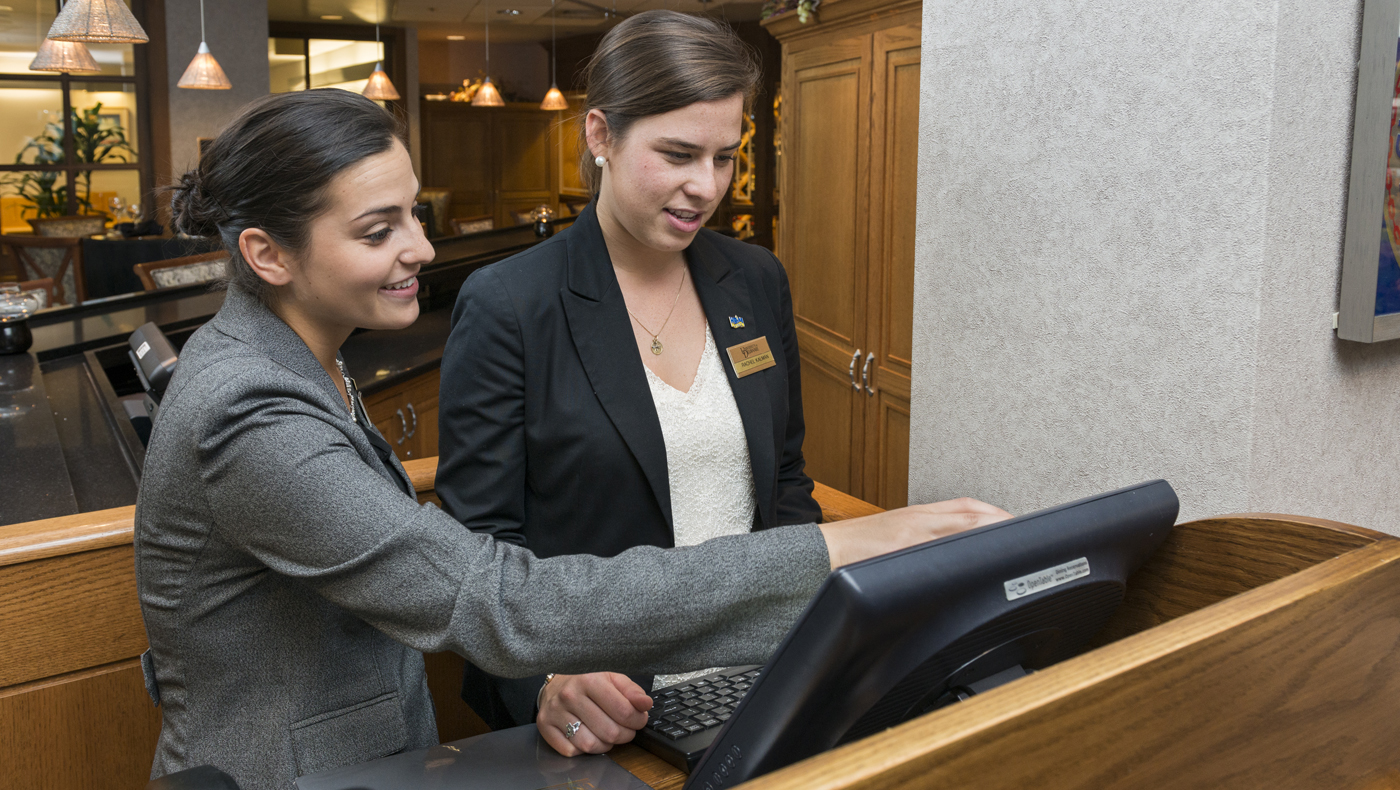 The Department of Hospitality Business Management has an outstanding reputation for business education in hospitality and sport management. Our program is consistently ranked in the top 10 hospitality programs in the country, and the faculty provide the personal attention needed for professional growth and development.
---
Academic Programs
---
Program Highlights
World-class Faculty
All of our classes are taught by faculty with industry management experience and academic credentials. Four of our faculty members are ranked in the top 20 hospitality faculty in the world.
Marriott Center for Hospitality
Our students gain hands-on experience in front office operations, sales, marketing, revenue management, and housekeeping in the 126-room, award-winning Courtyard Newark at the University of Delaware and the Marriott Center for Hospitality and Tourism.
Vita Nova Restaurant
At Vita Nova Restaurant, students operate and manage a fine dining experience for lunch and dinner.
Connecting the Industry and the Student
Giving students real-world industry experiences is one of the best ways to prepare them for their careers. Each year we offer an industry specific career fair and networking events. Hospitality industry executives, including alumni, speak in our classrooms on a regular basis. Through our student clubs, students attend major industry conferences. And our Hospitality Business Management "Lerner" to Leader Program takes students inside industry corporate headquarters, giving them the opportunity to network with executives and visit the C-suites.
Go Global
Over 50% of our students go abroad as part of the curriculum. Study Abroad opportunities are available during Winter and Summer, as well as the Fall and Spring semesters.
---
HBM Alumni
Keep in touch with your classmates and colleagues – and with us. Your achievements are our achievements. We enjoying hearing from you.
HBM Alumni on Facebook
HBM Alumni on LinkedIn
Alumni Spotlight
Emily Hand ('07)
Emily Hand started her career at Eataly in August of 2010. Since then, she has become a "Certified Sommelier" and been appointed Beverage Director for Eataly. She helps coordinate store-wide promotions, which are usually regionally focused, allowing producers to showcase their wines at Eataly. Those wines are also used in the restaurants, retail wine store and in the culinary center, La Scuola. One of her favorite parts of the job is teaching food and wine classes in the Scuola. Emily has a team of four additional sommeliers who help educate the servers, bartenders and managers.
---
Hospitality Leadership Advisory Board
Chair:
Michele Metrinko-Rollins
Chairman
Rollins Jamaica, Ltd.
 
Robert Ashby '77
President/Owner
Ashby Hospitality Group
Alexander Doberenz
Professor Emeritus
University of Delaware
Mireille Cottle
Vice President Human Resources – Talent Management
Marriott International – The Americas
Plato Ghinos
President
Shaner Hotel Group
Allan Fernandes '92
Vice President – Global Safety & Risk Control
Aramark
Skip Fox
President
Fleming's Prime Steakhouse & Wine Bar
Lewis Fader
Senior Vice President Operations, Eastern US & Canada
InterContinental Hotels & Resorts
Robert Grimes
Chairman & CEO
Constrata Tech Consulting
Jean Leahy Jakoby
VP Global Sales
Pepsi Co Foodservice
Paula Kelly '92
General Manager
Vicmead Hunt Club
Reas Kondraschow
CEO
3R Hospitality LLC
Ulrike Kuhnhenn
Professor and Director
Swiss School of Tourism & Hospitality
David Lasus '03
Chief Operating Officer
Insomnia Cookies
Gary Price
Vice President
Love's Travel Stops
Xavier Teixido '03
President
Harry's Hospitality Group
Paul Wise
Professor Emeritus
Hospitality Business Management
University of Delaware