Vita Nova Restaurant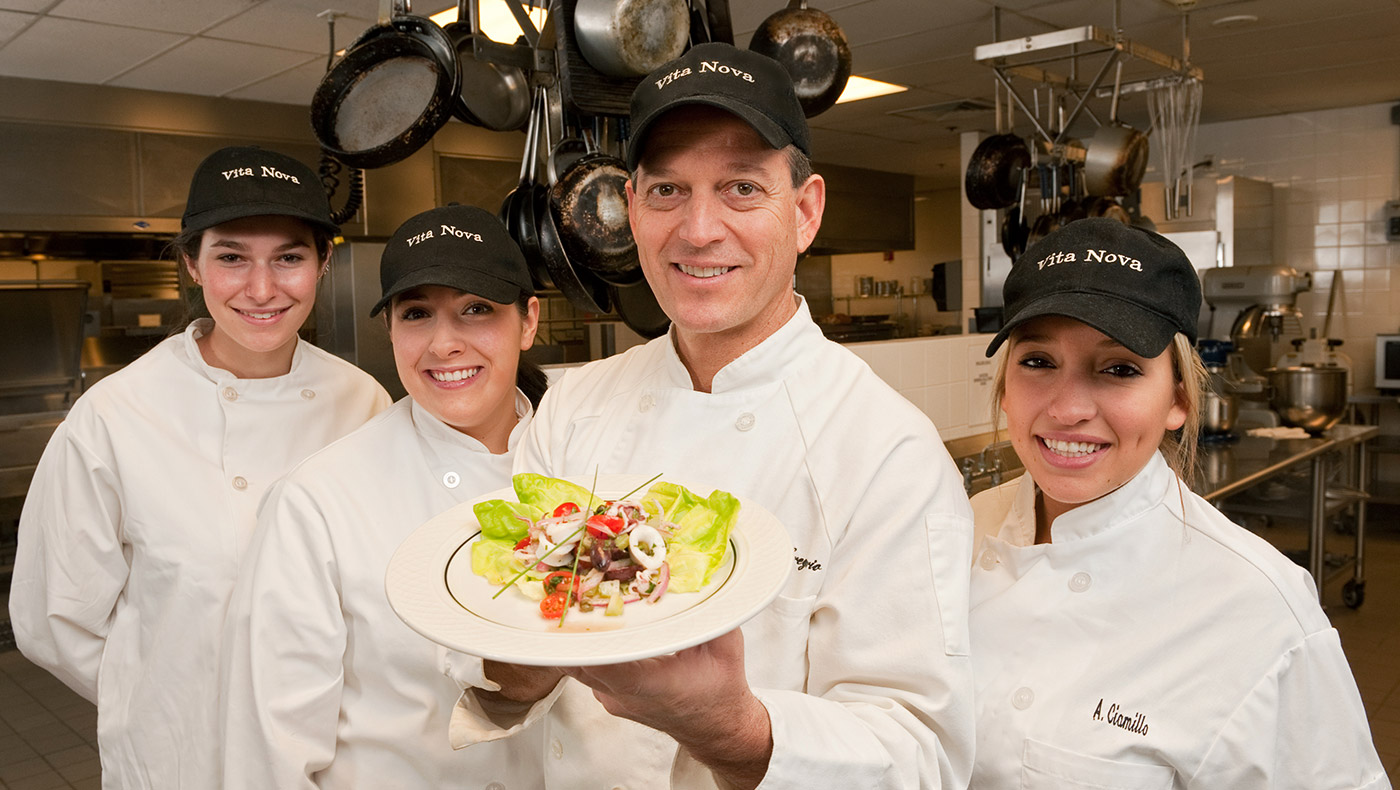 Vita Nova is the University of Delaware's student-operated fine-dining restaurant, offering an award-winning lunch buffet Monday through Friday and elegant four-course dining Wednesday through Friday during the fall and spring semesters.
The more casual Bistro offers a three-course theatre menu, a small plate menu, custom cocktails and an extensive wine selection.
Both dining rooms are located on the second floor of the Trabant University Center, 17 W. Main St. in Newark, Delaware.
Hours and Reservations
Vita Nova
Dining in Vita Nova is a University of Delaware tradition and an extraordinary dining experience. We are now accepting reservations for fall semester 2016. Please call 302-831-0500, email vitanova@udel.edu or use the reservation form.
Lunch: 11:30 a.m. – 12:30 p.m. Monday through Friday
Dinner: 5:30 p.m. – 7 p.m. Wednesday through Friday
Bistro
Reservations are not required for Vita Nova's Darden Bistro, but you may reserve a table by calling 302-831-0500 or emailing vitanova@udel.edu. (We do not accept online OpenTable reservations for the bistro.)
Dinner: 5:30 – 7 p.m. Wednesday through Friday
Menus
The menu for our lunch buffet changes weekly. Please visit our Facebook page for the current menu.
Gift Cards and Cookbook
Vita Nova gift cards and 20th Anniversary Cookbook are now available for purchase online.
Connect With Us
---
A Learning Laboratory
The hospitality industry values students who have applied their knowledge in hands-on environments. Vita Nova serves as a learning laboratory for students in the Lerner College's Department of Hospitality Business Management.
Each student gets a diverse educational experience by rotating through 17 different positions both in the dining room and in the kitchen. Students gain invaluable culinary, service and management experience in this learning lab.
In Latin, "vita nova" means "new life" or a new beginning, a particularly appropriate name since Vita Nova is the last applied classroom experience for each HRIM student before beginning a new life in the hospitality business.
Aramark Scholars
Each semester, students are selected for a unique internship experience, in which they are Student Managers at Vita Nova.
Aramark Scholars are made possible by a generous gift from Aramark Educational Services, LLC.
Fall 2016 Aramark Scholars