Michael and Rosann Geltzeiler Trading Center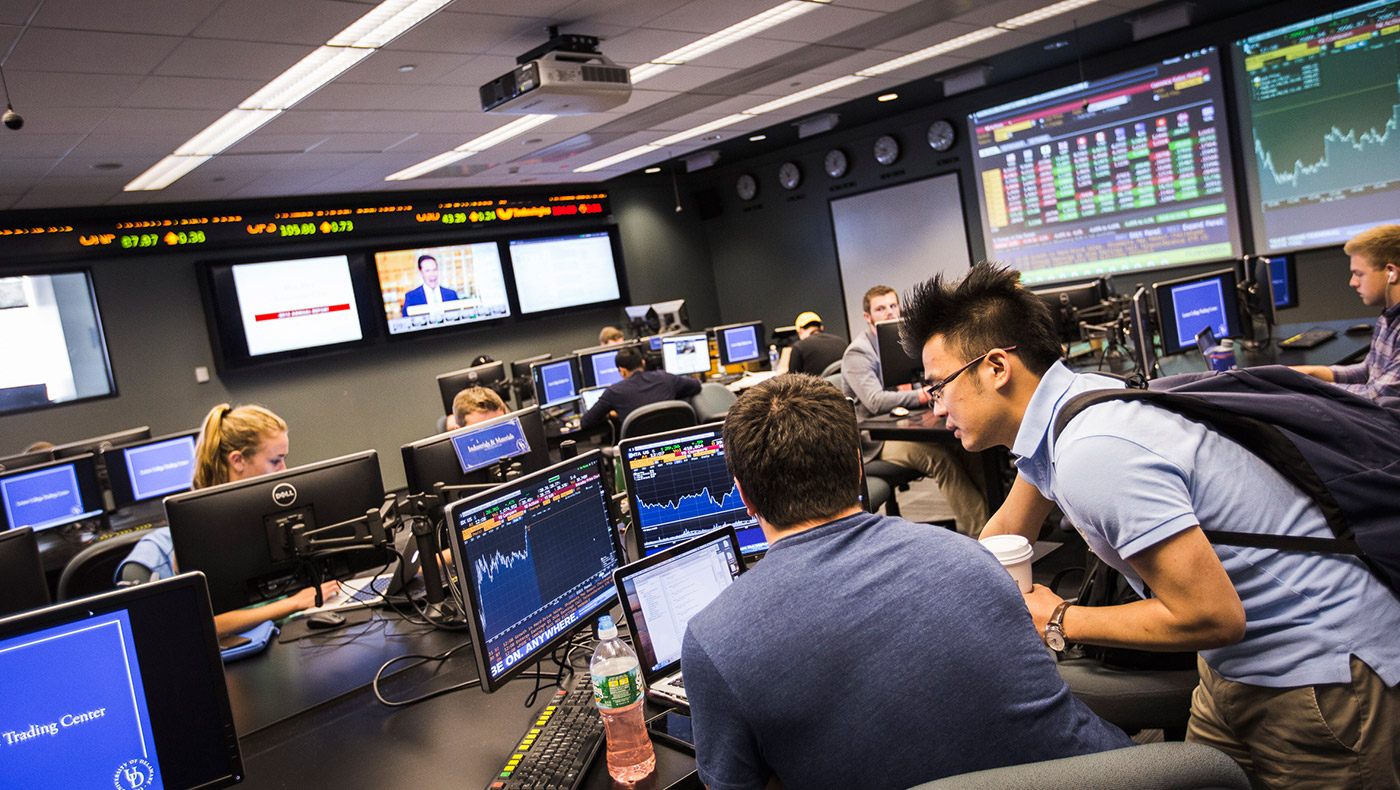 The Geltzeiler Trading Center is a 2,200-square-foot facility designed to replicate the trading floors in investment banks, brokerage houses and hedge funds on Wall Street. It utilizes the same computer hardware, software, networks and market data feeds that are found in every financial institution throughout the world.
The center's technological features include:
32 student workstations
Real-time feeds to 2 stock tickers
4 LCD monitors, including a large format touch screen
4 research room workstations
A collaboration space with dual monitors, a glass board and seating for 5
A dual-system instructor podium to control the room's technology
With these resources, the Geltzeiler Trading Center gives students access to real-time, hands-on professional industry applications and tools. Students in finance, economics, hospitality, accounting, MIS and other classes use the center to put theory into practice and benefit from real-world experiences that provide them with unique skill sets.
When the trading center is not used for classes and workshops, it is available for students to complete research and assignments.
Data Feeds
The Center is equipped with 22 Dell desktops with dual monitors and Dell server hardware. The PCs are set up individually for student use or can be controlled by an instructor to coordinate in class exercises. Reuters and Bloomberg provide access to historical and real-time data on stocks, bonds, commodities, futures, currencies, real estate, options and other derivative products. These systems also provide a variety of analysis both fundamental and technical.
On the walls are 4 flat screen monitors and 2 tickers running along the ceiling. This equipment is being fed with real time data from RiseVision. The Center is also equipped with an audio video conferencing system so that we can connect with guest speakers located globally.
FactSet
FactSet is a flexible, all-in-one system designed to work efficiently and effectively. With FactSet, we can create personalized workspaces designed for Investment Managers, Hedge Funds, Investment Bankers, Quantitative Research, and more. Access to FactSet includes these features: Market Analytics, Financial Content and Data Sets, Microsoft Office Integration of Market Data, Financial Screening and Customized Analytics and Data.

Bloomberg
The BLOOMBERG PROFESSIONAL® service integrates real-time and historical information on approximately 5 million bonds, equities, commodities, currencies and funds. Its electronic library also comprises data on almost every publicly traded company and biographies of more than 1 million people. Bloomberg provides on-demand multimedia content, extensive electronic-trading capabilities, and a superior communications platform. The BLOOMBERG PROFESSIONAL community comprises approximately 250,000 subscribers from the world's central banks, investment institutions, commercial banks, government offices and agencies, law firms, corporations and news organizations in over 150 countries. Virtually every leading bank, brokerage, insurance company, financial regulator and corporation is a subscriber.

TraderEx
TraderEx is an interactive computer simulation designed to provide participants with hands-on experience in making tactical trading decisions, and implementing them in different market environments. Continuous order driven and quote driven markets are simulated, along with call auctions and hybrid combinations. The simulation exercises are an invaluable tool for deepening understanding of how the structure of trading influences actual trading behavior. Students enter orders into a computer-driven market that generates its own order flow, and can respond directly to your orders. Students see their results in real-time and can analyze them after each simulation run.
SAS
SAS is an integrated system of software products that enables the programmer to perform statistical analysis, data warehousing, data entry, retrieval, management and mining.
MATLAB
MATLAB is used in technical computing. Its functionality allows for a vast collection of computational algorithms ranging from basic function like sum,sine,cosine and complex arithmetic to more sophisticated functions like matrix inverse, matrix eigenvalues, Bessel functions and Fast Fourier Transforms.
WRDS
Wharton Research Data Services (WRDS) is a comprehensive economic and financial data management system intended solely for research purposes. The data, licensed from various sources, cover a wide range of databases across multiple disciplines such as finance, marketing, management, accounting, economics, banking and insurance.
@Risk
@Risk performs risk analysis using Monte Carlo simulation to show many possible outcomes in a Microsoft Excel spreadsheet – and tells how likely they are to occur. This analysis helps users judge which risks to take and which ones to avoid, allowing for the best decision making under uncertainty. With @Risk, users can answer questions like, "What is the probability of profits exceeding $10 million?" or "What are the chances of losing money on this venture?"
EViews
EViews offers students access to powerful statistical, forecasting and modeling tools through an innovative, easy-to-use object-oriented interface.
Workshops and Training
Students can attend the following not-for-credit workshops. No fee or registration is required.
Workshops
Introduction To FactSet
This one-hour workshop teaches you the basics of navigating through FactSet. An overview of the capabilities of the software will be provided.
Introduction to Bloomberg and Equity Analysis
This one-hour workshop teaches you the basics of navigating through Bloomberg. An overview of the capabilities of the software will be provided. No prior experience is needed.
Bloomberg Certificate (Self-study)
Bloomberg Market Concepts (BMC) is an e-learning course that provides an introduction to financial markets. By taking BMC, you will learn about the financial markets, familiarize yourself with over 100 Bloomberg terminal functions and solidify your knowledge with over 160 interactive questions. Upon successful completion you will earn the Bloomberg Certification. Depending on how much you already know about financial markets, the program takes between 5 and 8 hours to complete. You can sign up for free at portal.bloombergforeducation.com/register. In order to get free access, you must use your udel.edu email address. Web access only allows you to complete the certification program. It does not give you access to use Bloomberg for research.
Hours
Fall and spring semester hours:
Monday – Thursday: 9 a.m. – 9 p.m.
Friday: 9 a.m. – 5 p.m.
Sunday: 12 p.m. – 8 p.m.
Winter/summer semester hours:
Monday – Friday: 9 a.m. – 5 p.m.
Check for availability with the Trading Center calendar on myLerner.
News
Trading Center Staff
Trading Center analysts are responsible for general oversight, security, maintenance, technical support, and representation of the lab. The analysts can help you with questions regarding Bloomberg, FactSet, Microsoft Office, TraderEx, and other general IT and finance-related questions.