Vita Nova Restaurant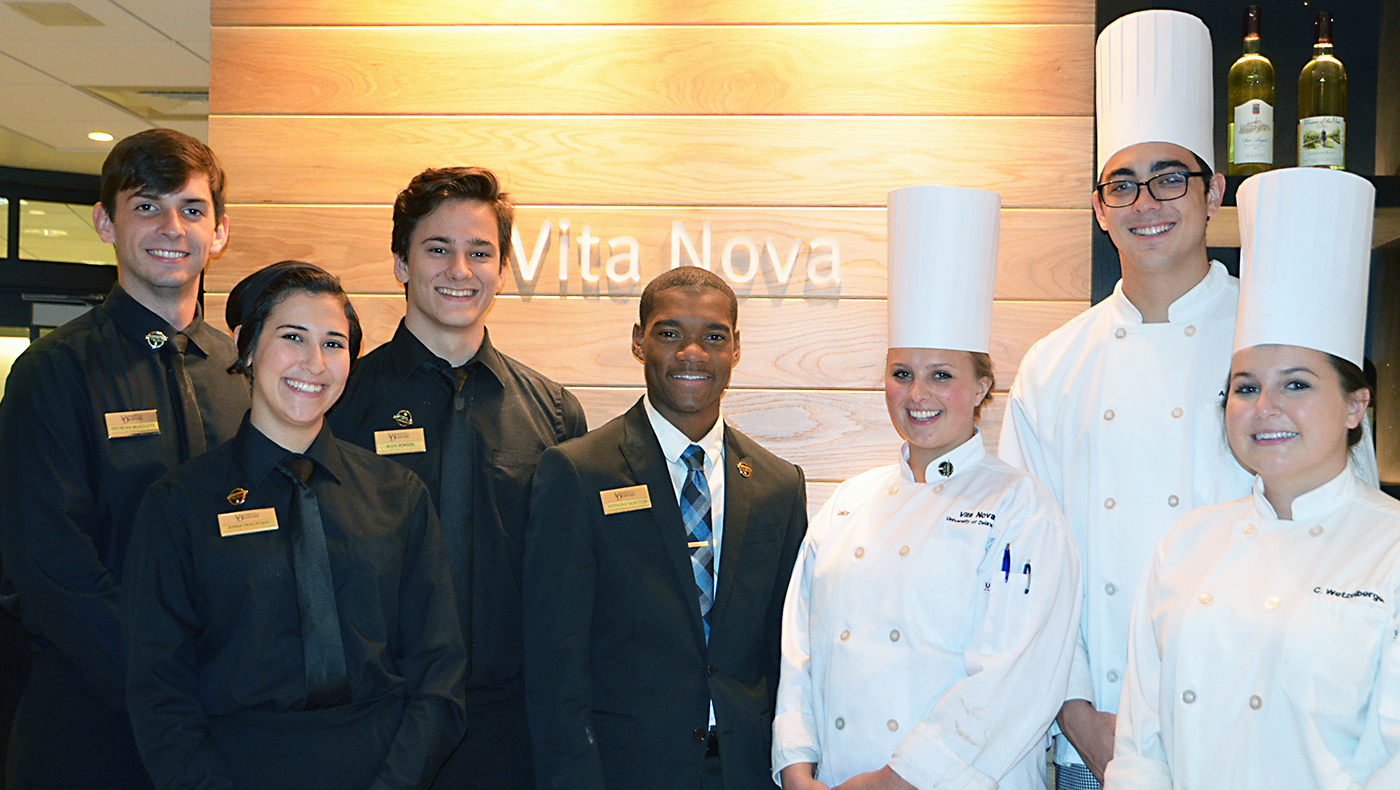 Vita Nova is the University of Delaware's student-operated fine dining restaurant. During the spring 2021 semester, our Hospitality Business Management students are pleased to offer gourmet lunch and dinner meals to go.
Vita Nova To Go
To Go Lunch Menu, Monday-Friday 11:30 a.m. - 1:30 p.m. Beginning February 22
$15
– Includes 1 entrée, 2 sides and 2 desserts. Comes with napkin, utensils and homemade bread.
Choice of Entrée (1):
Panko Crusted Salmon with Citrus Beurre Blanc, Rice Pilaf, Baby Carrots and Snap Peas
Chicken Piccata with Penne ala Rosa, Cauliflower and Broccoli
Cauliflower Risotto with Wild Mushrooms, Asparagus, Baby Carrots, Parmesan and Aged Balsamic  (GF/Vegetarian)
Choice of Sides (2):
Apple Walnut Salad
Potato Bacon Salad
Roasted Vegetable Salad
Greek Pasta Salad
Smoked Salmon with Capers and Onions
Cream of Mushroom Soup
Choice of Desserts (2):
Crème Brulee
Vita Nova Brownies
Fresh Fruit
To Go Dinner Menu, Wednesday-Friday 5:30 p.m. - 7:30 p.m. Beginning February 24
Dinner to go includes includes 1 appetizer and 1 entrée. Comes with utensils, napkin and in-house-made bread. Desserts can be added for a small charge.
Choice of Appetizer (1):
Vita Nova Signature Salad
Medley of Greens, Caramelized Walnuts, Mandarin Oranges, Julienne Jicama, Asiago Cheese
Cream of Mushroom Soup
Kennett Square Mushrooms, Cream, Chives
Choice of Entrée (1):
Grilled Filet Mignon – $35
Roasted Garlic Mashed Potatoes, Buttered Green Beans, Red Wine Demi-Glace, Gremolata
Breast of Chicken Chasseur – $30
Tomatoes, Mushroom, Spanish Rice, Madeira
Pan Seared Faroe Island Salmon – $30
Beurre Blanc, Ancho Chili Corn, Snap Peas
Cauliflower Risotto – $25
Wild Mushrooms, Asparagus, Baby Carrots, Aged Balsamic
Dessert ($5 additional charge):
Vita Nova Crème Brulee
Triple Chocolate Cake with Fresh Berries
When you arrive at the Trabant University Center, 17 W. Main St. in Newark, one of our students will be there to greet you and coordinate delivery.  Note:  Please pull into the drive between the Trabant Center and the Parking Garage and make the left into the circle.  See you soon!
If you have any questions about our online ordering system or questions about the to-go menu, please email us at vitanova@udel.edu or call us at 302-831-0500.
---
Gift Cards and Cookbook
Vita Nova gift cards and 20th Anniversary Cookbook are now available for purchase online.
Connect With Us
Sign up for our email list to be the first to find out about our special events.
News
A Learning Laboratory
The hospitality industry values students who have applied their knowledge in hands-on environments. Vita Nova serves as a learning laboratory for students in the Lerner College's Department of Hospitality and Sport Business Management.
Each student gets a diverse educational experience by rotating through 17 different positions both in the dining room and in the kitchen. Students gain invaluable culinary, service and management experience in this learning lab.
In Latin, "vita nova" means "new life" or a new beginning, a particularly appropriate name since Vita Nova is the last applied classroom experience for each HOSP student before beginning a new life in the hospitality business.
Aramark Scholars
Each semester, students are selected for a unique internship experience, in which they are Student Managers at Vita Nova.
Aramark Scholars are made possible by a generous gift from Aramark Educational Services, LLC.