Master of Science in Finance
Preparing you to meet the market's finance needs
Lerner College recognizes that financial management is key to both asset management and asset creation in every industry. The Master of Science in Finance program covers both quantitative and qualitative aspects of financial decision making, including risk management, capital budgeting, investments, financing, and corporate governance. Emerge ready to meet a growing demand for principled financial experts capable of practical, hands-on business problem solving.
---
Program Highlights
The Lerner M.S. in finance curriculum is based on the financial theory and empirical methods employed by professionals practicing corporate finance, financial security valuation, financial modeling, portfolio management, financial services management, financial risk management and corporate governance. The program explores essential theories and cases of best practice across:
Financial forecasting
Time value of money techniques
Operating and financial risk
Costs of capital
Methods of valuation
These important tools and concepts reveal how corporations make financial decisions that maximize shareholder value. You will gain a nuanced grasp of short- and long-term capital investment, the risks and rewards of mergers and acquisitions, and how to deal with financial distress.
Program Requirements
The M.S. in finance requires a minimum of 30 credits. Students are expected to have had the equivalent of MATH 221 Calculus and MATH 230 Finite Mathematics with Applications. Also, students will need basic computer skills equivalent to MISY 160 Business Computing: Tools and Concepts. As an additional prerequisite, incoming students are expected to acquire fundamental finance and accounting concepts in ACCT 516 Seminar: Intermediate Topics and FINC 850 Financial Management. These prerequisite courses can be waived for students who have work experience or prior coursework in the area.
Program Format Options
Choose from five paths through the Master's in finance program, each suited to your specific current job position, career and salary goals, and life situation.
Accelerated Program




The accelerated program can be completed in one year of intensive study. This program is for you if you have excellent quantitative skills and can devote your full-time efforts to your coursework. The program begins in the fall semester, during which you would enroll in 12 credits of required courses. Six credits of electives must be taken during Winter Session followed by 12 credits of required courses in the spring semester.

Full-Time




The full-time program offers more flexibility than the accelerated program and usually takes 18 months to complete, depending on which semester you begin your study. The program is normally begun in the fall semester; exceptions can be made at the discretion of the program director. In the full-time program you have a wide choice of elective courses to choose from and you can decide whether you want to take coursework during Winter or Summer sessions, or perhaps pursue an internship.

Limited Part-time Program




If you're working full-time and want to complete an M.S. in finance degree, your work schedule must have the flexibility of taking some of our required courses in the daytime. Some courses may also be offered in the evening.

Dual MBA/M.S. in Finance Program




Our dual MBA/M.S. in finance program allows you to pursue both degrees simultaneously. This combines the strategic business skills of the MBA with the in-depth study of finance.
Program Checklists
Accelerated Program Checklist (PDF)
Full-Time Program Checklist (PDF)
Limited Part-Time Program Checklist (PDF)
Career Opportunities
Your M.S. in finance degree can prepare you for a variety of career options and goals, from Wall Street to Main Street and business centers around the world.
Corporate finance positions can be found in companies of all sizes, from large, international entities to small start-ups. Additional corporate finance positions include financial analysts, treasurers and internal auditors.
Corporate finance
Help large and mid-sized companies secure and manage the capital necessary to run the enterprise, while maximizing corporate value and reducing financial risk. Oversee financial statements, developing forecasts, creating models, studying potential acquisitions and developing capital spending programs.
Investment banking
Help clients acquire capital by creating and issuing debt and equity securities. Play a key role in facilitating financial reorganizations, mergers and acquisitions.
Investment research
Examine and evaluate a firm's financial statements and economic trends. Produce reports and models used by banks or large investors to make portfolio recommendations and decisions.
Private wealth management
Serve a base of high net worth clients by providing comprehensive and personalized financial planning services such as investment and risk management strategies.
Real estate finance
Produce information that helps a company or client locate, purchase, develop and sell buildings and properties.
Advisory services and consulting
Conduct expert and independent analysis on matters such as asset valuation or financial issues required for litigation.
Industry-Proven Faculty
Lerner finance faculty bring deep applied research knowledge, extensive corporate experience, and wide-reaching association memberships and networks — all of which can lead you to fresh insights on a changing global economy and industry. Faculty expertise includes such areas as:
Corporate finance
Valuation
Mergers and acquisitions
Corporate Governance
International Finance
Pensions
Initial Public Offerings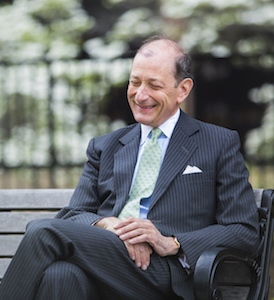 Faculty Profile
Charles M. Elson, Edgar S. Woolard, Jr., Chair in Corporate Governance and the Director of the John L. Weinberg Center for Corporate Governance, has helped to shape and influence numerous corporate governance debates and developments on a national and international level. Professor Elson has consulted and written extensively on the subject of boards of directors and is a frequent contributor on corporate governance issues to various scholarly and popular publications.
---
Admissions Information
Learn more about master of science in finance admissions requirements, deadlines, tuition and financial aid available to you.