Bachelor of Science in Management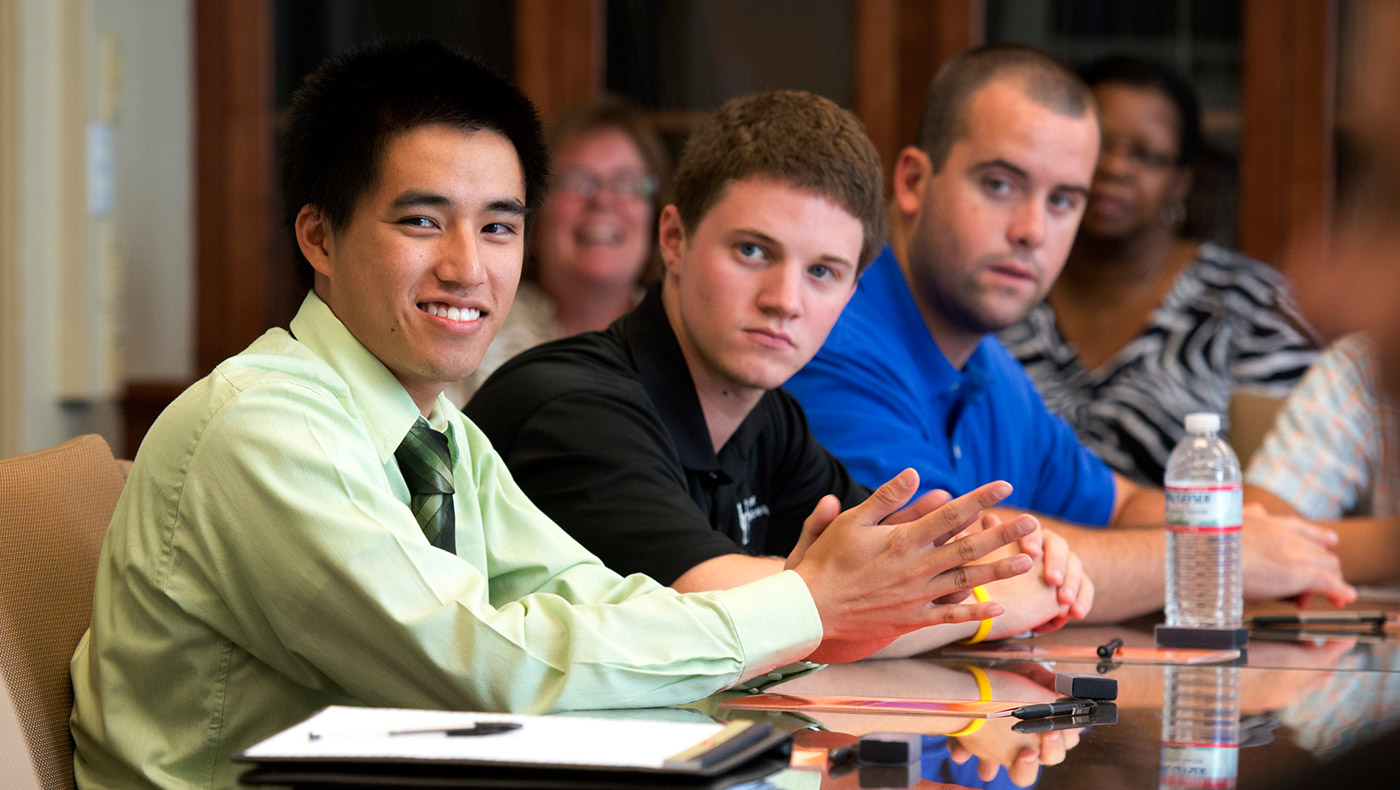 Great managers have never mattered more.
In a fast-paced, global and complex world, organizations need leaders to keep them productive and competitive. The management major will help you become one of these leaders who works with others to effectively create and implement ideas.
Our combination of a strong liberal arts foundation and a highly relevant professional education prepares you to dig deeply, critically and analytically when confronted by a world of business problems and opportunities.
If you enjoy interacting with diverse groups of people, taking a leadership role, coordinating with others to identify and accomplish common goals or solving challenging organizational problems, then management is the major for you.
Program Highlights
Required core management courses address the micro issues of organizational behavior, negotiation, conflict resolution and human resources, balanced with the macro issues of organizational design and strategy.
In addition to these management basics, management majors tailor their management focus by choosing three major course electives from among a number of options including:
International Business Management
Ethics in the Workplace
Leadership and Teams
IT Applications in Management
Entrepreneurship and Small Business Management
Selected Topics in Management
Program Requirements
Suggested course sequence:
Freshman Year
First Semester
ECON101 Microeconomics
MATH221 Calculus I
Historical & cultural change breadth course
BUAD110 Basics of Business
Natural science technical breadth course
Second Semester
ENGL110 Seminar in Composition
ECON103 Macroeconomics
Creative arts & humanities breadth course
PSYC100 General Psychology
Natural science/technical breadth course with lab (4 credits)
Sophomore Year
First Semester
ACCT207 Accounting I (Financial)
MATH201 Statistics I
MISY160 Business Computing
Creative arts & humanities breadth course, Historical & cultural change breadth course or foreign language
Sociology course
Second Semester
ACCT208 Accounting II (Managerial)
MATH202 Statistics II
MISY261 Business Info Systems
Creative arts & humanities breadth course, Historical & cultural change breadth course or foreign language
COMM212 Oral Communications In Business or
HOSP230 Executive Presentations and Problem Solving
Junior Year
Fall semester
BUAD301 Introduction to Marketing
BUAD306 Service & Operations Management
BUAD309 Organizational Behavior
FINC311 Principles of Finance
Free elective
Spring semester
ACCT352 Business Law & Social Issues
BUAD421 Human Resources Management
International course requirement
Social and behavioral science breadth course
Free elective
Senior Year
Fall Semester
Management major course
BUAD422 Designing Effective Organizations
ACCT, BUAD, ENTR, MISY, or FINC elective
BUAD423 Negotiation & Conflict Resolution
Free elective
Spring semester
Management major course
Management major course
BUAD441 Strategic Management
Social and behavioral science breadth course
Free elective
Career Opportunities
The bachelor of science in management prepares students for careers in business and industry, in public or private corporations, as well as in government and non-profit organizations.
The Lerner College's Undergraduate Advising and Academic Services Office, your Department of Business Administration advisor, and the University of Delaware Career Services Center all work with you to build your portfolio of internships, study abroad and other experiences.
Top companies recruit heavily from the University of Delaware, coming from throughout the North East region and beyond to recruit our graduates. Students enter organizations with job titles that include project manager, account manager, human resource analysis consultant and management consultant. Management majors join all types of organizations, large and small, domestic and international.
Honors in Management
The honors program at UD offers a scholarly and enriching community that extends well beyond graduation. You'll enjoy smaller, more challenging classes and the opportunity to engage in research and assume leadership roles.
The honors degree requires:
All requirements for the B.S. in management
All of the UD requirements for the honors baccalaureate degree
The Honors credits in the major must include at least six credits of BUAD and/or FINC courses. They may include required courses from other Lerner departments.
---
Admissions Information
Learn more about undergraduate admissions requirements, deadlines, tuition and financial aid available to you.