Bachelor of Science in Accounting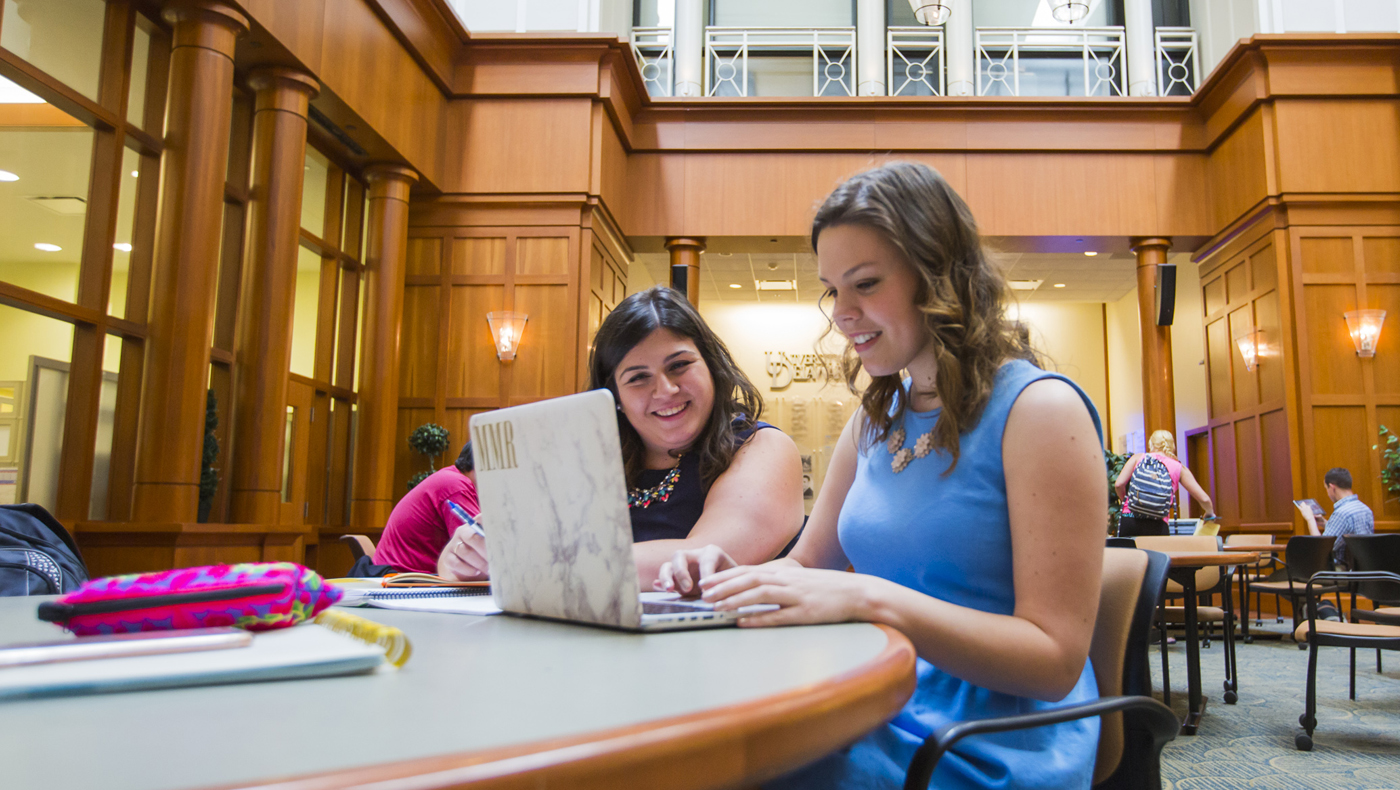 To really understand how business works, you must understand accounting.
With a UD accounting degree, you will have the skills you need to tell the financial stories of businesses by recording, analyzing and communicating financial information.
You'll gain the expertise you need to interpret this data and help businesses make important investment decisions. And you'll play a critical role in the financial arena, determining how investments are performing over time and considering how and when businesses should expand.
Program Highlights
Leadership and Engagement Opportunities
Gain practical experience through clubs and organizations, including:
Accounting Students Association
Blue Hen Investment Club
Lerner College Trading Center
Accounting Certification Preparation
The accounting program provides foundational preparation for the Certified Public Accountant (CPA), Certified Management Accountant (CMA) and other certifications.
The UD accounting degree provides you with 123 credit hours and prepares you to take the CPA exam in almost all states. Requirements for sitting for the exam vary by state, and our faculty advisors will help guide you towards meeting specific state requirements. The American Institute of Certified Public Accountants requires 150 hours for becoming a Certified Public Accountant. The Department of Accounting & MIS offers the opportunity to complete 150 credit hours through the accelerated bachelor's and master's in accounting degree, completing a dual major or through taking additional courses.
Honors in Accounting
The honors program at UD offers a scholarly and enriching community that extends well beyond graduation. You'll enjoy smaller, more challenging classes and the opportunity to engage in research and assume leadership roles.
The honors degree requires:
All courses and requirements for the B.S. in accounting
All of the UD requirements for the honors baccalaureate degree
An ACCT course taken at the 600-level will count for honors credit.
Program Requirements
Suggested Course Sequence
All courses 3 credits unless stated otherwise.
Freshman Year
First semester
ECON 101 – Microeconomics
MATH 221 – Calculus I
Creative Arts and Humanities breadth course (CAH)
History and Cultural Change breadth course (HCC)
BUAD 110 – Basics of Business
Second semester
ENGL 110 – Seminar in Composition
ECON 103 – Macroeconomics
MATH 230 – Finite Mathematics with Applications
CAH or HCC
ACCT 207 – Accounting I (Financial)
Free elective (1 credit)

Sophomore Year
First semester
MISY 160 – Business Computing
STAT 200 – Basic Statistical Practice
ECON 308 – Banking and Monetary Policy
ACCT 208 – Accounting II (Managerial)
Social and Behavioral Sciences breadth course
Free elective (1 credit)
Second semester
ACCT 315 – Intermediate Accounting I
MISY 262 – Fundamentals of Business Analytics
ACCT 327 – Cost Accounting
FINC 311 – Principles of Finance
MISY 261 – Business Information Systems
Free elective (1 credit)
Junior Year
First semester
ACCT 316 – Intermediate Accounting II
Mathematics, Natural Sciences and Technology breadth course
ACCT 302 – Accounting Information Systems
BUAD 301 – Introduction to Marketing
Free elective
Second semester
ACCT 350 – Business Law I
BUAD 306 – Service and Operations Management
ACCT 413 – Income Tax Accounting
ACCT, FINC or MISY elective
BUAD 309 – Organizational Behavior

Senior Year
First semester
ACCT 351 – Business Law II
ACCT 415 – Advanced Accounting
Communication requirement
CAH or HCC
ACCT 417 – Auditing
Second semester
ACCT 414 – Advanced Federal Income Taxation
ACCT, FINC or MISY elective
ACCT 425 – Strategic Information Systems and Accounting
Mathematics, Natural Sciences and Technology breadth course
Free elective

Career Opportunities
After graduating in 2018, 97% of Lerner's accounting graduates were employed (earning a median starting salary of $59,572) or pursuing further education. For more information on career resources please visit the Lerner Career Services Center.
Top Employers
Some of the top employers of Lerner's accounting graduates include:
KPMG
EY
PwC
Deloitte
JPMorgan Chase & Co.
RSM
Top Jobs
Job titles of recent graduates with an accounting degree include:
Staff Accountant
Staff Auditor
Federal Tax Associate
Corporate Accountant
Financial Analyst
Tax Advisor
Visit Career Outcomes of Lerner accounting students to see more top employers, job titles, salaries and locations.
Mission
The Accounting Program's mission is to promote scholarship in accounting, to offer distinctive and innovative educational opportunities that contribute to professional success, and to advance ethical leadership in a rapidly changing business environment.
To that end, the AMIS department is committed to fostering a community that:
Attracts, retains and cultivates excellent teachers and forward-thinking academic leaders.
Challenges students with educational experiences and leading-edge technology to develop their passion for life-long learning.
Empowers students to identify and understand ethical dilemmas and uphold their professional responsibilities.
Collaborates to solve problems effectively and creatively with respect and understanding, promoting a transparent platform for diverse opinions and cultural perspectives.
Promotes programs and opportunities designed for students to positively impact their organizations and communities, locally and globally.
Partners with business entities and professional firms to explore emerging topics to enrich student experiences and strengthen the relevance of faculty scholarship.
News
---
Admissions Information
Learn more about undergraduate admissions requirements, deadlines, tuition and financial aid available to you.