Bachelor of Science in Hospitality Industry Management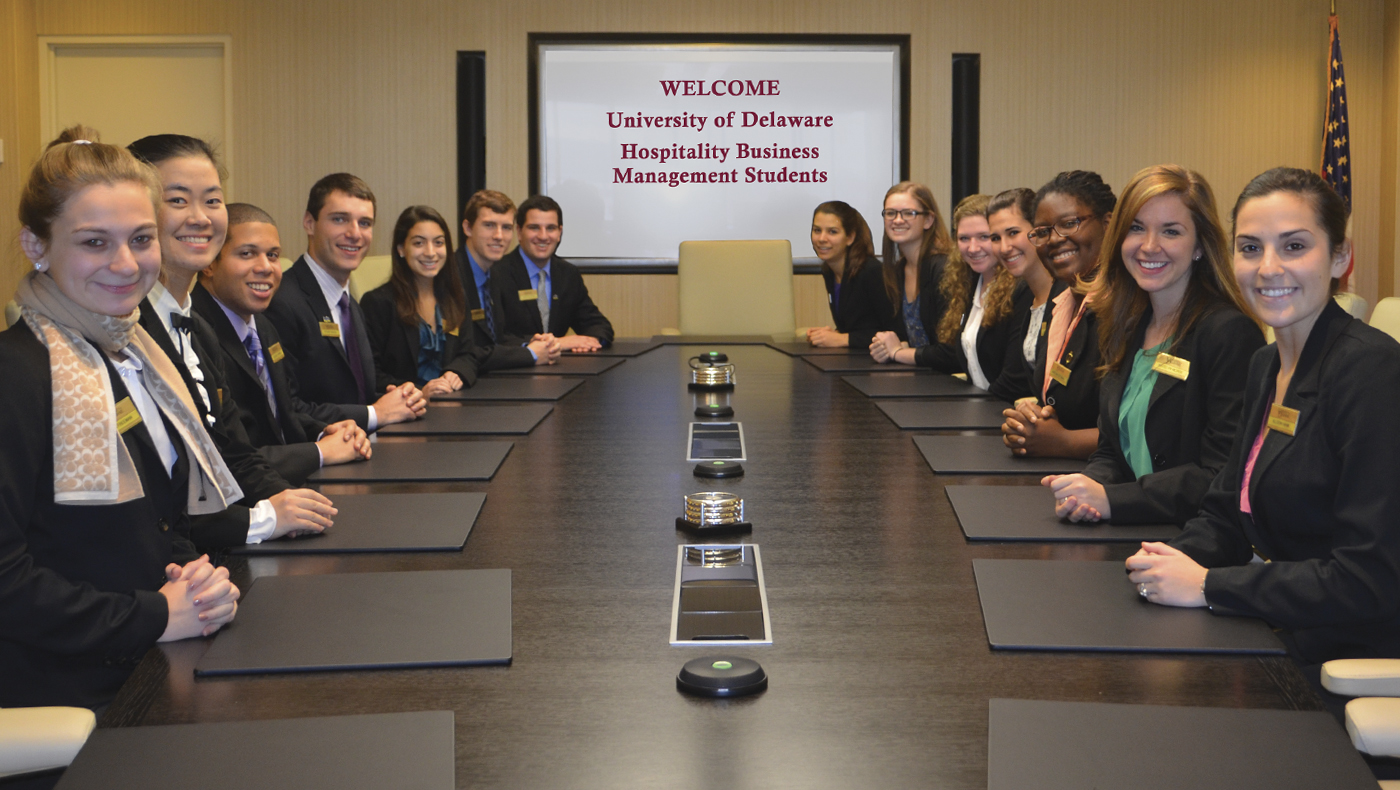 Evaluate, analyze and strategize for success in hospitality.
As a hospitality industry management (HSIM) student, you will develop the analytical skills to prepare you for careers in hospitality consulting and in the corporate office.
The HSIM program is a business degree with a hospitality emphasis. You can customize this major to fit your interests. Along with your advisor, you'll choose a focus area such as revenue management, resort real estate development, hospitality e-commerce or tourism sustainability, so that you can specialize in a particular area of hospitality, one of the world's largest industries.
Program Highlights
Practical Experience
Nothing complements classroom-based learning like practical, on-the-job learning. Two integral parts of the HSIM curriculum are the 700 hours of hospitality-related work experience in your chosen focus area and 100 hours of community service. Hospitality student organizations take students to national industry conferences and provide networking opportunities with leaders and managers in the hospitality field.
Industry Experience
All classes are taught by faculty with real industry experience and academic credentials. And through the Blue Hen Alumni Network and events like the Hospitality Career Fair and the Paul Wise Executive in Residence Speaker Series, industry alumni, leaders and managers frequently visit campus to meet, mentor and hire our students. The student clubs take our students to national industry conferences, providing networking opportunities with leaders and managers in the hospitality field.
Honors in Hospitality Business Management
The honors program at UD offers a scholarly and enriching community that extends well beyond graduation. You'll enjoy smaller, more challenging classes and the opportunity to engage in research and assume leadership roles.
The honors degree requires:
All requirements for the B.S. in hospitality industry management
All of the UD requirements for the honors baccalaureate degree
Program Requirements
Suggested Course Sequence
Freshman Year
First semester
HOSP 180 – Introduction to Hospitality
ECON 101 – Introduction to Microeconomics
MATH 221 – Calculus I or MATH 241 – Analytic Geometry and Calculus A
History and Cultural Change breadth course
BUAD 110 – Basics of Business
Second semester
Foreign language
MISY 160 – Business Computing: Tools and Concepts
ENGL 110 – Seminar in Composition
ECON 103 – Introduction to Macroeconomics
Free elective
Sophomore Year
First semester
STAT 200 – Basic Statistical Practice
HOSP 314 – Hospitality Entrepreneurship and Venture Creation
Creative Arts and Humanities breadth course
Free elective
ACCT207 – Accounting I
Second semester
ACCT 208 – Accounting II
MISY 262 – Fundamentals of Business Analytics
FINC 311 – Principles of Finance
HOSP 230 – Executive Presentations and Problem Solving or COMM 212 – Oral Communication in Business
BUAD 309 – Organizational Behavior
Junior Year
First semester
HOSP 380 – Management of Lodging Operations
HOSP 382 – Managerial Accounting & Finance
HOSP 481 – Marketing in the Hospitality Industry
BUAD 306 – Service and Operations Management
Focus area course
Second semester
HOSP elective (non-focus area)
HOSP 381 – Management of Food & Beverage Operations
ACCT 352 – Law and Social Issues in Business
Focus area courses (2)
Senior Year
First semester
Focus area courses (2)
Free electives (3)
Second semester
HOSP495 Hospitality Feasibility Studies
ENGL312 Written Communication in Business
Free electives
Career Opportunities
After graduating in 2018, 100% of Lerner's hospitality industry management graduates were employed (earning a median starting salary of  $47,663) or pursuing further education. For more information on career resources please visit the Lerner Career Services Center.
Top Employers
Some of the top employers of Lerner's hospitality industry management graduates include:
Yelp
Absolutely Perfect Catering
Top Jobs
Job titles of recent graduates with a hospitality industry management degree include:
Account executive
Event sales coordinator
Visit the Career Outcomes of Lerner hospitality industry management students to see top employers, job titles, salaries and locations.
News
---
Learn More
Dr. Bob Nelson; bnelson@udel.edu; 302-831-6455
Donna Laws; hospitality-dept@udel.edu; 302-831-6077
---
Admissions Information
Learn more about undergraduate admissions requirements, deadlines, tuition and financial aid available to you.