Minor in Integrated Design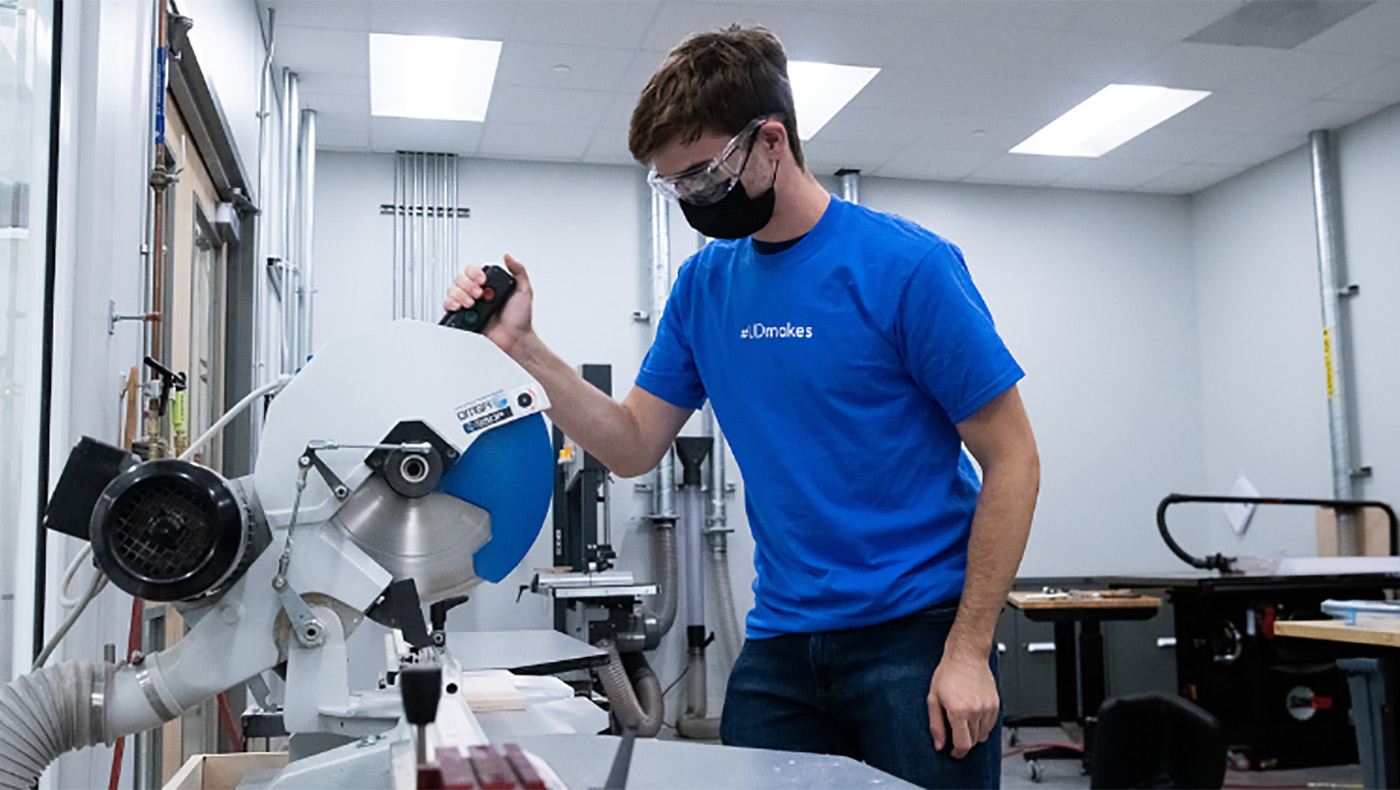 Unleash your creativity and design a better world.
Great products, services and experiences don't just happen; they happen by design. In the integrated design minor, you will learn about the design process in class and through hands-on experiences. You will develop the knowledge, skills and experience you need to excel in jobs involving creating and delivering products, services and experiences.
Program Requirements
The minor requires a total of 18 credit hours. Nine of the required credit hours are selected from performance-oriented courses that emphasize hands-on learning by doing. Only six credits may be from a single department. All courses 3 credits unless stated otherwise.
Core Course (choose one)
ENTR 209 – Foundations of Design and Fabrication
ENTR 356 – Creativity and Design Thinking
MEEG 102 – Mechanical Engineering Computer-Aided Design
Perspectives Course (choose one)
ANTH 205 – Anthropology and Human Nature
ART 204 – Media/Design/Culture
ARTH 101 – Visual Culture
BISC 127 – Environments and Cultures in Conflict (4 credits)
ENGL 278 – Studies in Diversity
FASH 419 – Social Psychology of Fashion
LARC 232 – History of Landscape Architecture: mid-19th Century to Present
MUSC 208 – Queer Perspectives on Popular Music
MUSC 326 – Citizen Artistry: Engaging Communities, Classrooms, and Concert Halls
Process Course (choose one)
ART 303 – Design Methods
ENTR 355 – User-Centered Research Methods for Entrepreneurship
FASH 133 – Foundations for Fashion Innovation
LARC 232 – History of Landscape Architecture: mid-19th Century to Present
LEAD 300 – Leadership, Creativity, and Innovation
Production Course (choose three)
ART 301 – Design Studio
ART 307 – Interaction Design
ART 406 – Artist's Machine
BMEG 441 – Biomechatronics
CISC 106 – General Computer Science for Engineers
CISC 275 – Introduction to Software Engineering
COMM 324 – Electronic Media Production
COMM 325 – Studio Television Production
ELEG 498 – Senior Design I
ELEG 499 – Senior Design II
FASH 122 – Apparel Product Assembly
FASH 221 – Creative and Technical Design Studio
LARC 103 – Representation 1: Landscape Drawing
LARC 150 – Representation 2: CAD for Site Design
MEEG 301 – Machine Design-Kinematics and Kinetics
MEEG 401 – Engineering Senior Design (6 credits)
MEEG 402 – Senior Design – FSAE (6 credits)
MEEG 409 – Prototype to Product
MUSC 334 – Introduction to Creative Sound Design
THEA 202 – Introduction to Theatre Design
Career Opportunities
The integrated design minor can prepare you for a career in many different fields such as:
Process innovation
New product development
Mechanical and biomedical engineering
User experience and user interface design
Fashion
Architecture
Artistic performance
Landscape design
Financial services
Customer relationship management
---
Admissions Information
Learn more about undergraduate admissions requirements, deadlines, tuition and financial aid available to you.