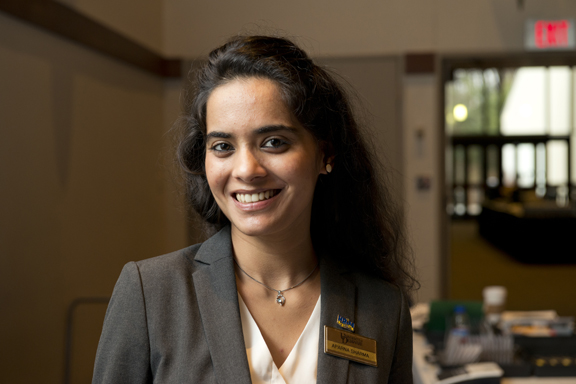 Aparna Sharma is a 2014 graduate of the University of Delaware with a master of science in hospitality business management. She now works in her hometown of Delhi, India at the company RateGain as the associate manager for product management. RateGain specializes in offering web-based solutions to various hospitality and travel companies. Sharma has lived in Philadelphia, San Francisco, and Newark, Del., but she recounts her time in Newark as being her most memorable.
"Looking back at my four years in the U.S., I feel my time at UD was my most valuable international experience," Sharma said. "I was able to strengthen my skills, recognize what I enjoy, and further enrich my life by meeting talented people."
Sharma reflected fondly on her time at UD and said she feels as if it prepared her for her job at RateGain. She said that her education helped her become a better employee and that UD's learning environment propelled her into success.
"It has been three years since I graduated from UD and you have to believe me when I say I still remember each and every day with my UD professors and fellow classmates," Sharma said. "I did not miss even one single class or guest lecture during my HBM program because I enjoyed every bit of it and at the same time did not want to miss any drops of knowledge."
She went on to praise UD, saying, "UD has and will always play one of the most vital roles in my success. It has made me the best student I could ever be. No matter where I am, I never want to part ways with the recently discovered 'best student' characteristic of mine."
On her work at RateGain, Sharma said she has been able to advance through positions and loves the work that she does with the company.
"I am passionate about what I do. I am the communicator, educator, storyteller, writer, researcher, initiator, strategist, pre-sales consultant, and most importantly the happiness and motivator for my colleagues."
Sharma said she looks forward in her career while still remembering how UD played such a positive and important part in her professional life.
"My favorite thing about my career is its dynamicity," she continued. "No day is the same and there is a lot to learn… What keeps me going in such a dynamic and competitive environment? I can relate the majority of the scenarios in the corporate world to my time at UD. That makes work a cakewalk!"