Fred DeMicco, professor and ARAMARK Chair in the Department of Hospitality Business Management at UD's Lerner College, was recently awarded the Howard B. Meek Award for 2017. This award is the highest individual recognition a member of the International Council of Hotel, Restaurant and Institutional Education (ICHRIE) may receive. It is presented to an ICHRIE member in recognition of the individual's lifetime contributions and outstanding service both to hospitality education and to ICHRIE.
The award serves as a living memorial to the late Howard B.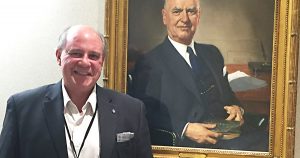 Meek, a pioneer in American hospitality education, the first Dean of the School of Hotel Administration at Cornell University and an Executive Vice President of ICHRIE.
DeMicco's career has included numerous professional accomplishments in the United States and abroad. He is, for example, on the editorial board of the Hospitality Research Journal, as well as author and co-author of more than 100 publications in the area of hospitality and tourism management. DeMicco is co-editor along with Cihan Cobanoglu of HOSTEUR™ magazine, a unique faculty, student and industry journal.
DeMicco is ranked 12th among the 119 most-cited international hospitality faculty, and he is tied for 37th (with Harvard's Michael Porter) as a scholar most cited by hospitality education faculty. He serves on the boards of the Delaware Restaurant Association and the Delaware Hotel & Lodging Association in addition to I-CHRIE. DeMicco has taught and conducted research in Europe, Scandinavia, Australia/New Zealand, China and the Caribbean (including cruise ships).
Sheryl Kline, chair of UD's hospitality department, said, "Fred DeMicco is a leader in the hospitality industry, and his contribution goes beyond the impact that he has had on our program and students. The Meek award is a well-deserved honor that recognizes his lifetime contribution to our industry."
"The Meek Award was quite a nice surprise," DeMicco said. "My great friend Sheryl Kline and I followed a similar path with ICHRIE over the years and have supported one another as Board of Director members of ICHRIE. I could not have accomplished the goals of ICHRIE if not for the support of UD, my co-volunteer ICHRIE members and my colleagues. We truly share in this award.
"I am very grateful and look forward to our future work together to improve the quality of hospitality and tourism education and research, as we strive to make the quality of  'life away from home' for travelers better."