Bachelor of Science in Finance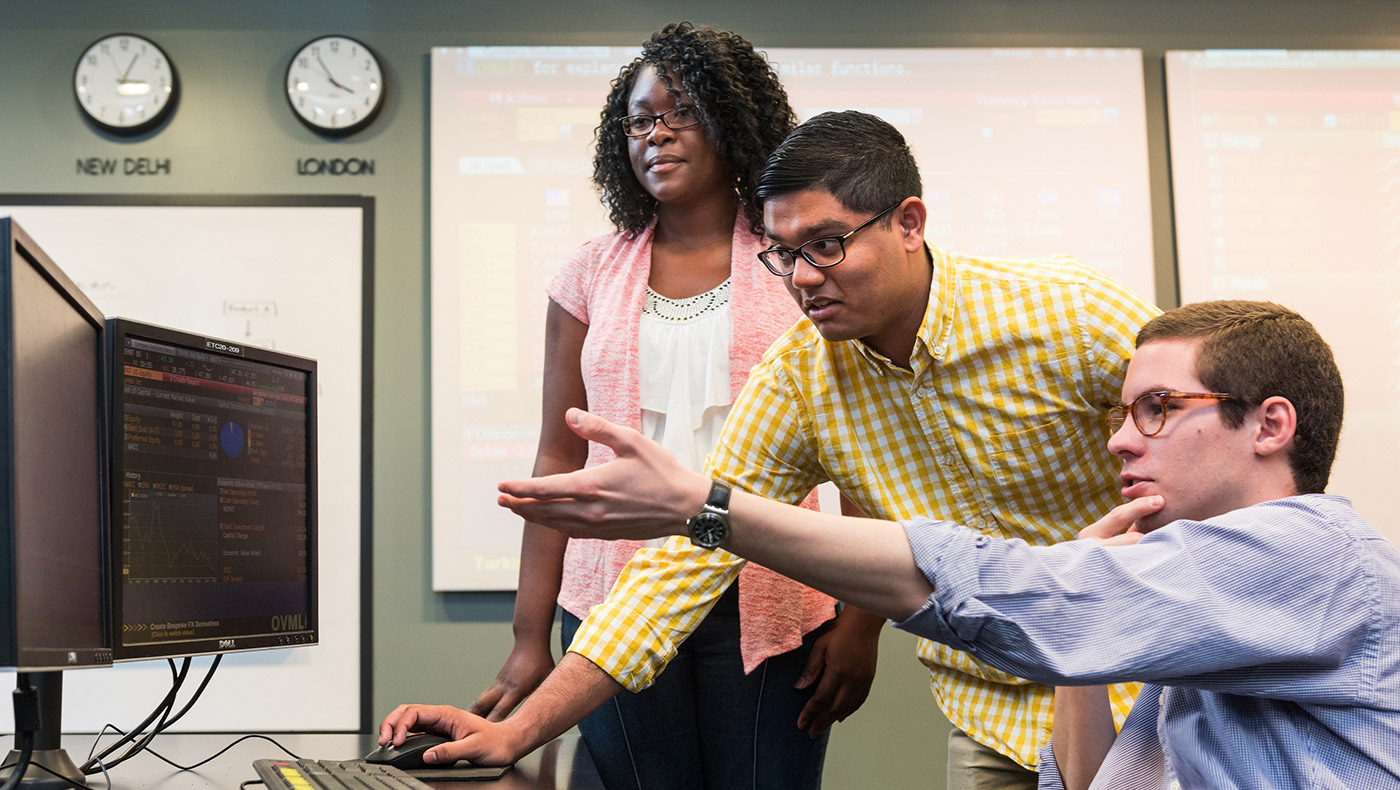 Do you want to make a difference? Have options when you graduate? Study finance.
A strong background in finance will put you front and center in the decision-making role of any organization – large or small, new or established. Why? Because success for any organization depends on its ability to make good decisions in critical areas, including:
Opening a new production facility
Expanding the product line
Adding employees
Entering new markets
Adopting new technology
Raising new debt or equity
Paying dividends or reinvest
Our finance program will provide you with the knowledge, tools, and techniques to answer these questions and more. You will learn how to balance opportunity with risk to ensure resources are allocated to their highest valued use. In this role you will influence almost every aspect of your organization, whether you work for a bank or other financial intermediary, a consulting firm, a public or private corporation, a governmental organization or a not-for-profit.
Our finance curriculum provides a strong foundation that will prepare you for all categories of finance careers including investment management, corporate finance and financial services.
The Finance faculty recognize that our success depends on your success. Our program is not easy and not for everyone; but if you commit to working hard we stand with you to give you the best opportunity to succeed while at the University of Delaware and in your professional life. Perhaps this combination of being both highly challenging and very rewarding is why finance is one of the most popular undergraduate majors at UD.
PROGRAM HIGHLIGHTS
CFA Institute Recognition
The undergraduate finance degree at the University of Delaware has been recognized by the CFA Institute as a program that incorporates over 75% of the Chartered Financial Analyst (CFA) Exam Material into its curriculum, including the CFA Institute Code of Ethics and Standards of Professional Conduct.
For more information on the CFA Institute and recognized universities, visit the CFA website.
The finance department awards five scholarships per year for qualified students to take the CFA Exam. For details on how to apply for an exam scholarship, download the application (PDF).
Seminar Series
You'll have opportunities throughout the year to hear from finance industry professionals from public and private institutions such as the SEC, the Federal Reserve Bank and JPMorgan Chase.
Research Databases
As a finance student you'll have access to an extensive set of research databases maintained by the Department of Finance.
Student Organizations
The Blue Hen Investment Club is the University of Delaware's student-managed investment fund with $1.8 million assets under management. It is open to students of all majors who are willing to commit to managing a portion of the university's endowment.
Over the years, the fund has created leaders who have found careers with institutions such as Morgan Stanley, JPMorgan Chase, Bank of America Merrill Lynch, UBS, PwC, EY, KPMG and McKinsey & Company.
Other student organizations include:
Association for Latino Professionals in Finance and Accounting
Financial Management Association
Women in Business
Minority Business Student Association
Alpha Kappa Psi Business Fraternity
Delta Sigma Pi Business Fraternity
Honors in Finance
The honors program at UD offers a scholarly and enriching community that extends well beyond graduation. You'll enjoy smaller, more challenging classes and the opportunity to engage in research and assume leadership roles.
The honors degree requires:
All requirements for the B.S. in finance
All of the UD requirements for the honors baccalaureate degree
The Honors credits in the major must include at least six credits in BUAD and/or FINC courses. They may include required courses from other departments in the Lerner College.
PROGRAM REQUIREMENTS
Suggested course sequence.
Freshman Year
First semester
ECON101 Microeconomics
MATH221 Calculus I
BUAD110 Basics of Business
Social & behavioral sciences breadth course
Natural science/technology breadth course
Second semester
ENGL110 Seminar in Composition
ECON103 Macroeconomics
Creative arts & humanities breadth course (CAH)
Social & behavioral sciences breadth course
Natural Sci/Tech. breadth course with lab
Sophomore Year
First semester
ACCT207 Accounting I (Financial)
MATH201 Statistics I
MISY160 Bus. Computing
CAH, HCC or foreign language
Economics elective
Second semester
ACCT208 Accounting II (Managerial)
MATH202 Statistics II
MISY261 Business Information Systems
FINC311 Principles of Finance
COMM212 Oral Communication in Business
Junior Year
First semester
BUAD301 Intro to Marketing
BUAD306 Service & Operations Management
BUAD309 Organizational Behavior
FINC312 Intermediate Financial Management
MATH230 Finite Mathematics with Applications
Second semester
ACCT352 Business Law & Social Issues
FINC314 Investments
CAH, HCC or foreign language
ECON308 Banking & Monetary Policy
History & culture change breadth course
Senior Year
First semester
Finance elective
Finance elective
English writing requirement
Free elective
Free elective
Second semester
Finance elective
BUAD441 Strategic Management
Professional elective (ACCT, BUAD, ENTR, FINC or MISY)
Free elective
Free elective
Career Opportunities
Financial analyst
Portfolio manager
Audit associate
Financial advisor
Trader
Investment banker associate
Business risk consultant
Technical analyst
Where Our Graduates Work
Our results speak for themselves: recent graduates have landed positions at some of the leading firms in the region, including:
Bank of America
Bloomberg
Citi
Deloitte
EY
JPMorgan Chase
KPMG
Merrill Lynch
Morgan Stanley
Protiviti
PwC
Vanguard
---
Learn more
Phone: 302-831-1484
be-finc@udel.edu
---
Admissions Information
Learn more about undergraduate admissions requirements, deadlines, tuition and financial aid available to you.