Bachelor of Science in Entrepreneurship and Technology Innovation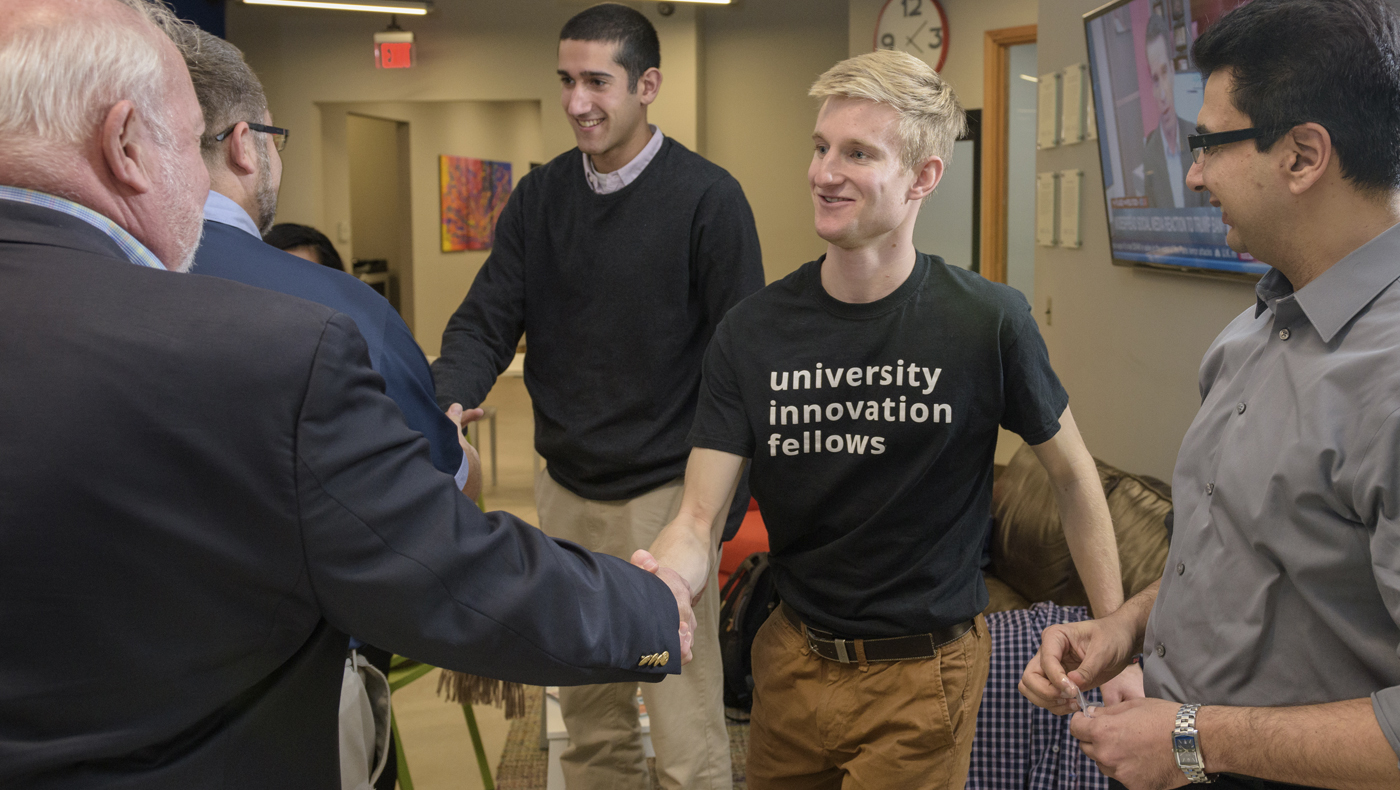 Change the world with your innovative ideas.
The entrepreneurship & technology innovation (ENTI) major will provide you with the knowledge, skills, connections and resources you need to launch a startup, foster innovation in an established company or develop sustainable solutions to important societal problems.
Technology innovation changes the world by creating new knowledge, disrupting established industries and reshaping career paths. The ENTI major prepares you to adapt and thrive amidst this rapid change.
Through first-hand experience, you will learn to recognize opportunity, generate ideas, validate business models, influence others, bring innovative technologies to market and launch and grow new ventures. You'll join other students and entrepreneurs through the programs of Horn Entrepreneurship.
Program Highlights
Focused Study
Enrollment in the ENTI major is limited to 30 students per year. This enables us to deliver a high-impact, small-school experience as well as the many opportunities associated with attending a major research university.
You'll move through the program with the other students in your class as a cohort, completing required entrepreneurship courses and being immersed in the broader entrepreneurial community together. Seasoned entrepreneurs and business leaders actively engage with you in all program courses and co-curricular activities.
Minor in Social Entrepreneurship
The minor in social entrepreneurship educates students about the process of addressing societal and cultural problems to make our world a better place.
Minor in Entrepreneurial Studies
The minor in entrepreneurial studies emphasizes evidence-based learning to provide students with firsthand experience in developing innovative ideas and putting them into action.
Program Requirements
Suggested Course Sequence
Freshman Year
First semester
ENTR 350 – Intro to Entrepreneurship
ECON 101 – Microeconomics
MATH 221 – Calculus I or MATH 241 – Analytic Geometry and Calculus A
History and Cultural Change breadth course
BUAD 110 – Basics of Business
Second semester
ENTR 351 – Entrepreneurial Marketing
ECON 103 – Macroeconomics
MATH 201 – Statistics I
ENGL 110 – Seminar in composition
MISY 160 – Business Computing: Tools and Concepts or CISC 108 – Introduction to Computer Science I
Sophomore Year
First semester
Entrepreneurship elective
ACCT 207 – Accounting I
MATH 202 – Statistics II
Communication course
MISY 225 – Introduction to Programming Business Applications or CISC 181 – Introduction to Computer Science II
Second semester
Technical competency course
ACCT 208 – Accounting II (Managerial)
BUAD 301 – Introduction to Marketing
FINC 311 – Principles of Finance
Creative Arts and Humanities breadth course
Junior Year
First semester
Entrepreneurship elective
Technical competency course
BUAD 306 – Operations Management
BUAD 309 – Organizational Behavior
Breadth course or free elective
Second semester
ENTR 455 – Startup Experience I
Technical competency course
Communication course
ACCT 352 Law and Social Issues in Business or CISC 356 – Intellectual Property in the Digital Age
Free elective
Senior Year
First semester
ENTR 458 – Application Development for New Technology
Technical competency course
BUAD 441 – Strategic Management
Free elective
Free elective
Second semester
Entrepreneurship elective
Technical competency course
International business course
Free elective
Free elective
---
Career Opportunities
After graduating in 2017, 100% of Lerner's entrepreneurship & technology innovation graduates were employed (earning a median starting salary of $56,000) or pursuing further education. For more information on career resources please visit the Lerner Career Services Center.
Top Employers
Some of the top employers of Lerner's entrepreneurship & technology innovation graduates include:
Barclays
Blue Hen Dental
Indeed
Northbound Executive Search
SEI
University of Delaware
Top Jobs
Job titles of recent graduates with a entrepreneurship & technology innovation degree include:
Co-founder/CEO
Director of Business Development
Consultant
Financial Analyst
Sales Support Coordinator
Interim Director
Visit the Career Outcomes of Lerner entrepreneurship & technology innovation students to see more top employers, job titles, salaries and locations.
---
Admissions Information
Learn more about undergraduate admissions requirements, deadlines, tuition and financial aid available to you.