Adam Vitale (pictured) graduated from the University of Delaware in 2001 with a bachelor of science in hotel, restaurant and institutional management (HRIM) and minors in business administration and history. He is now the president of G & M Distributors, a wholesale beverage distributor serving in Illinois.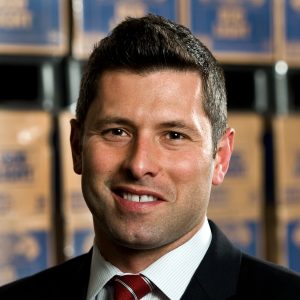 What kind of work does your current position entail, and what is your favorite thing about your work?
Currently, I oversee the operations of a beverage distributor with locations in central and northern Illinois. We represent various beer, wine, spirits, soft drink, water and other non-alcoholic companies.
My favorite thing about work is that each day is different, and there are constantly challenges. Then, successfully turning the challenges into opportunities is a reward.
How would you describe your experience at UD and the Lerner College?
I had a fantastic UD experience. My time in and out the classroom helped shape my life, and it gave me a solid base of business fundamentals. The school combined theoretical and practical learning. I left prepared and ready to launch a successful career.
What do you value most about the opportunities that UD and the Lerner College provided in helping you fulfill your career goals?
UD gave me an opportunity to have both classroom and real-world experiences. I made excellent and lifelong connections with faculty.
Internships were fantastic learning experiences and enabled me to apply my classroom knowledge in the "real world." I was also able to develop a personal network of fellow students, faculty and business leaders. This created a platform of career advisors, which enabled me to grow both personally and in the business world.
What skills or lessons that you learned at UD do you apply most in your career today?
Key takeaways from UD include numerous aspects of business management. By combining business history coursework with present-day coursework, the university gave me the ability to learn from the past and have an example for the future.
Proper management of people, with a fundamental understanding of respect, was another key takeaway from my UD experience. This was gleaned both in and out of the classroom.
What advice would you offer to students who are interested in a similar career path?
Experience as much as possible and challenge yourself to maximize your time. My big regret was not studying abroad, and I recommend everyone try to do it. Strive to have killer internships and build a solid network of friends, faculty, and business leaders. You'll rely on them the rest of your life.